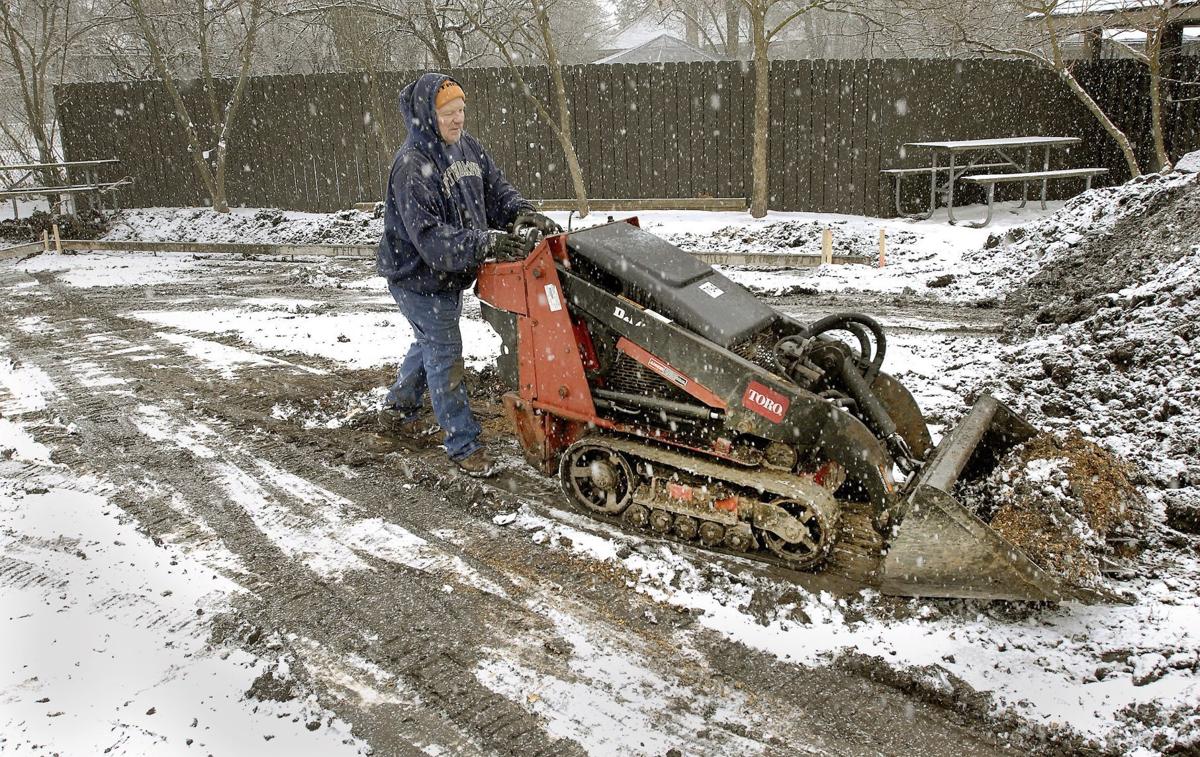 BLOOMINGTON — Tigers and monkeys may sit cozy indoors during a snow storm, but Miller Park Zoo's snow leopards, red pandas and otters are no strangers to inclement winter weather.
"Any time we have a snowstorm, if it's under 8 inches of snow, it's pretty much a standard day for us," he said. "I think there's definitely some that enjoy it. The snow leopards seem to be more active and some of the younger animals, if it's their first snow and they've never encountered it before, that's kind of fun to see how they react."
That prompted McLean County Unit 5 to close all of its schools Thursday.
Macon, Logan and Coles counties were under a winter weather advisory until early Thursday, but Livingston County is under a winter weather advisory until noon Thursday.
Hazardous driving conditions will extend into Thursday morning with patches of black ice on the roads, said Chris Geelhart, a meteorologist at the National Weather Service in Lincoln.
Snow will reach 4 to 6 inches in Bloomington-Normal and areas along and north of Interstate 74. Areas south of Interstate 70 can expect a few inches less, with totals of 4 inches for the Decatur area and 3 inches in the Mattoon-Charleston area.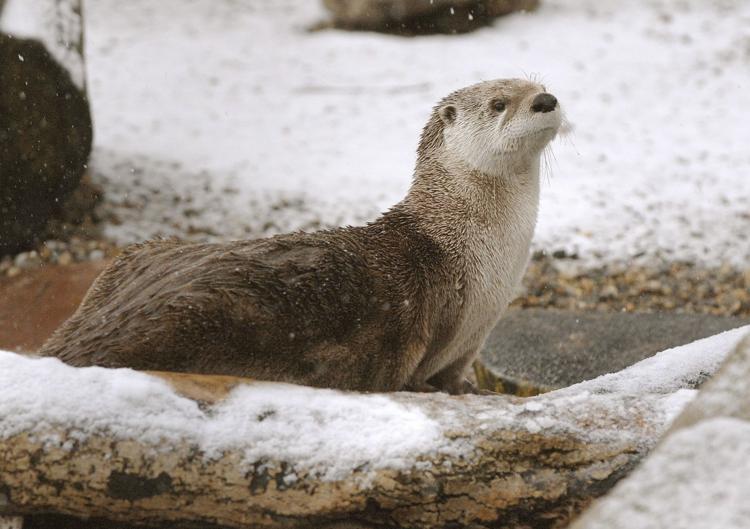 The town of Normal issued a parking ban beginning 5 p.m. Wednesday until further notice, meaning no parked cars are permitted on any streets and may be ticketed.
For people who wish to come in out of the cold, Connect Transit will have a bus as a designated warming station parked outside the McLean County Health Department building, 200 W. Front St., Bloomington, from 6 a.m. to 10 p.m. Thursday and Friday, said Connect Transit Marketing Director Jeff Holtke.
Home Sweet Home Ministries, 303 E. Oakland Ave., Bloomington, has opened its lobby for anyone who needs to get warm, and hats, gloves, scarves and hand warmers are available, said Chief Executive Officer Mary Ann Pullin.
The Salvation Army of McLean County's Safe Harbor homeless shelter, 208 N. Oak St., Bloomington, has opened as a warming center, meaning anyone who is homeless may use Safe Harbor to get warm during the day or night, said Salvation Army Development Director Angie Bubon.
You have free articles remaining.
Illinois Department of Human Services has opened its offices as warming centers, meaning they may be used by people who need to get in out of the cold during weekday business hours.
In Central Illinois, DHS offices are at 501 W. Washington St. and 207 S. Prospect Road, Bloomington; 1550 Fourth St., Lincoln; 2970 Court St. and 200 S. Second St., Pekin; 211 Fulton St., Peoria; 707 E. Wood St., Decatur; and 1307 N. Mattis Ave. and 705 N. Country Fair Drive, Champaign.
Back at the zoo
Zoo keepers and staff finished preparations for winter weather before Oct. 1 and all animals on exhibit can handle temperatures far below zero. Tetzloff said staff members keep a close eye on temperatures and will bring animals indoors as necessary, such as the tiger, who was staying warm and cozy inside with his toys Wednesday afternoon.
The zoo stays open during its regular hours, 9:30 a.m. to 4:30 p.m. seven days a week, even during a snow storm.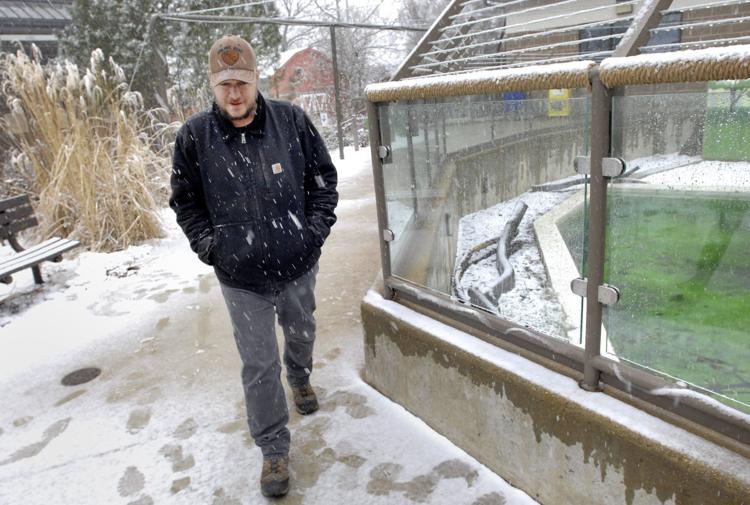 "Since we are managed by the city of Bloomington, we follow their cues," Tetzloff said. If necessary, "we would go to essential personnel, those who are going to take care of the animals, get their needs met and go home."
Tetzloff said the zoo averages 20 visitors a day on cold, snowy days.
There were a few visitors wandering the zoo Wednesday afternoon as snow blew into Bloomington, including Jonathan Miller of Columbia, S.C., who stopped to visit the zoo after flying into Central Illinois Regional Airport for business. Miller watched the crocodile, which was staying warm under water as it snowed.
Zoo Curator Peter Burvenich said, if needed, "We'll add supplemental heat, so whether it's heat lamps on the side or, like our cranes, they have a covered shelter where they have a heat lamp and bedding in there for them, but as you can see, they're not in a rush to use it."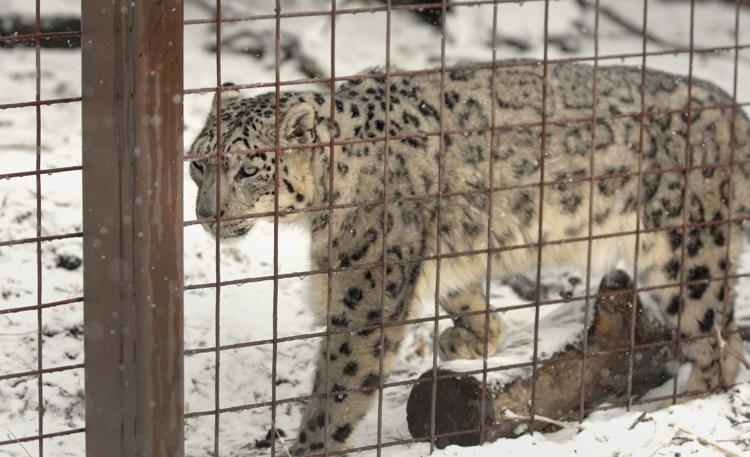 Snow will taper by Thursday morning, but the wind will pick up with gusts reaching 25 miles per hour and temperatures expected to drop Thursday night, said Geelhart. By Friday morning, temperatures could drop to negative 5 with a wind chill of negative 15 degrees.
The weather won't last long, however. Geelhart said temperatures will rise to the low- to middle 40s on Sunday and Monday.
Contact Sierra Henry at 309-820-3234. Follow her on Twitter: @pg_sierrahenry.
Contact Paul Swiech at 309-820-3275. Follow him on Twitter: @pg_swiech