BLOOMINGTON — The transformation of 705 N. Roosevelt Ave. from a junior high school building into McLean County's busiest food pantry and a clothing pantry is nearly complete.
"We're hopeful that we can open March 18," Tuite said after he and food pantry volunteer Dorothy Deany, the conference vice president, toured the space this week. Building inspections and volunteer training must be completed first.
The completion of construction was marked Thursday with a blessing of the space by Father Jeffrey Stirniman, Holy Trinity Parish administrator, and tours for St. Vincent de Paul volunteers.
"It's very exciting," Deany said. "We are so glad that people (clients) will be able to be inside and they will have more produce to choose from."
"We're interested in serving people better," Tuite said. "That's what this is all about."
St. Vincent de Paul Food Pantry, which has operated out of various locations for more than 60 years, is at the south end of the Holy Trinity Parish Center, 711 N. Main St., Bloomington.
But the food pantry, the busiest in McLean County, has outgrown that space.
In the fiscal year that ended Sept. 30, the food pantry served 13,272 households and 50,749 family members, providing 1,056,811 pounds of food valued at $1,938,952, Deany said.
"Even through the bad weather we had in January and February, we still served 1,000 people each month," Deany said.
Meanwhile, the clothing pantry, in the basement of Holy Trinity Church across the street from the parish center, also has outgrown its space.
"I'm very excited because St. Vincent de Paul, that does great work, is expanding their ministry," Stirniman said. "The sheer volume of people who come there is breathtaking."
You have free articles remaining.
Renovation of the building has included widening doors, opening walls, building ramps, updating the electrical system, repairing and modifying the plumbing and heating, installing energy-efficient lighting and restoring floors.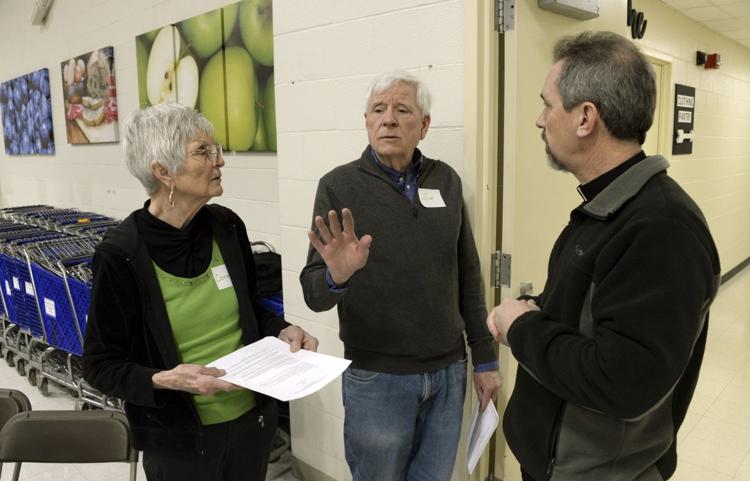 The former gymnasium will become the new food distribution center and dried foods storage area. Clients will be able to wait in the building hallway rather than outside.
One former classroom on the east side of the building has been converted into a freezer that is eight times larger than the food pantry's existing freezer, Tuite said. Another former classroom has been converted into a cooler that is four times larger than the existing cooler.
"That's much more healthful for people than processed foods," Tuite said.
A third room on the east side will be for storage of paper products and personal hygiene items.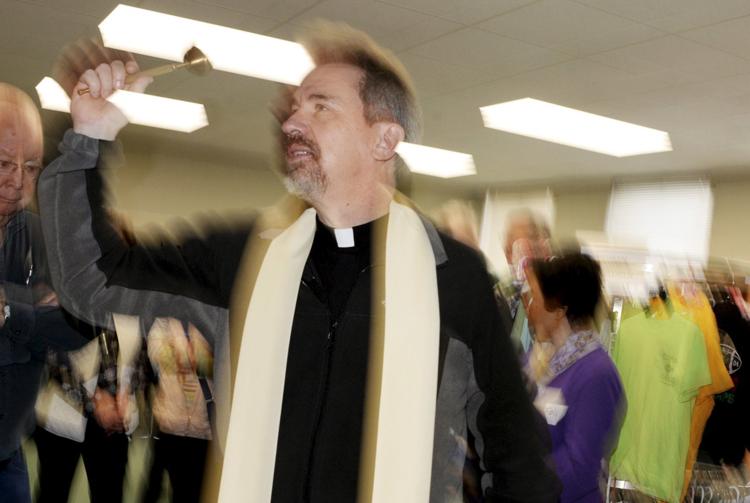 On the west side of the building, one former classroom will be for display of men's and children's clothing, another for display of women's clothing and a third for clothing sorting and storage.
Food pantry hours will remain 9 a.m. to noon and 1 to 4 p.m. Mondays. The clothing pantry, currently open only on Monday mornings, will expand its hours to match that of the food pantry.
The community has donated $315,000 of the $350,000 needed to pay for the building renovation and $4,000 will be needed each month to maintain the operation, Tuite and Deany said.
"This is a very generous community ... but we still have a little hill to go up," Tuite said.
"We're right in the center of the city," Tuite said. "We can be a hub for people throughout the community."