BLOOMINGTON — Twin City residents were shoveling and dodging plow drifts Saturday morning as a winter storm continued to dump snow over Central Illinois.
Some 3.5 inches had fallen by 7 a.m. in Bloomington, with up to 9 inches possible by the end of the day. A winter storm warning remains in effect; cars have been banned from parking along snow routes; and police told motorists to delay reporting non-injury accidents.
The storm canceled a number of events and closed businesses. Among cancellations was the 43rd annual Martin Luther King Jr. awards luncheon.
Connect Transit also suspended service until further notice.
Illinois State Police reported a number of accidents along Interstate 55 south of Bloomington-Normal as well as cars that had slid off the road.
No delays were reported for flights to and from Central Illinois Regional Airport, Bloomington. No utility outages were reported by Ameren Illinois, Corn Belt Energy Corp. or Nicor.
"Now, we're looking at a snow total ranging from 7 to 9 inches," said Kirk Huettl, a meteorologist at the National Weather Service in Lincoln. "It keeps going up."
The heaviest snow recorded by the NWS office in Lincoln was 10 inches in Jacksonville, recorded at 7 a.m. with heavy snow still falling.
The most significant snowfall started after midnight Friday and continued until about 6 p.m. Saturday. Some light flurries could last until 3 a.m. Sunday.
Not much wind was expected Friday night so blowing snow won't be a concern, Huettl said. The wind will pick a little Saturday with gusts between 9 and 15 mph expected.
Similar snowfall is expected in Peoria, Woodford, Fulton and Tazewell counties. South of Interstate 74, heavier snow is forecast with up to a foot of accumulation possible.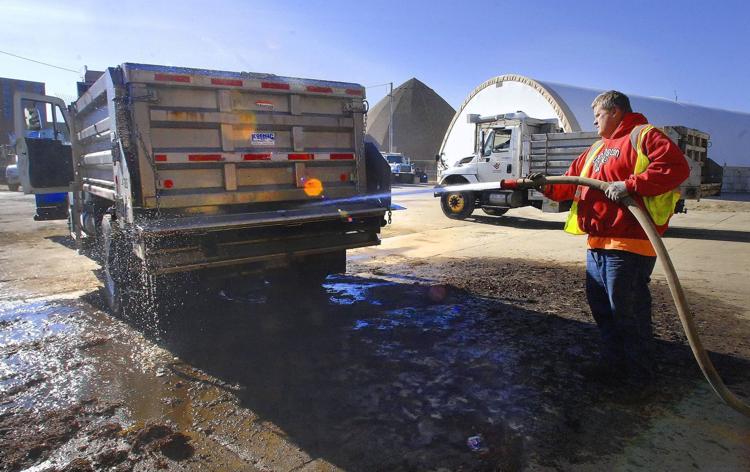 This will be the first significant snowfall of 2019 and the worst snowstorm since March of last year, Huettl said.
"We were pretty spoiled in December, since we didn't have much snow," he said. "It's been awhile so people will have to get used to driving in snow again."
In preparation, Illinois Department of Transportation crews have been pretreating roads and bridges susceptible to icing with plowing operations ready for the snowfall.
Wayne Aldrich, director of public works in Normal, said the town's snowplow fleet is ready to go when the snow starts to fall as well, and all of the trucks are available and loaded with salt.
When the snow first starts to fall, Bloomington snow crews will treat the city bridges and hills with salt and then start plowing the main roads, said Jim Karch, the city's public works director.
Once the snow stops and the main roads are safe, plow drivers will head into residential areas. Depending on how much snow falls, Karch said the plowing can take 12 to 18 hours.
"It's Illinois so you can never tell until the snow has stopped," he said.
To see the plows' progress, Bloomington residents can go to www.cityblm.org/snow.
According to the National Weather Service, the weather conditions will make travel very hazardous or impossible. If possible, emergency officials recommend avoiding driving during the storm.
"If you must drive during hazardous winter weather conditions, please ensure you practice safe driving habits," said Illinois State Police Director Leo P. Schmitz. "In order to prevent accidents from occurring, we want to remind all drivers to allow extra travel time to get to your destination, avoid unnecessary lane changes, reduce your speed and increase your following distance on snow or ice-covered roadways."
Emergency officials also ask that drivers exercise additional caution when approaching emergency vehicles and snowplows.
For those who must venture out in dangerous conditions, IDOT offers these suggestions to help drivers stay safe:
Take it slow, especially when approaching intersections, ramps, bridges and shady areas. All are prone to black ice, an invisible danger during some winter storms.
Make sure your gas tank is full.
Keep a cellphone, warm clothes, blankets, food, water, a first-aid kit, washer fluid and an ice scraper in your vehicle.
Check the forecast and make sure someone is aware of your travel route and schedule.
While carrying a cellphone in case of emergency, remember that using handheld phones while driving is illegal in Illinois, unless it is an emergency situation.
Always wear a seat belt, whether you're sitting in the front seat or back seat.