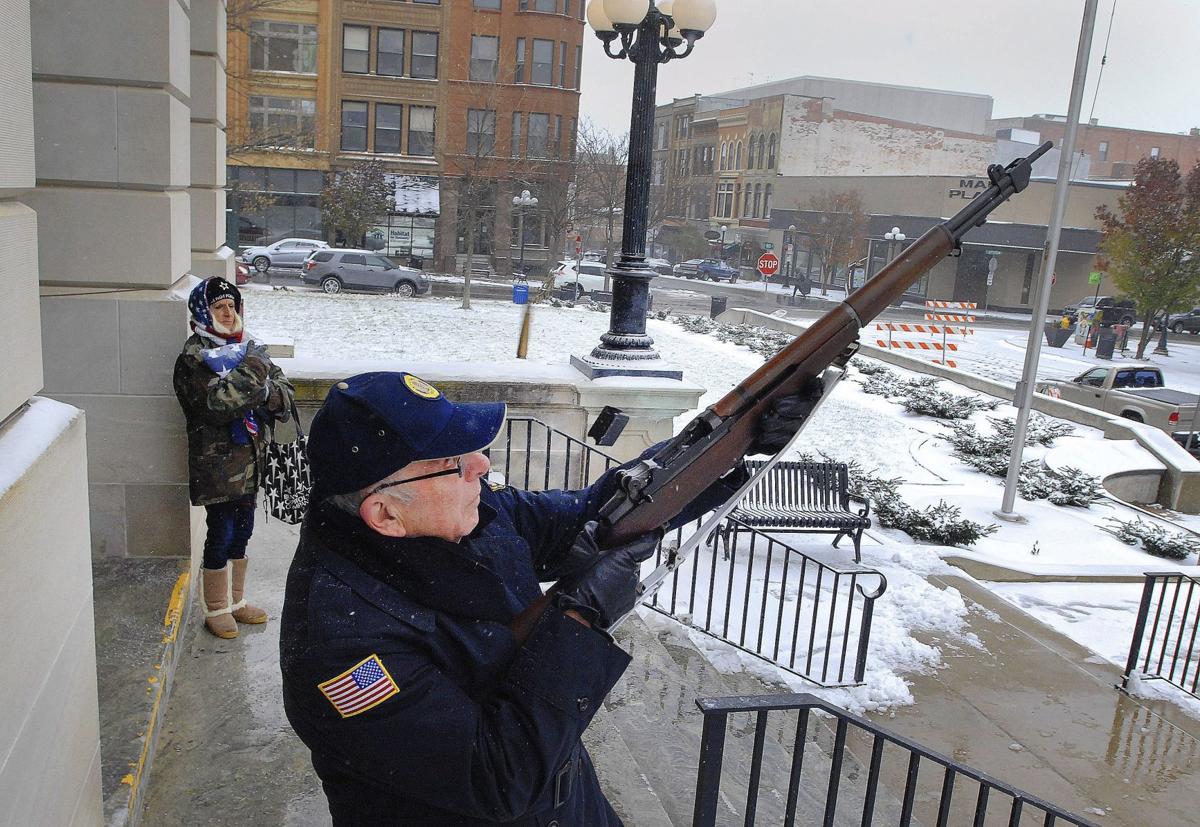 Marking the 100th anniversary of the first Armistice Day commemoration, dozens of veterans and families shuffled up the snowy steps of the McLean County Museum of History before the 11th hour struck to join the celebration inside.
"I suggested (going outside) once the snow starts slowing down, but I kind of got outvoted," said Bob Sable, master of ceremonies and commander of Bloomington's American Legion Louis E. Davis Post 56 and John H. Kraus Veterans of Foreign Wars Post 454.
Local veterans crowded into the rotunda, where hot coffee and familiar faces greeted them. The crowd sang along to the "Star-Spangled Banner" and finished the ceremony with a chorus of "God Bless America."
"This day belongs to all veterans. From the minuteman of the Revolutionary War to the warriors fighting around the world today, the line of Americans willing to risk their lives for this country is long," said Staff Sgt. Keith Albaugh of the Illinois Army National Guard, the ceremony's keynote speaker. "This day belongs to them and it belongs to you."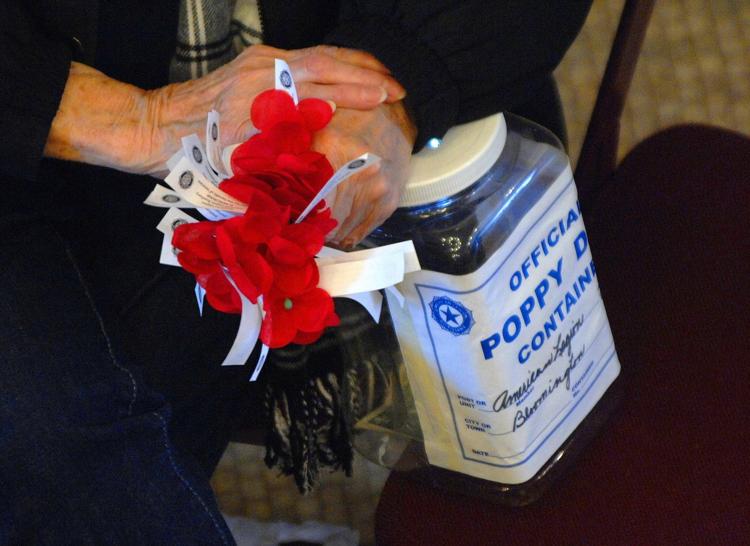 Though many associate Veterans Day with Memorial Day, Sable said being apart of this ceremony clarifies the difference.
"Veterans Day is the day we celebrate the men and women that serve our country," he said. "Memorial Day is reserved for the dead; Veterans Day is more a celebration."
The cold November morning couldn't be confused for its spring counterpart, but Albaugh said he still saw it fitting to pay homage to those died in service.
"I promised myself I wouldn't cry," he said with a chuckle.
Despite his best efforts, Albaugh's eyes were wet and his voice shaky as he remembered the 18 National Guard soldiers of the 33rd Infantry Brigade Combat Team who were killed during an Afghanistan deployment in 2009.
You have free articles remaining.
"Each individual is not just a number or statistic. They were a mother, a father, a son, a daughter, a brother, a sister," he said. "They were warriors who believed in something greater than themselves."
Albaugh described his fellow service members and the veterans who came before him as people who "lived uncommon lives under a common banner."
Many of those who came to the ceremony continue to honor that common banner, donning coats marked with U.S. flag patches and hats covered in pins. One woman held a folded flag to her chest as she listened to the speakers.
In quoting Abraham Lincoln, Albaugh's favorite U.S. president, he said, "To care for him who shall have borne the battle and for his widow, and his orphan."
"Lincoln's immortal words are a solemn reminder that as a nation, we owe a debt of gratitude to our veterans and their loved ones," he said.
Armistice Day began in 1919 to commemorate the anniversary of the end of fighting in World War I, on Nov. 11, 1918. It became a federal holiday in 1938 and was renamed Veterans Day in 1954.
Highway dedication
Ruel Neal American Legion Post 79 honored three LeRoy natives who died in World War II on Monday as the stretch of Interstate 74 that passes through town was named for them.
The Gaultney Brothers Memorial Highway was named for Ralph Gaultney, gunner's mate third class on the U.S.S. Arizona, who died after the attack on Pearl Harbor; Leonard Gaultney, machinist's mate first class, who was killed when the U.S.S. Vincennes was sunk in the Battle of the Solomon Islands; and Marine Pfc. David Gaultney, who died in the Battle of Iwo Jima.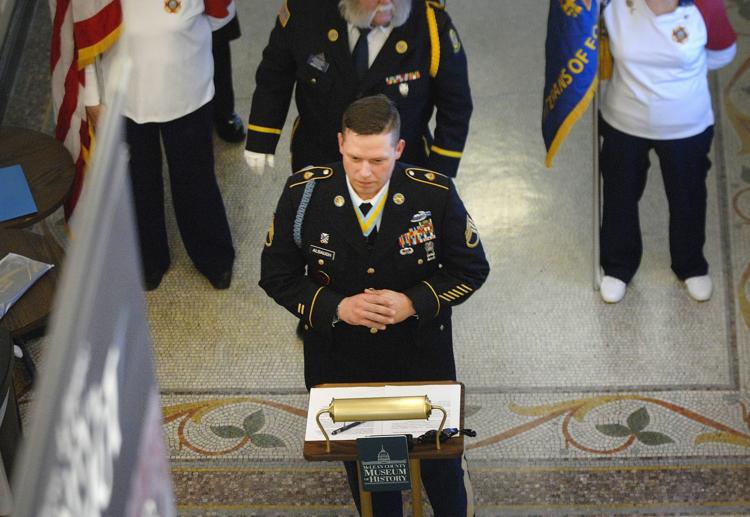 "These three brothers and their families back home paid the ultimate price to secure our freedom during World War II," said state Sen. Chapin Rose, R-Mahomet. "I hope that this memorial will keep the memory of their service and sacrifice alive to inspire future generations and to remind us all of the costs of our freedoms."
The Senate resolution to dedicate the highway was filed by Rose, sponsored by then-state Rep. Bill Mitchell, R-Forsyth, and passed unanimously in the 100th General Assembly.
Contact Kelsey Watznauer at (309) 820-3254. Follow her on Twitter: @kwatznauer.