BLOOMINGTON — McLean County has its first case of the new strain of coronavirus, the McLean County Health Department said Thursday.
While McKnight would not say where the man is or his condition, Advocate BroMenn Medical Center, Normal, released a statement later Thursday saying BroMenn is caring for a patient with COVID-19.
Advocate Public Affairs Coordinator Lynn Hutley confirmed for The Pantagraph that Advocate's patient was the same person discussed by the health department.
"The patient is in good condition and is being treated in isolation in accordance with our strong infection prevention protocols," Hutley said in a statement.
The man has no known travel to an area where there is an outbreak of COVID-19 and has had no known contact with anyone already diagnosed with COVID-19, McKnight said.
She said the man was tested Monday but test results weren't known until Thursday.
The health department is contacting people who have been in close contact with the man and asking them to self-quarantine in their homes for 14 days, to keep an eye out for COVID-19 symptoms (fever, cough, sore throat and shortness of breath) and, if they develop any, to contact their health care provider.
The health department recommends that anyone who develops mild COVID-19 symptoms to self-quarantine in their home, McKnight said. Anyone who develops severe symptoms is asked to call their health care provider before seeking care and their health care provider will determine the best course of action.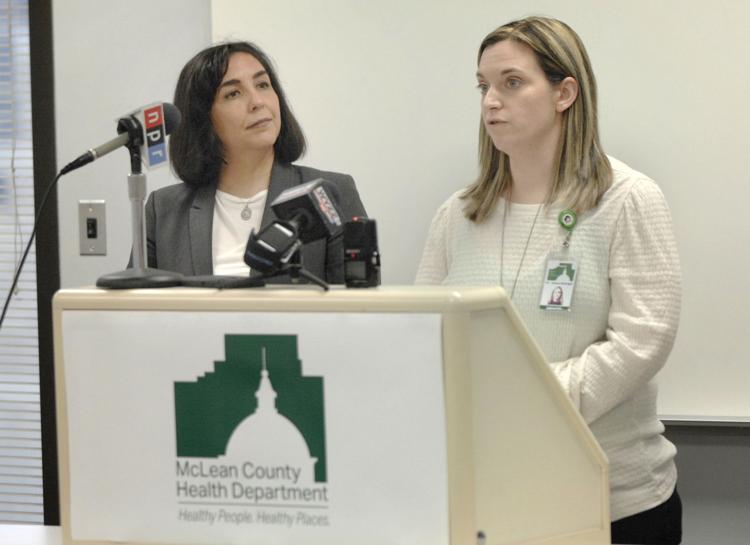 The resident is a teenage girl without a history of travel to an affected area and no connection to a known case of COVID-19, LaSalle County health officials said.
"The individual is recovering at home in isolation," they said.
Hutley said, "As COVID-19 continues to spread throughout our country and our state, we are prepared to provide care while maintaining a safe facility for our team members and visitors."
PEORIA — The vast majority of people who get COVID-19 will be able to nurse themselves back to health at home, but what's the best way to do that?
OSF HealthCare released a similar statement on Wednesday.
"We continue to follow guidance from the Centers for Disease Control and Prevention and work closely with local and state health agencies to best serve our communities while helping to stem the spread of COVID-19," Hutley said.
McKnight said about 25 people have been tested for COVID-19 in McLean County.
---
---
The news came as Gov. J.B. Pritzker announced a total of four deaths statewide and a total of 422 positive cases. Among other Central Illinois counties with people with COVID-19 are Woodford (two cases), Peoria (three cases), Champaign (one case) and Sangamon (four cases).
On Thursday, the Memorial Health Systems announced that a 71-year-old woman being treated at Memorial Medical Center in Springfield had died. The patient was a Florida resident who had been visiting the Springfield area when she became ill.
The patient became the first COVID-19 death in Central Illinois.
---
---
Anyone with COVID-19 symptoms or in close contact with someone with COVID-19, or has been recently to an area where there has been a COVID-19 outbreak should stay home and call their health care provider if their symptoms worsen or don't improve. Health care providers determine whether testing is needed.
While there is no treatment for COVID-19, people with mild symptoms may be able to isolate and care for themselves at home. Most people recover from the virus.
Meanwhile, social distancing, washing your hands, not touching your face, covering your coughs and sneezes, staying home when you can and cleaning frequently used surfaces are important to keep the number of cases of COVID-19 in McLean County as low as possible, McKnight said.
McKnight said the health department will let the public know if there are more confirmed cases.
"We're doing everything we can to limit the spread," McKnight said. "We understand the public is concerned."
"We don't want the public to panic" but to be concerned and aware, she said.
---
FRIDAY UPDATE: Central Illinois coronavirus developments
Contact Paul Swiech at 309-820-3275. Follow him on Twitter: @pg_swiech.
Concerned about COVID-19?
Sign up now to get the most recent coronavirus headlines and other important local and national news sent to your email inbox daily.