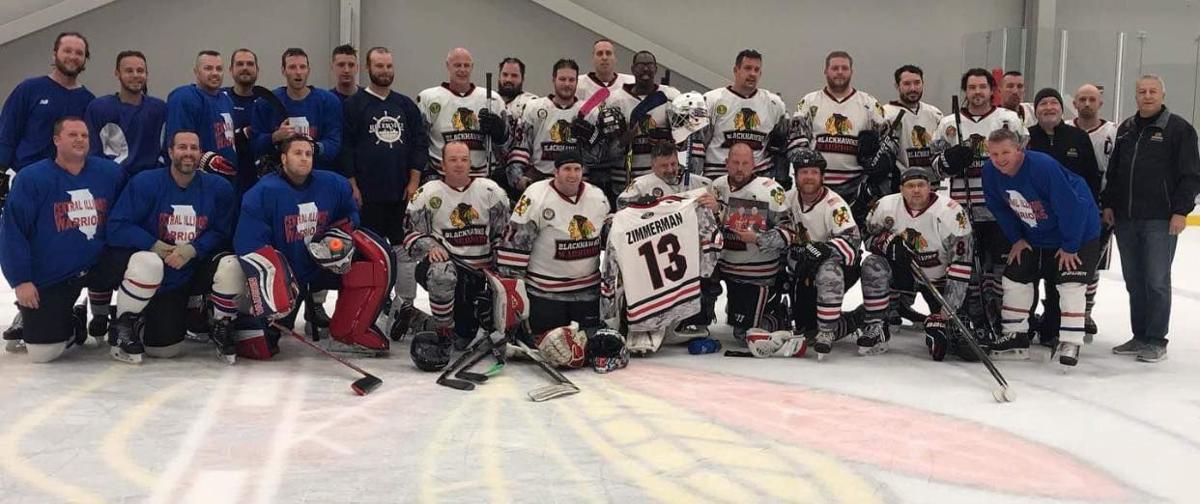 BLOOMINGTON — Patrick Schmid understands the importance of being a good teammate. A senior airman with the U.S. Air Force from 2000 to 2004, Schmid learned about counting on others.
Schmid is still looking for the good of a common goal, but now it's in the form of a hockey net in an arena and his teammates are fellow veterans from nearly every branch of the service.
On Saturday, Schmid, treasurer for the Central Illinois Veteran-Warriors hockey team, and his teammates will play the Chicago Blackhawk Wounded Warriors at Grossinger Motors Arena at 1:30 p.m. The two teams are the state's only veteran warrior teams.
For Schmid, the game combines his greatest passions.
"I did play before serving, and after leaving the service I played for the Illinois State hockey team," he said. "I just enjoyed playing when I was younger and was hooked in by the sport."
He was an aircraft mechanic in the Air Force, and his hearing was affected by time spent around jet engines. As a result, he has a service disability.
"For me, this team is about the camaraderie," he said. "It gives us a chance to get together and do something we enjoy."
Todd Smith of Bloomington enlisted in the Army but tore a tendon in boot camp. He served 16 months before being discharged due to the injury.
"Being a member of this team is a way for me to feel like I can continue my military enlistment as a civilian," he said. "The camaraderie we feel as a team and the discipline we are instilling as an organization makes all of us feel right at home.
You have free articles remaining.
"Being a member of this team gives me the opportunity to give back to other veterans who may suffer from PTSD or other life issues. I am able to provide counsel and friendship to those veterans who may need some extra support."
Corey Allen is the president of the organization.
"The organization creates a sense of purpose while creating accountability from within," he said. "It's having a sense of camaraderie with a group of people who share a unique thread that is built around taking the oath to serve and building a team that takes care of it's own. For me, it's been one of the biggest honors of my life to be chosen to be the captain on the ice and the commanding officer off the ice; to have this group trust me to lead us in the right direction has been a huge blessing."
The mental health aspect is a big factor, added Schmid.
"The one statistic I can't help but think about is that every day, 22 veterans take their own lives," he said. "I feel strongly that an activity like this helps with symptoms of depression and the issues that can follow veterans."
The goal of the team is to provide a structured event where team members can join forces, no matter the skill level.
The program, based in Normal, was founded about two years ago. It's grown from five players to more than 30, he said.
"We are one of the few non-profit organizations in the state that is run by veterans to assist veterans," he said. "We play in games and tournaments to raise awareness for veterans issues."
Saturday's game is raising money to sponsor out-of-state trips, including travel costs, meals and lodging.
The Chicago Blackhawks Warriors ice hockey program was founded in 2015 in conjunction with USA Disabled Hockey to give injured military members and veterans the opportunity to play. Like the Central Illinois club, the program trains players in the skills needed to use hockey as a rehabilitation tool to overcome physical and mental disabilities sustained in their service to the nation.