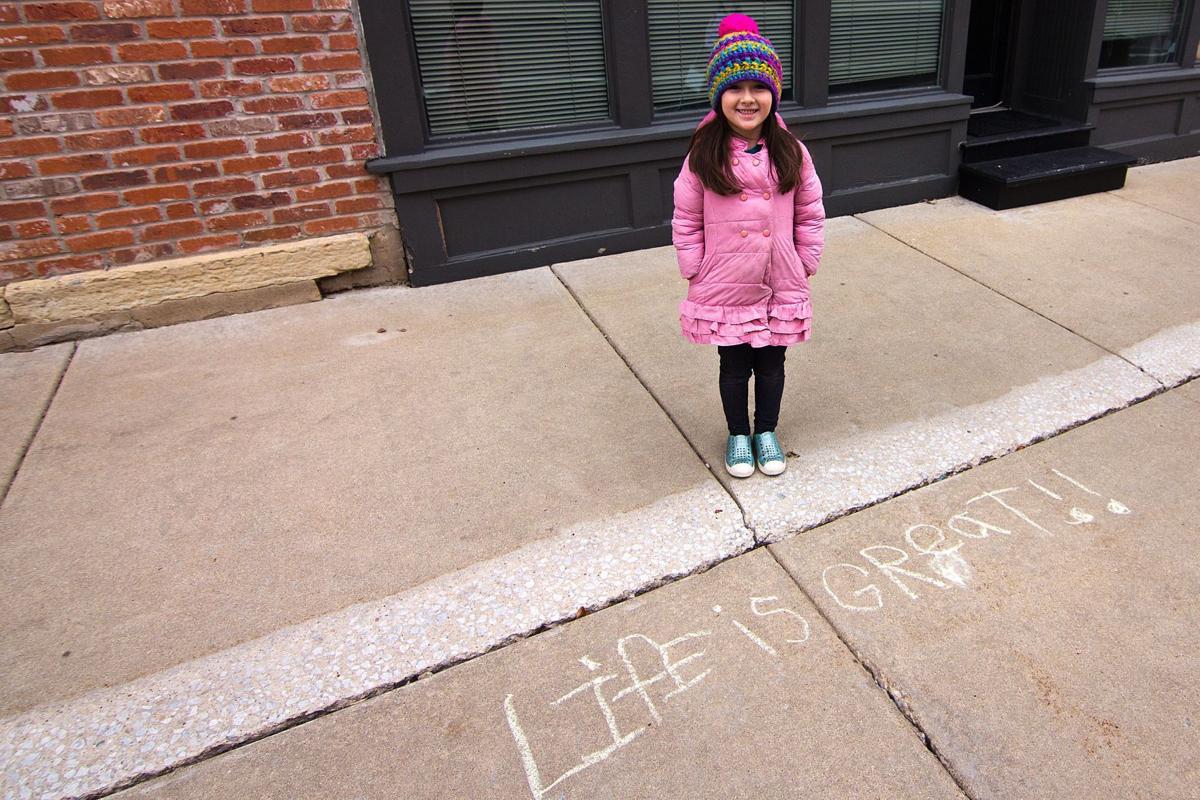 BLOOMINGTON — What is a little girl to do when there's no school, no playmates and no yard to play in, and social distancing has made it difficult to stay connected to her community?
If you are 7-year-old old Sophi Shirazi, you find a medium and a canvas and start communicating, of course.
On Monday, she used colored chalk and a sidewalk to reach out.
"We brought out a cookie for her, and we're like, 'Thaaaaanks. We need all the encouragement we can get,'" said Wheeler.
Sophi then gave the restaurant a plastic gold coin and promptly added to her chalk message these words: "For you Scout's, real gold."
"This will make you smile," said Wheeler. "If you look out a window and there's a little girl writing encouraging statements on the sidewalk there's hope. We're going to be good."
The businesses can, however, offer carryout, delivery and curbside service.
Her mother used chalk to thank nurses, doctors, teachers, Bloomington District 87 and those who deliver mail and packages.
"This one was just hers," said Shirazi, pointing out her daughter's message. "She said, 'I know something I'm going to write,' and I didn't know what she was going with.
"She writes, 'Life is Great.' Her positivity is just helpful for everybody I think," said Shirazi.
Shirazi, an actuary for State Farm, has been able to work from home and care for Sophi, a first-grader at Bent Elementary School.
"(Sophi) has asthma, so I am actually worried about her because she is a high-risk person," said Shirazi. "I am her entire world right now. That's really hard."
"I know this is not a normal time, but I am trying to find a good balance because she's scared and she feels my fear," said Shirazi. "She is going to maybe watch TV, which I normally don't let her do during the week."
Sophi celebrated her birthday last week with a virtual dance party with all her family and friends using the Zoom video conferencing app.
"She had all of her birthday party stuff canceled and she handled it really well," said Shirazi. "We're just finding different ways to connect with our family and friends."
During the shutdown, Scout's has been open from 11 a.m. to 2 p.m. for curbside service and deliveries.
"We've been busy. People are showing a lot of support," said Wheeler. "We're going to stay open as long as we can."
It's an effort bolstered by the words a little girl chalked on the walk outside the business' door, Wheeler added. 
Contact Maria Nagle at (309) 820-3244. Follow her on Twitter: @Pg_Nagle
Concerned about COVID-19?
Sign up now to get the most recent coronavirus headlines and other important local and national news sent to your email inbox daily.