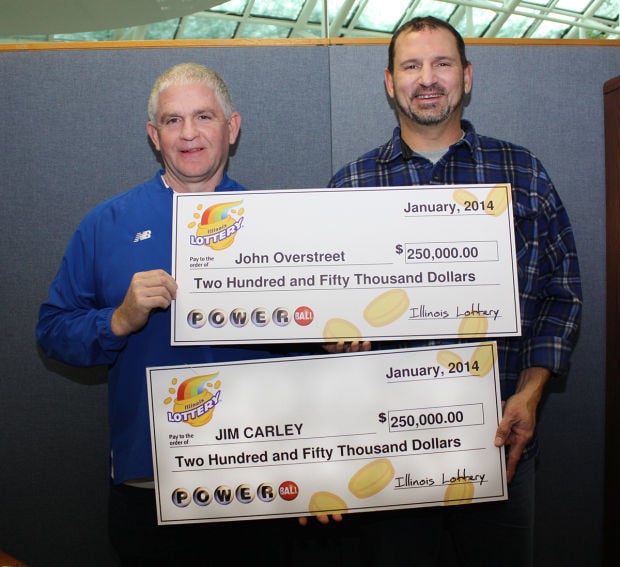 PAXTON — John Overstreet of Paxton missed the initial email notification that he and three others who played the lottery together had won $1 million.
"It went to my junk folder," Overstreet said Thursday after he and his lottery partners officially claimed their prize.
Fortunately, a letter alerted him several days later — although he still didn't believe it, at first.
Overstreet, who has been a social studies teacher and athletic director at Paxton-Buckley-Loda High School for 32 years, is splitting the winnings with fellow Paxton resident Diana Hale, Martha Gentes of Strawn and Jim Carley of Gifford. Each will receive $250,000 before taxes.
Hale and Gentes are secretaries at the school, and Carley taught social studies for 26 years before leaving to farm full time.
Overstreet said, "They didn't believe it at first, either."
Calling themselves the "The Lucky PBL 4," they have been playing the lottery together about three or four years and have been friends even longer. "Early on, it was hit or miss," Overstreet said of their lottery playing.
This summer they decided to buy a three-month Powerball subscription online, finding it "very, very convenient," Overstreet said. They renewed the subscription — and changed the numbers — in October.
You have free articles remaining.
On Nov. 23, their numbers matched the first five winning numbers: 5, 12, 43, 52 and 55.
Overstreet plans to use his share of the winnings to help pay for his sons' college loans. Overstreet has had at least a son in college pretty much continuously since 2001.
His youngest, Dylan, is a starter on Illinois Wesleyan University's basketball team.
Carley has two young children and plans to invest his share for their college expenses, Illinois Lottery officials said. Gentes plans to invest her share for retirement, officials said.
At first, the winners just told immediate family members. The hectic pace of the holidays, a basketball tournament and family obligations kept them from coming forward.
The word was out that someone in Paxton had a winning ticket.
"We just smiled when people asked us, 'Did you win?' and shook our heads," Overstreet said.
Thursday afternoon's official announcement at the high school with Illinois Lottery officials was the first time all four winners had been together since the winning numbers were drawn, Overstreet said.
"It's unbelievable that we won," Overstreet said. "It's a pretty good feeling."