NORMAL — Women have seats in executive offices, board rooms and legislatures but they still don't have equality.
That was an assessment on Tuesday evening from several women attending YWCA McLean County's 30th annual Women of Distinction Awards Banquet.
"There has been an elevation of women but there is still a lot of work to do," said Becky Hines of Bloomington, vice president of member services for YWCA USA. "There have been advancements but not to the level of equality."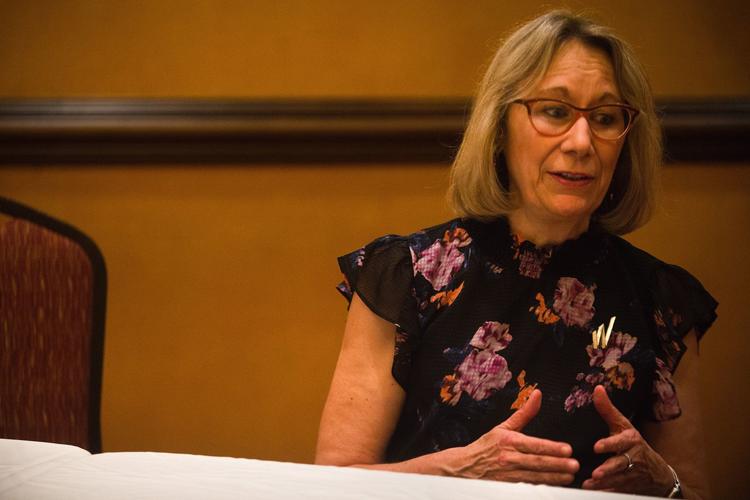 "I was here at the beginning," said Hines, referring to the start of Women of Distinction 30 years ago. She has been with the YWCA for 38 years, the first 28 years with YWCA McLean County, including 14 years as executive director.
"We still need this event," Hines said. As examples of inequality, Hines said women are scrutinized by appearance more than men and she and German said women who allege sexual assault are often questioned.
"All you need to do is watch the news cycle to know that there is still a lot of work to do to put women in an equal place," German said.
Women of Distinction also is still needed because it recognizes women in several areas, including nontraditional categories, such as science, technology, engineering and math, German, Hines and Richards said.
The event also has evolved to recognize more women of color and of diverse backgrounds, Richards said.
Asked for advice for women and men to be more inclusive, German said: "In our society, we spend a lot of time talking. Listening and working together is the key to a successful workplace, school and community."
"We teach our kids to listen and get along," German said. "We kind of forget that when we grow up."
Richards urges people who see injustice to speak up. "What you gain from that is a well-balanced, fair and efficient workforce."
Business: Nikki Brauer, Illinois State University
Creative arts and entertainment: Ama Oforiwaa Aduonum, ISU
Education: Harriett Steinbach, ISU
Professions: Nikita Richards, city of Bloomington and NDR Communications
Social services: Pat Turner, Center for Hope Ministries
STEM (Science, Technology, Engineering and Math): Brandy Finney, Integrity Technology Solutions
Harriett F. Rust volunteer service: Terri Helregel, Country Financial
Caribel Washington young professional: Colleen O'Connor, Project Oz
WINGS awards: Nicole Anderson, Amanda Hendricks, Nicole Kaminski, Jillian McGriff, Kate Myers and Kristal Shelvin.