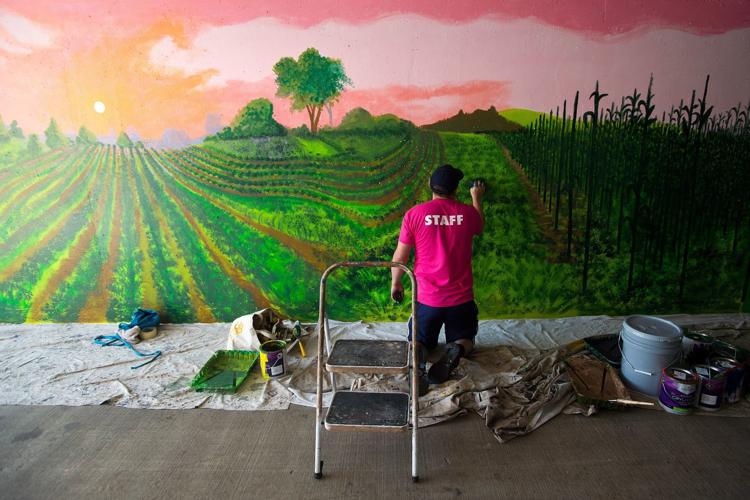 BLOOMINGTON — To get a true feel of Bloomington, take a stroll under Washington Street.
There, along the Constitution Trail underpass, young local artists have left their mark.
With each letter representing a different aspect of the community, "Bloomington" was painted Saturday in a towering mural along the length of the tunnel.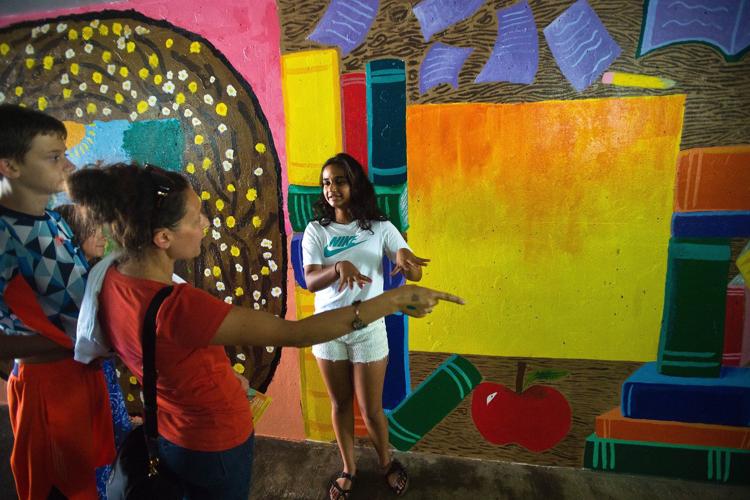 Twelve junior high and high school students were accepted into the art project, with each child in charge of designing a letter.
Eden Warner, 14, of Hudson, had responsibility for "B," which she filled with intertwining branches and leaves. 
"Bloomington is known as a city of trees. I thought this was a fun, creative idea. I enjoyed learning how everyone has a different view of the community," she said.
Other letters feature agriculture themes, city landscapes and sunsets with wind turbines.
The letter "M" is formed from several window-filled houses.
"I pictured Bloomington as one big family. So I created three houses with different lights to represent different people, all connected in some way. I think when people come through, they will connect in some way to each letter," said Isha Gollapudi, 11, of Bloomington.
For the first "O," 13-year-old Raji More of Bloomington formed the letter with a stack of colorful books.
"When I think of Bloomington, I think of the awesome schools in our town. Education is an important role in our community," she said.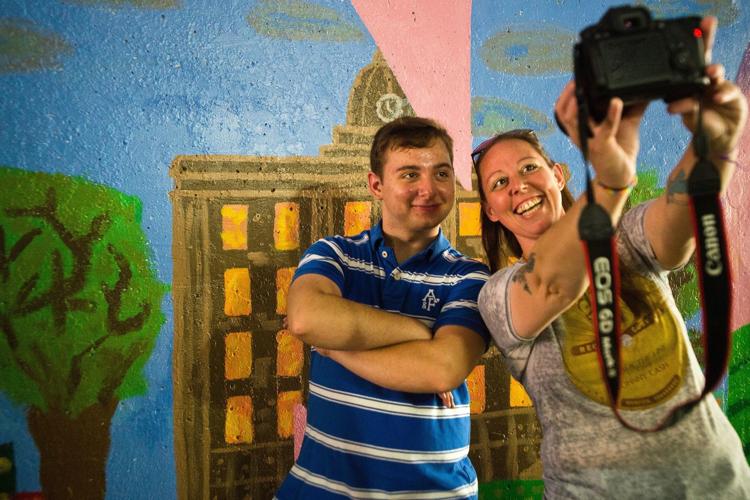 "We wanted the youth to feel connected with one another, their town and have an appreciation for the work done by artists," said El-Beshir. 
Robin VanDermay, chair of the beautification committee, hopes to complete additional murals.
"I want people to pass through here and feel happy. This is a great representation of Bloomington and it was created by our children," she said.
Artist and ISU student Jeremy Langston of Bloomington helped guide the children in the painting process.
He said the project allowed children to meet fellow artists and gain inspiration.
"When people pass through, I hope they enjoy the gift the kids gave to them," he said. "This is the future they're looking at. These kids are giving back to their community, making the world a better place."
Contact Julia Evelsizer at (309) 820-3254. Follow her on Twitter: @pg_evelsizer
Get local news delivered to your inbox!
Subscribe to our Daily Headlines newsletter.