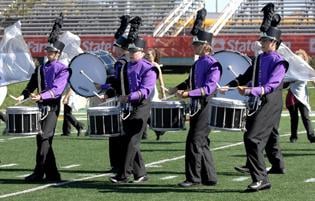 NORMAL - For Bloomington High School's marching band, months of work went into eight minutes. | Video | Photo gallery
"We started practicing July 30 - two weeks of 12-hour days," BHS band director Max Chernick said. During the school year, practice has been daily after school.
But that's what it took for the BHS band to become the band Chernick knew it could be when he took the job three years ago.
Before that, the "level of performance was not on par for what was needed for championship level," he said.
The hard work showed in the band's performance Saturday at the State of Illinois Invitational High School Marching Band Championship - "Band Day" - at Illinois State University's Hancock Stadium. Also among the 41 bands were those from Normal Community West, Olympia, University, Eureka and Lincoln Community high schools.
For months the band and color guard memorized music and practiced complicated, precision routines, but Chernick said the lessons go deeper than that. Marching band skills teach life skills, such as discipline, responsibility and teamwork, he said.
On an unusually warm October afternoon, the BHS band performed original music based on Ludwig van Beethoven's Ninth Symphony. "We named it 'Not the Ninth,'" Chernick said.
Among the new performance elements for BHS was having band members doing a routine with the flags, something usually done only by the color guard.
The 135-member band, which includes 15 color guard members, performed for eight minutes. Like other bands, they are allotted 15 minutes on the field, so the rest of the time was for setting up and taking down equipment with the help of volunteers.
Ryan Lawson, a senior who has played trumpet since fifth grade, said he enjoys the proud feeling of walking off the field after playing a good show.
"I've formed a huge love for marching band," he said.
Drum major Tarah Benner, a junior who has played flute since fourth grade, agreed. "You feed off the energy of the whole band - kind of like 140 of your best friends," she said.
She said Chernick challenges them "to do our best and a little bit more."
"The whole band is so talented and so hardworking," she said, noting that unity is crucial. "If everyone is not completely focused, the whole show could fall apart."
In its division, BHS won the crowd appeal award, best percussion and best winds and came in third overall, Chernick said. Best general effort and best color guard went to West, which placed second in the same division.
After performing, BHS left for Mahomet for yet another band event.
"This is the end of our marching band season - this is the last hurrah," Chernick said.
---
You have free articles remaining.
Following are the bands that won their divisions and advanced to the final rounds at the State of Illinois Invitational High School Marching Band Championship on Saturday at Illinois State University. Final results were not available at press time.
1A: Illinois Valley Central, Chillicothe
3A: Marian Catholic, Chicago Heights
4A: United Township, East Moline
5A: Victor J. Andrew, Tinley Park
6A: Lincoln-Way East, Frankfort
- Illinois Valley Central
- Waubonsie Valley, Aurora
- Wheaton Warrenville South, Wheaton
- Lincoln-Way Central, New Lenox