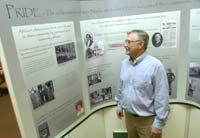 BLOOMINGTON - Mildred Pratt realized 20 years ago that if the rich history of African Americans in McLean County wasn't documented it could be lost.
So, Pratt and others involved with the Bloomington-Normal Black History Project got going, conducting interviews and compiling detailed oral histories.
Now, information from their work is part of a new exhibit at the McLean County Museum of History. Called "Presence, Pride & Passion: A History of African Americans in McLean County," the exhibit opens Saturday in the museum's Merwin Gallery.
Museum officials said the contribution of the Black History Project was significant. Jack Muirhead, a guest curator for the exhibit, was impressed with Pratt's work in particular.
"Her work provides a great wealth of information. Without her interviews, this would have been very difficult," said Muirhead, who in 1998 authored "A History of African-Americans in McLean County, Illinois."
Pratt, 77, of Bloomington, said the Black History Project formally got its start in the mid 1980s.
"I saw this rich information and wanted it documented," she said. Information she sought included details on how African Americans came to McLean County and how they supported themselves.
"I asked them to tell me about segregation and discrimination," said Pratt, a retired professor of social work at Illinois State University.
"People were quite open and anxious to tell their stories," she said, adding that the exhibit will be educational.
"Many don't know what life was like for African Americans in the early days," she said.
The exhibit reveals that while there was pride and passion, there also was discrimination. The story is told with over 100 images as well as graphics, reproductions and artifacts.
The exhibit is touted as highlighting "unique and varied stories reflecting the diverse experience of African Americans in McLean County." It was about two years in the making and will remain open through May 25, 2008.
Areas as diverse as athletics, military service and the professions are examined.
For example in athletics:
"Black athletes, in order to participate, started their own all-black teams."
"During WW I, over 35 local men of color fought bravely in France, as members of Company K of the 370th volunteer infantry."
"Dr. Eugene Covington was the only black medical professional to successfully practice in McLean County until the late twentieth century."
For more on this story, see Thursday's Pantagraph.
What: "Presence, Pride & Passion: A History of African Americans in McLean County"
When: Open during regular museum hours: , 10 a.m. to 5 p.m. Monday through Saturday; 10 a.m. to 9 p.m., Tuesday; 1 to 5 p.m. Sundays (from Labor Day through Memorial Day) 1 to 5 p.m.
Where: Merwin Gallery of McLean County Museum of History, downtown Bloomington.
Be the first to know
Get local news delivered to your inbox!