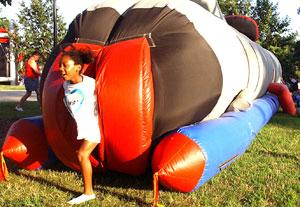 BLOOMINGTON - Bloomington's National Night Out offered people fun, food, freebies - and reminders that it takes a community to fight crime.
"We've lost the art of visiting," Marc Boon of the band Hip Pocket told the thousands of people who turned out despite the heat and humidity Tuesday night at Miller Park. He suggested from the bandstand that everyone should "take over a piece of pie" and find out who their neighbors are.
Event co-Chairwoman Barb Maxwell said police estimated the crowd at 6,000 to 7,000 people. She said last year's crowd was estimated at 10,000.
Police mingled informally with the crowd, including the many children who enjoyed free fair food, face painting, games and inflatable jumping toys. Displays of vehicles and memorabilia also honored the 80th anniversary of Route 66.
Stephanie Brown, 14, and Hillary Randle, 12, both of Bloomington, used Target store bags to carry giveaways, including pencils, key chains, stickers, temporary tattoos and crime prevention handouts. Both agreed the event was worth attending despite the weather.
Tanya Gauf of Normal agreed. She brought her son, Cameron Saylor, 6, and daughter, Mariah Saylor, 9.
"It's family fun time. We're here every year," she said. "You get toys and prizes everywhere."
Amid the various activities was the crime-prevention message.
Crime Stoppers of McLean County displayed 32 pictures of people wanted for crimes.
One tent belonged to Neighbors Looking Out for Neighbors, a new neighborhood watch group south of Wood Street and just east of Miller Park in Bloomington. Letter carrier Ruth Roberts organized the group after seeing a rash of burglaries in the spring along her mail route in her neighborhood.
Honoring the historic Route 66 was a display of Steak 'n Shake memorabilia assembled by Jerry Hinshaw, general manager of the restaurant at 1802 S. Veterans Parkway, Bloomington. He had six barstools, a black-and-white checked floor, vintage photo blowups and a pre-1950 menu that showed a burger and shake cost 21 cents.
Among the vehicles on display were a 1971 Corvette Stingray owned by Pete and Marcia Todd, Bloomington.
"We love the car. We drive it all the time," he said.
Ed and Carol Johnson of Normal brought a 1952 F-1 Ford pickup.
"It was made back when trucks were trucks," he said. "They were work trucks."
The truck has heat and a radio, but a sun visor and wiper blade on the passenger side were optional.
At a tent for Pontiac's Route 66 Hall of Fame and Museum, people rolled fuzzy dice and answered trivia questions to collect prizes.
Maxwell said she was pleased the weather was not an obstacle.
"I'm real pleased. People seem to accept it," she said.