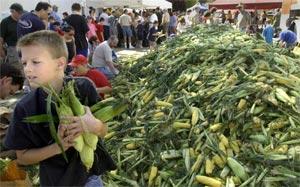 NORMAL — Steve Westerdahl will keep an eye on preparation of 55,000 ears of sweet corn Saturday and Sunday at the Sweet Corn Blues Festival in downtown Normal.
Every chance he gets, however, he'll watch people eating corn.
He finds this fascinating.
"Some eat back and forth like a typewriter and some eat around. The kids are especially fun to watch," said Westerdahl, community development director for Normal.
Where does the corn come from and how is it cooked?
It comes from Mendota. Public works guys take a truck out about 3 a.m. A mechanical picker picks the corn and it gets back here about 9 a.m. Scouts from the W.D. Boyce Council husk the corn and bag it for sale. An old steam tractor provides steam and the corn boils for five to seven minutes in large stock tanks.
What are some of the other highlights of the festival?
It is kicked off by the Sugar Creek Cloggers and Gamma Phi Circus and we have blues music, food vendors and arts and crafts. Merchants in downtown Normal will have special street sales.
How much corn is expected to be consumed?
We'll have about 20 tons of corn. That means about 55,000 ears.
How much is the corn and how many people do you expect to attend?
The corn is 25 cents an ear or $2 a dozen for bagged corn. With good weather, we expect 7,000 people each day.
Why do people enjoy the festival so much, some coming back each day?
I think it's the atmosphere of eating outside. It's a good family thing. It's purposely held after college students return to welcome them back.
What: Sweet Corn Blues Festival
When: 10:30 a.m. to 6 p.m. Saturday; 10:30 a.m. until the corn is gone (usually 3 or 4 p.m.) Sunday
Music: Red Hot Llama, 1 p.m. Saturday; Russell Miller and 6V6, 3 p.m. Saturday; Hip Pocket, 5 p.m. Saturday; Full Circle, 11 a.m. Sunday; Steve the Harp Blues Band, 1 p.m. Sunday; Billy Galt and the Blues Deacons, 3 p.m. Sunday.