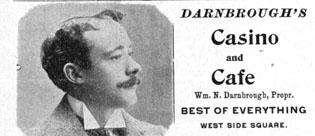 The Twin Cities has had its share of highrollers, risk-takers, cads and roustabouts, though none more celebrated than Billy Darnbrough, "known to fame as the most daring gambler who ever flipped a chip and called Bloomington his home." If we are to believe the many stories, back in the early 1900s Darnbrough "broke the bank" at Monte Carlo, the storied casino located in Monaco on the French Riviera.
Born in November 1869 near Lebanon, Ill., William Nelson Darnbrough was raised in Bloomington-Normal. He first earned a name for himself as a first-rate "base ballist," pitching in 1888 for the Reds, Bloomington's first professional minor league team.
The Reds then sold Darnbrough to Denver of the well-regarded Western Association, and he skipped around high minor league ball for several years. In April 1891, Darnbrough married Libbie Lewin of Bloomington, whose father, Hiram T. Lewin, ran a saloon and gaming room on the west side of the courthouse square. "It has been said that Lewin initiated Darnbrough into the mysteries of games of chance," noted a 1910 newspaper feature, "and the student soon became as expert as the instructor."
In the early 1890s, Darnbrough opened his own chop house (that is, a raucous version on today's steak house) and gambling joint in Lewin's old space. "Good old Anheuser-Busch beer, Faust and Pilsener, and the best and smoothest whiskies," read an enticing advertisement from May 1894.
For reasons lost to time, Darnbrough left Bloomington around 1895 and headed to Europe. For more than a decade he bounced from Paris to London and back again, finding himself every so often at Monte Carlo, always winning more than he lost.
The most detailed account of Darnbrough's life and times comes from a Jan. 20, 1929, article by Pantagraph reporter E.E. Pierson. During an overseas trip, Pierson interviewed "The Mysterious American" (as he was called in the European press), who was then an expatriate living in London.
Pierson acknowledged that many accounts of Darnbrough's grand triumph over lady luck were "garbled and incorrect," if not "largely imaginary." He surmised that such stories originated with "Riviera romanticists" and the "publicity bureau of the Monaco principality itself."
If Pierson's own rather improbable retelling can be believed, Darnbrough broke the bank during a marathon run beginning in the fall of 1911 and ending six months later. The former hurler for the Bloomington Reds played roulette 10 to 13 hours a day, betting an average of $15,000 on each spin of the wheel. It was estimated that some $270 million changed hands between Darnbrough and the casino over those six months. He ended up more than $400,000 in the black.
How did he do it? Even spies on the casino payroll failed to uncover Darnbrough's system, be it legal or illegal. "Not even the shrewdest of the ferrets that ever guard the casino could fathom his system," Pierson recounted. "When the men failed, beautiful women, utilizing all the wiles that their sex could devise, were delegated to the task. Darnbrough, however, was invulnerable and kept his own counsel." There were even rumors (patently absurd though they were) that he carried an electric cane that somehow manipulated the roulette wheel to his liking.
For his part, Darnbrough feigned annoyance over talk of this or that system, and instead claimed to rely on little more than persistency and well-timed inspiration.
What makes his feat even more extraordinary, according to Pierson, was that he walked away without ever again "wooing the goddess of chance." That is, he gave up gambling for good. "When the final day arrived," Pierson recounted, "he stepped into an automobile and without any formality of departure or farewells, he rolled away from Monte, never to return."
Regardless, the phrase "breaking the bank" is somewhat of a misnomer, since there was no bank to break. Rather, the term usually meant pulling in record or near-record earnings. Thus Darnbrough was just one of several professional gamblers who enjoyed international notoriety for "breaking" the Monte Carlo "bank."
It appears he spent his remaining years in England, turning to golf and the life of a "sedate country gentleman." By early 1938, the then- 68-year-old Darnbrough was living in the West Kensington area of London and representing the interests of Wood & Lambert Ltd., "an automobile sales concern."
Bloomington-Normal residents long believed that the popular musical hall song, "The Man Who Broke the Bank at Monte Carlo," was about Darnbrough. Unfortunately, this cherished myth is easy to "bust," since the song was written in the early 1890s, well before Darnbrough's supposed feat of the same name.