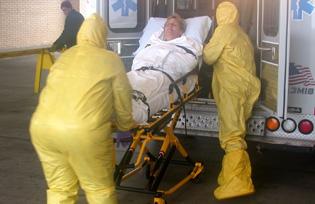 PONTIAC - Pontiac hospital workers practiced Thursday for something they hope never happens: a patient coming in with radiation exposure.
OSF Saint James-John W. Albrecht Medical Center is a designated reception center for the Braidwood nuclear power plant and a backup hospital for Silver Cross Hospital in Joliet, so it is possible accident victims could end up at Saint James, said Steve Baron, the hospital's emergency medical service response coordinator.
More severe cases would go to larger hospitals closer to the site, so Saint James practiced a scenario involving a person with exposure to low-level radiation.
The drill was reviewed by the Federal Emergency Management Agency.
"We are just looking at the processes and procedures that the hospital does for this type of response," FEMA Region 5 Team Leader Dwayne Warren said. "This is all strictly part of our drill activity, and we pull together our notes from the evaluation process and report it back to the state."
The simulation started around 10:40 a.m. with the intercom announcement of a Code Orange, which alerts the hospital to have its contamination team ready.
"As soon as we are notified by IEMA (Illinois Emergency Management Agency), we would know immediately what the situation is," Baron said. "We should have a couple of good hours of notification to get ready."
You have free articles remaining.
Duffy Ambulance Service rescue workers brought the "patient" to the hospital's emergency entrance around 10: 50 a.m.
Decontamination for mild radiation exposure is relatively simple, Baron said. The patient is washed with mild, soapy water.
IEMA workers used simulation instruments to detect levels of radiation that would be on all of those involved if it were a real incident.
Baron said that it was still business as usual at the hospital during the drill. The event did not interfere with any other patients or normal operations, he said.
"Realistically, if a situation like this were to happen we would still try to keep normal operations going," he said. "What FEMA is doing right now is going to give us information on how we can improve for next time."
Hospital spokeswoman Pam Meiner issued a statement saying FEMA officials were satisfied with the simulation, especially how communication was handled throughout.
She said FEMA determined the decontamination room was small, but the staff worked well in identifying and using facilities needed for their work.
"As you can see, during these drills we meticulously examine each step, action and piece of communication to make our response as efficient and good as it can be," Meiner said in the statement.
Warren said IEMA would communicate the results with the hospital and Livingston County officials.