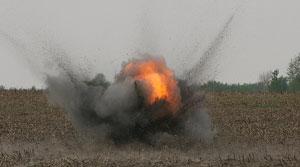 DANVERS — 3 p.m.: A deafening explosion shook the ground as the equivalent of 5 pounds of TNT exploded in a farm field.
3:10 p.m.: Only a slight ping was heard as the same amount of explosives was detonated in an HD-5, a blast containment chamber designed at D.E.T.S., Inc., in rural Danvers.
"We like to show everybody the difference," said John Donovan, designer of the chamber.
Made in rural Danvers, the HD-5 (Homeland Defense-5) is portable and has possible uses in homeland security. Donovan hopes to interest the state of Illinois.
A big selling point is that the chamber is portable enough to fit into an elevator, so it could be brought to the scene when a bomb is discovered.
Made of manganese steel, the chamber weighs 3,200 pounds and can be transported on a trailer. It has a capacity of 5 pounds of TNT its explosive equivalent.
Donovan said designing the HD-5 began about two years ago.
It could be used by law enforcement, airports and casinos and would make detonation of explosives safer, he said.
Several state officials observed the HD-5 Wednesday, including Robert Bensko, Illinois homeland security director with the Illinois Commerce Commission.
"Cool," Bensko said after the demonstration.
Bensko said he'd talk with state police and other agencies to see if the HD-5 has applications in Illinois.
"It could be produced here and create jobs," said State Sen. Bill Brady, R-Bloomington.
"I'm here to view what resources are available locally," said Lt. Mike Emery of the McLean County Sheriff's Department, the Republican nominee for sheriff.
While the Illinois secretary of state's police handle bomb calls, Emery said: "No doubt I could call John (Donovan) if we had a situation."
Emery said he believes the chamber could be used throughout the world.
Donovan, 64, said the HD-5 displayed Wednesday is a prototype and that his company could make another in 60 days.
The chamber, all accessories and trailer cost $135,000, but Donovan said the price could drop if a large number of devices are sold.
"The real goal is to save lives," the former Green Beret said.
---
Function: Contain explosives for safe detonation
Manufacturer: D.E.T.S. Inc., Danvers