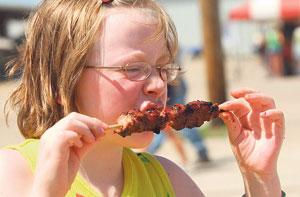 BLOOMINGTON - "Healthy" and "fair food" are like "stress-free" and "project judging" - the phrases just don't go together. Let's face it, fair-goers: corn dogs and funnel cakes aren't grilled salmon and watermelon. But on a hot August day at the McLean County Fair, fair food rules.
The good news is you can have your fair food and eat it too without feeling guilty, provided you do so in moderation.
This advice isn't from a frazzled 4-H parent but from a composed expert in nutrition: registered dietitian Julie Raeder Schumacher, an instructional professor at Illinois State University and Central Illinois spokeswoman for the Illinois Dietetic Association.
"The fair is once a year," Schumacher said. "You can enjoy yourself and try some of those foods."
To prove her point, Schumacher spent time with a 4-H family on Wednesday as they had lunch at the fair. She didn't advise them what to pick but evaluated their selections.
The willing family was the Irwins: mom, Doretta, and daughters, Mary Judith, 13, Julia, 12, and Michele, 9.
The Bloomington girls are members of the Hot Shot Leaders 4-H Club and were busy Wednesday morning with project judging.
By 11:30 a.m., they were hungry and ready to eat.
Eating fair food was a rare treat for the girls, and they were looking forward to it.
"As a family, we do pay attention to it (healthy eating) but we're not fanatics about it," Doretta Irwin said.
The Irwins eat fruits and vegetables and drink milk daily and generally avoid fried foods.
"Our family tries to watch what we eat with sugar and fried, greasy foods," Julia Irwin said.
Michele Irwin chimed in, "But it's hard to find anything at the fair that isn't fried."
"We tend to be careful with what we eat," their mother said. "So on occasions like this when we splurge, it isn't going to ruin things."
The Irwin girls scoped out the food vendors. Schumacher said that was a good strategy.
"Assess what's there and choose what you really want," the dietitian said. "Otherwise, you'll graze through the fair and end up eating several foods."
Doretta Irwin chose a chicken kabob, Mary Judith Irwin got a pork kabob, Julia Irwin an egg roll, and Michele Irwin got crab Rangoon.
They tried each other's food. Schumacher said that's also a good strategy.
"Splitting and sharing your food is a good idea because then you can get to taste a variety of foods without feeling the need to buy and eat a serving of each one," she said.
The kabobs were a healthy choice for fair food, she said. The crab Rangoon and egg rolls were fried, which isn't good, but the girls shared them, she said.
Next, Doretta Irwin went to her car to get water bottles. Schumacher said that was another sound strategy.
"With the heat, hydration is even more important," she said. Walking around the fair means fair-goers need more than the recommended eight daily servings of water.
Mary Judith Irwin also drank a strawberry shakeup. While that had sugar, it did have strawberries.
Next, Michele Irwin had a kabob, which she shared, and a small ice cream; Mary Judith Irwin had a small ice cream, and Julia Irwin got nachos with cheese, which she shared.
While a small serving of ice cream isn't health food, it does have some calcium and is about 200 calories. That pales in comparison to another popular fair dessert, a funnel cake, which has 760 calories.
A serving of nachos with cheese isn't healthy, but Schumacher liked that the cheese was on the side, rather than poured over the chips.
"Tonight, we'll make sure that we have a vegetable with dinner," Doretta Irwin said.
You can enjoy fair food without feeling guilty. Here are some strategies
- Think about why you're at the fair. Enjoy the reasons that you're there - the 4-H projects, the animals, visiting other fairgoers, the carnival rides - and the food becomes less important.
- Have a good breakfast. Eat a high-fiber breakfast that will fill you up until lunchtime.
- Scope out the food vendors before making your choice. Decide what you really want to eat. Otherwise, you risk buying several foods and eating them all.
- Limit fried and high-fat foods. A large bratwurst may be 800 calories with 60 grams of fat. A corn dog may be 375 calories and 21 grams of fat. A funnel cake may be 760 calories. Consider healthier selections, such as a grilled pork chop sandwich and corn on the cob.
- Share. If you really enjoy the fried and high-fat foods, split and share them with others in your group. You'll get a taste without getting all the fat, calories and sugar.
- Drink water. Staying hydrated is important during the heat of the fair. Bring water bottles and refill them at the fairground's water fountains. If you forget, you can buy water at the fair, but keep in mind that it's $2 a bottle.
- Walk. You can burn 200 to 300 calories an hour walking around the fairground.