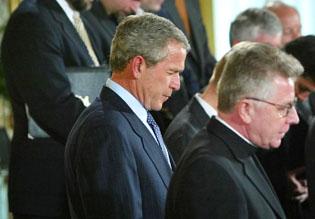 CHICAGO - After a standing invitation to the White House during the Bush administration, evangelical Christian organizers of National Day of Prayer activities have not been invited to attend White House ceremonies on Thursday.
In fact, it's unclear whether there will be ceremonies in the White House at all.
"We are disappointed in the lack of participation by the Obama administration," said Shirley Dobson, chairwoman of the National Day of Prayer Task Force, who for the past eight years has attended a White House ceremony with her husband, Focus on the Family founder James Dobson. "At this time in our country's history, we would hope our president would recognize more fully the importance of prayer."
But some accuse the Dobsons and others of hijacking a day intended for interfaith prayer and reflection to promote a conservative political and social agenda.
Last month, the Interfaith Alliance joined others in urging Obama to support a National Day of Prayer and Reflection, "that restores and respects our nation's best values by explicitly inviting clergy from diverse faith traditions to participate equally and fully-especially in events held on government property."
Ron Millar, acting director for the Secular Coalition of America, commended the White House's decision to discontinue Bush's traditional ceremony, which he said championed the Religious Right more than it promoted prayer. Either way, it's not something the federal government should encourage, Millar said.
"It's a nice first step," he said. "Generally, we don't want the federal government to endorse prayer because it's endorsing a specific religion. We'd rather them not be in that business. It would be difficult to be all-inclusive on this."
White House officials scoffed at Dobson's implication that the Obama does not recognize the significance of prayer.
"President Obama is a committed Christian and believes that we should be engaging Americans of faith in efforts to renew our country," one White House official said. "He is following the tradition of Presidents Ronald Reagan, George H.W. Bush and others by signing a proclamation honoring the National Day of Prayer, while continuing to work with communities of faith to improve our country."
The National Day of Prayer was signed into law in 1952 by President Harry Truman after a six-week crusade in the nation's capital led by Rev. Billy Graham. Members of the House and Senate introduced a joint resolution for an annual National Day of Prayer, "on which the people of the United States may turn to God in prayer and meditation at churches, in groups, and as individuals."
But the idea had been proposed and rejected several times previously by presidents. Thomas Jefferson wrote that "every religious society has a right to determine for itself the time for" prayer.
James Madison wrote in 1817 that National Days of Prayer "seem to imply and certainly nourish the erroneous idea of a national religion."