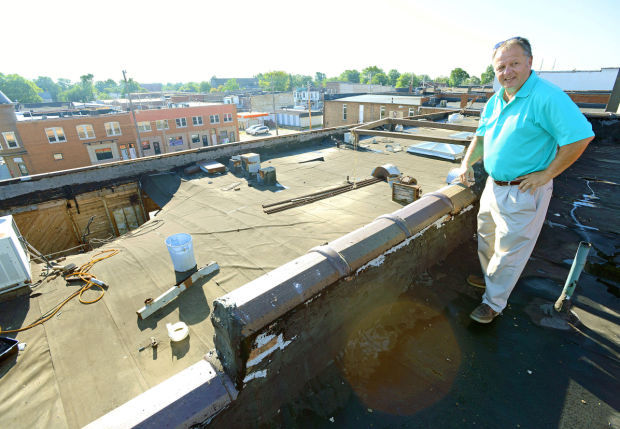 CLINTON - Stylianos Angelakos' first visit to Clinton was in 2002 to look at a commercial building for sale on the town square. It was the start of a grand vision he had for development in the community 150 miles south of his home in Chicago.
Eleven years later, it's apparent that Angelakos, a physician until his medical license was revoked in August for failing to pay state income tax, lacked the carpentry and other skills needed to fulfill his dream of renovating at least four buildings facing Mr. Lincoln's Square into residential showpieces with penthouse apartments tall enough to offer a view of Clinton Lake eight miles away.
DeWitt County property records indicate the 13 residential and commercial properties seen by Angelakos as having the potential to become a stunning development with international flavor were actually owned by his daughter, Georgia Angelakos, also of Chicago. Bankruptcy proceedings she filed in July include $1.8 million she owes on 10 of the 13 properties in Clinton and one in Decatur.
The city of Clinton recently purchased three of the commercial buildings — at 804 and 806 North Side Square and at 217 E. Main St. — for $20,000 and agreed to pay about $7,000 in back real estate taxes after the building at 806 North Side Square collapsed in May.
Former Clinton Mayor Ed Wollet recalled his initial, friendly contact with Angelakos.
"We went to dinner and he told me how he planned to convert Clinton into his village in Greece," said Wollet.
But the relationship with city officials went downhill as the city pressed Angelakos about the lack of progress on several buildings, including 119 E. Main St., a structure Wollet called "the doll house" because it lacked a façade for months.
"Suddenly, we had an icy relationship and we had trouble contacting him. He spent fewer and fewer days in Clinton," said Wollet.
When Angelakos was in town, City Administrator Tim Followell said he often stayed in his van or one of the vacant buildings that mostly were under some phase of demolition or construction. Workers who helped Angelakos came from Chicago and were paid less than the minimum wage, said Wollet, triggering at least one complaint to the state labor department.
"His failings were many, but the thing he lacked the most was simple honesty. He said he was going to invest in Clinton, but he's left the city in a mess," said Wollet.
Followell said Angelakos has not been seen in Clinton for at least six months. Efforts to reach the building owner and other family members were unsuccessful.
Since the beginning of the Angelakos real estate debacle, Followell has been wary of the unsteady pace of the work and the slow deterioration of nine buildings in the city's central business district.
"We definitely did not see eye to eye," Followell said of the disagreements that turned into legal orders for Angelakos to complete work on the structures.
Last week, current Mayor Carolyn Peters brought two estimates to the council for demolition of the former Maverick Steak House at 806 North Side Square. One bid for about $190,000 would leave the outer brick walls of the structure while a $130,000 estimate would remove the entire building.
The council directed Followell to put together bid specifications for demolition.
City council member Nan Crang lamented the loss of the building, saying "that was really a beautiful building at one time. There's really no excuse for this."
Followell is fearful the city will be forced to pour more tax dollars into demolishing other Angelakos-owned properties, leaving spaces in the commercial landscape resembling a bad smile.
"We don't want that many missing teeth," said Followell.
The former Spurgeon's department store next door to Maverick is structurally sound, said Followell. For more than 60 years before it closed in 1991, customers visited the four-story store for everything from haircuts and winter coats to fabric and bulk candy.
Today, the first floor of the Spurgeon's building is cluttered with a collection of dilapidated commercial kitchen appliances left behind by Angelakos, who rivaled the most serious flea market operator judging from the rooms that are full of household goods he left behind at 217 E. Main St.
Norm Newman, a Chicago attorney hired as trustee for the Georgia Angelakos bankruptcy case, said a Sept. 19 meeting is scheduled with 18 creditors who have filed unsecured claims, and First National Bank in Clinton and Standard Bank in Hickory Hills that hold secured loans on the properties.
Georgia Angelakos lists $7,171 in monthly income from her job as a clinical counselor at Northern Illinois University and from her husband, a self-employed diagnostician, according to court records. After expenses, the couple is about $1,000 short of the amount needed to cover their living expenses, according to bankruptcy records.