OPENING DOORS
College towns often face housing affordability issues
High student housing costs drive up prices for other renters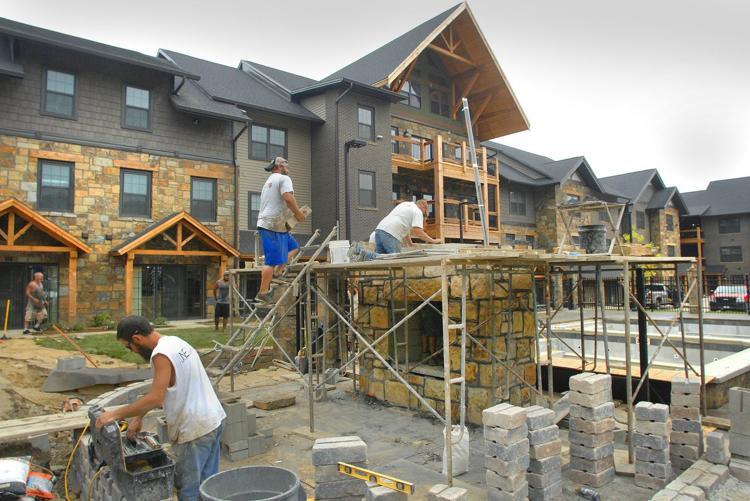 BLOOMINGTON — Normal Mayor Chris Koos was helping family friends relocate to the Twin Cities when he found out just how expensive rental properties are.
"I was stunned at how expensive the houses were to rent," said Koos. "I was thinking with a 10 to 15 percent down payment, the (mortgage) payment would be much lower than what the house was renting for. But I think that sometimes serves as a bar to get into entry-level homes because they are not able to save enough money as a down payment.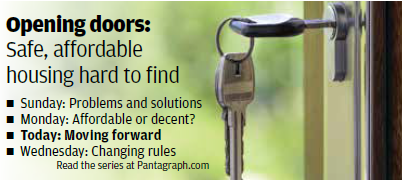 "There's not enough affordable rental property, and this is an area that I think we have a problem with," said Koos. "Rental property tends to be pretty expensive in both communities."
The opinion is part of a finding in a recent regional housing study spearheaded by the McLean County Planning Commission. It found that in university towns like Normal and Champaign, high rental rates for student housing drives up the cost for other renters because those apartments are often rented at a cost per bed as opposed to cost per bedroom. That makes housing less affordable for those who are least able bear higher rents, like the poor, elderly and disabled.
BLOOMINGTON — Sue Spivey worries about what will happen to her son when she's no longer around to advocate for his mental health needs.
"I think we definitely need more units," said Bloomington City Planner Katie Simpson. "It's reflected not only in the comprehensive plan, but the regional housing study and also the market. If you look at somebody paying $700 for an apartment that's not the best quality, maybe they need some other options."
"As elected officials, as a community development department, as economic development, we need to be approving projects that provide affordable housing ...," said Bloomington Mayor Tari Renner.
Renner is hesitant about requiring all developers building new housing to also provide some units for low-income families.
"It depends on the nature of the development," said Renner. "How big is the development? Is it 12 or 120 units? Is it purely rentals? Are they homes for sale? Where is it? Fifty or 120 gives you a lot more freedom ...."
Instead, he favors changing zoning regulations to allow development of more densely-populated, multi-family projects. "I think it will make us a more sustainable community in terms of reducing our transportation and a variety of other issues," said Renner.
The housing study placed a focus on promoting the development of housing by encouraging municipalities, individuals, and developers to envision projects and improve existing properties using tax increment financing, establishing a housing trust fund, and revising zoning classifications to allow for more mixed-use development and more dense housing developments near transit services and retail shops.
CHAMPAIGN —  Bristol Place, a neighborhood on the north side of Champaign that had fallen prey to crime and blight, soon will be reborn with a…
Although city officials consider TIF as a tool as a last resort, Renner said an exception should be made "when you have a problem like affordable housing that is not getting any better and only getting worse."
"We need more subsidized housing or landlords who will take housing vouchers," said Karen Zangerle, executive director of PATH (Providing Access to Help). "I don't think we should build anything. I don't think one-site housing is the answer. I think housing vouchers are the answer."
But with HUD unlikely to approve more vouchers for the McLean County area, Zangerle said a consortium of landlords should to take on more low-income people in exchange for supportive services.
"What works in larger cities all over the United States is where somebody will do a complex of apartments where some will be at market rate and some will be at low-income tax credit rates or Section 8 housing voucher or whatever is available," said Koos. "I've toured some where you couldn't tell the difference between apartments."
---
Want to see more local news like this?
Our Daily Headlines email is for you! Delivered daily at 7:30 a.m., you'll get the local stories you need to see directly in your inbox.
I understand and agree that registration on or use of this site constitutes agreement to its user agreement and privacy policy.
---
Reporter Paul Swiech contributed to this story.
Contact Maria Nagle at (309) 820-3244. Follow her on Twitter: @Pg_Nagle