BLOOMINGTON — After the Illinois Senate passed legislation Thursday to raise the state minimum wage to $15 an hour by 2025, university officials and small-business owners said the raise could cost them a lot of money.
"The cost would be $7.5 million once the concept is fully implemented," he said, referring to the $15 rate that would take effect in 2025.
Senate Bill 1 was approved 39-18 and will be sent to the House for consideration.
If the bill passes in the House, Illinois' minimum wage would increase from the current $8.25 per hour, where it has sat since 2010, to $9.25 on Jan. 1, 2020. After a 75-cent bump to $10 on July 1, 2020, the wage would increase $1 each Jan. 1 until 2025.
"My hope is that, if elected officials think it's a good idea, they would fund it" by providing more money to public universities, Dietz said. "Otherwise, it would be an unfunded mandate."
If the state does not increase money to higher education to adjust for the higher minimum wage, the university would have to increase tuition to come up with the money or reduce the number of student employees, Dietz said.
"It would probably be a combination of both," he said, adding there are about 4,000 to 5,000 student workers at ISU.
"Universities would face tens of millions in new costs with the potential for thousands of student employee layoffs," he said. "According to several schools, the hike will likely result in layoffs for teachers' aides and other positions that will negatively affect in-classroom learning and/or create pressure to raise property taxes."
Barickman voted against the bill, which was split by party with no Republicans voting in favor and no Democrats voting against.
"This isn't about whether or not the minimum wage should be increased, it's about how much, how fast and what we can do to minimize the loss of jobs, especially downstate," he said. "Unfortunately this legislation doesn't really do much of anything on any of those fronts."
The McLean County Chamber of Commerce recently conducted membership testimonial surveys to determine the impact of the proposed legislation and received more than 400 responses, said John Walsh, government and public affairs manager for the chamber.
"Of those responses, 91 percent say they are concerned with the increase and believe it will negatively impact their day-to-day operations," Walsh said Thursday.
Several small-business owners responded that they might have to reduce their hours, increase prices to offset costs, slow hiring new employees or lay off current employees.
About 14 percent of the chamber's survey respondents believe the wage increase could be "detrimental" to their business, Walsh said.
"I only employ four people, and I definitely don't pay them all $15 right now," Nord said. "If I have to pay everyone $15, I will probably have to have a smaller staff and raise prices on stuff again, which I just did when I took over in July."
Chris Koos, owner of Vitesse Cycle Shop and Often Running in Normal, said he sees a couple pitfalls in raising the minimum wage for a business like his, which has five full-time employees and about 20 seasonal part-time workers.
"I think a timeline over seven years might be easier for a business my size," he said. "The other issue that I've got to think about is, when I bring in new hires part time, high school kids or a freshman in college, they don't have any experience and it takes time and money to train them up."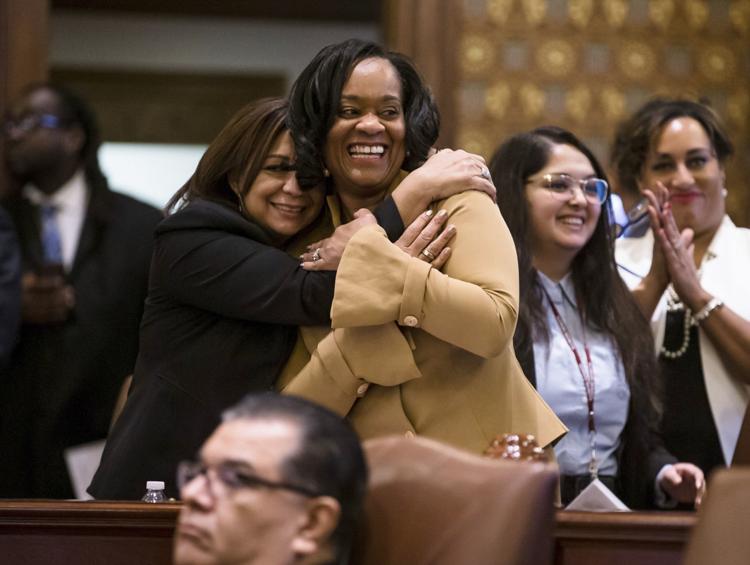 Koos noted, however, in his shops, which share space at 206 S. Linden St., he doesn't pay any employee minimum wage, and he's not concerned about a new floor elevating others' wages.
"It's a competitive environment, and to get good people I have to pay higher than that. ... The people who have been with me for a few years I'm paying close to $15 an hour now," he said. "I'm in an industry where people have to have experience and knowledge."
"Like many of the small businesses, we know that has impacts to the city. But I don't want to be closed to the possible positives that might come out of this — how people have more to spend on different products," he said. "We'll just have to wait and see."