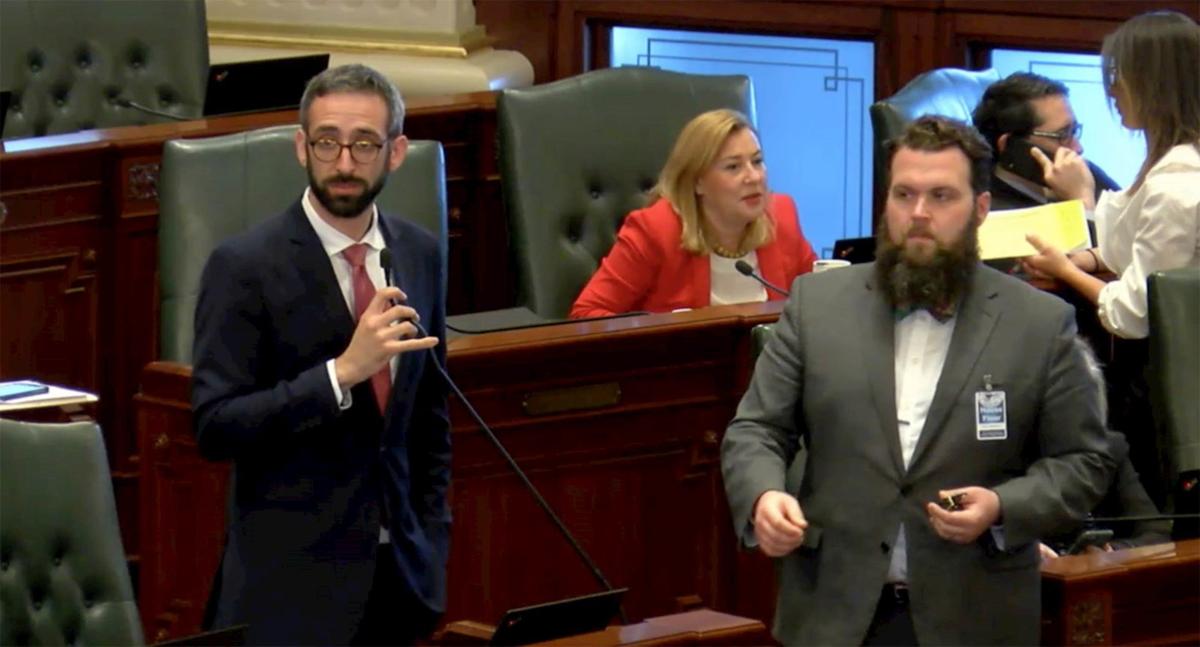 SPRINGFIELD — Senate President John Cullerton will resign from the General Assembly sometime in January, he told his caucus in a meeting after the fall veto session concluded Thursday, Nov. 14.
A definitive date has not been set.
The Chicago Democrat spent almost 40 years in the General Assembly, first serving in the House before moving to the Senate. He was elected president of that chamber in 2009, and one of his tasks was presiding over the impeachment trial of former Gov. Rod Blagojevich.
"I've had the pleasure to work with a body of Senate members who were equally resolute in moving Illinois forward and making the changes necessary to grow our economy and build a better future for our children and our communities," Cullerton said in a statement.
"I look forward to watching this august chamber and all you will accomplish," he continued. "As we all know, there will be bumps in the road, but they will be paved over with new ideas and solutions, and a constantly changing body of members who are eager to bring their own vision and signature to our illustrious Illinois Senate."
Democratic Gov. J.B. Pritzker said he was "surprised" by the news. Cullerton is his senator.
As of 5:30 p.m. Thursday, he had not had a chance to speak to the Senate president "personally," but Pritzker said he is "very sorry to see him leave his position."
"I've known him for a number of years," he said on his way out of the Statehouse. "I'm especially grateful for his having worked together with me in partnership with so many other members to get our agenda passed in the Legislature this year."
Asked if he would play any role in finding a new leader for the chamber, the governor said he "hadn't thought about it."
In a statement, Cullerton pointed to a list he could "humbly brag" about accomplishing during his tenure: "two capital bills, marriage equality, abolished the death penalty, school funding reform (and) immigration reform."
Senate Minority Leader Bill Brady, from Bloomington, said Cullerton served the chamber with "honor and distinction."
"I have known John for many years, but it has been during the last two years ... that I have seen firsthand the integrity, honesty, and humor that he brought to the responsibilities his office entailed," he said in a statement. "We may not have always agreed on how best to address the issues facing the state, but there can be no denying John always put the people of Illinois first."
PENSION CONSOLIDATION: Democratic Gov. J.B. Pritzker thanked lawmakers Thursday, Nov. 14, for passing legislation to address an issue that has eluded the General Assembly for nearly seven decades – consolidating hundreds of suburban and downstate police and firefighter pensions into two unified systems.
"The first was in 1947, fully 18 years before I was born," Pritzker said during a news conference moments after the Senate passed the bill. "That year, the Commission on Public Employees Pensions issued a report that said, 'In no phase of the pension problem is there such emphatic agreement on the necessity for corrective legislation as in the field of downstate policemen and firemen funds.'"
That year, a bill was introduced to consolidate what were then 133 suburban and downstate pension funds, but it never came out of committee, Pritzker said.
In the years that passed, the number of pension funds swelled to 649, and their financial problems have ballooned as well.
But supporters of Senate Bill 1300, the legislation now headed to Pritzker's desk, say the consolidation of those funds into just two – one for police officers and one for firefighters – will go a long way toward putting the funds on a path to stability and relieve pressure on local governments throughout the state to raise property taxes to fund those pension systems.
"This bill does all that," Rep. Jay Hoffman, D-Swansea, said during the news conference. "At the same time it makes sure that there still is local control over the determination of disability and the determination of benefits. That's why I think it's a win-win-win for everybody."
The bill passed the House on Wednesday, 96-14. The final vote in the Senate to concur in amendments the House made to a Senate bill was 42-12.
Although it had bipartisan support, many Republicans, including some who voted for the bill, said they opposed a provision that retroactively enhances benefits for so-called "Tier 2" employees, those hired after Jan. 1, 2011, when the state implemented new retirement systems with substantially lower benefits.
The bill was the byproduct of a task force that Pritzker appointed in February. With passage of the consolidation bill, however, Pritzker said the task force's work is still not done. He said in the coming months, it will continue meeting to work on recommendations for stabilizing city of Chicago pension funds and other statewide pension funds.
CHICAGO CASINO: Illinois lawmakers adjourned the fall veto session Thursday, Nov. 14, without voting on a bill to clear the way for development of a Chicago casino, despite last-minute efforts to get one through the House.
Instead, they passed a measure that makes only technical changes to the massive gambling expansion bill they passed this spring. That bill adds measures dealing with fingerprinting and other issues that the Illinois Gaming Board said were needed in order to process applications for all the new casinos authorized by that bill, as well as sports wagering.
Without that technical bill, its supporters said, those new gambling venues could not go forward, and the state would never see the revenue that has already been earmarked for large parts of the $45 billion public works package, or "capital bill," that was also approved in the spring session.
But the failure to act on the larger casino bill angered many Chicago-area lawmakers who accused their downstate colleagues of engaging in "regionalism."
"You know what else is going to jeopardize the capital bill?" Rep. Kelly Cassidy, D-Chicago, asked on the House floor. "Not having a Chicago casino."
Cassidy noted that, earlier in the day, Chicago-area lawmakers had supported a bill to consolidate suburban and downstate police and fire pension funds, a bill that Gov. J.B. Pritzker's administration had said was critical to stabilizing those funds financially.
"The Chicago members took the vote that didn't help our police and fire (pension funds) on the promise that they would be made whole later," she said. "We took a leap of faith. But this body … needs to stop the regionalism."
The failure to pass a Chicago casino bill came despite personal lobbying efforts by newly-elected Chicago Mayor Lori Lightfoot, whose city faces a projected deficit of more than $800 million.
Proponents of the casino said they will resume their efforts when the General Assembly reconvenes Jan. 28 for the start of the 2020 session.
ETHICS REFORM: A pair of ethics reform bills passed both chambers Thursday, Nov. 14, at the Illinois Statehouse despite claims from Republicans that the measures were watered down, partisan and diversionary.
While most House Republicans voted in favor of a resolution creating an ethics reform commission, which passed, 111-4, and a bill to require greater lobbyist disclosure, which passed, 110-5, they bombarded Democrats with criticism during floor debate.
Many Republicans listed ethics bills they filed as early as January and as late as this week, many of which had not received a committee hearing or even been assigned to committee.
"Clearly, this is a last ditch effort to appear to be doing something on ethics, which I applaud that we're finally going to do something on ethics," Rep. Grant Wehrli, R-Naperville, said while questioning whether the new commission would actually deliver results.
House Republican Leader Jim Durkin, of Western Springs, questioned why language adding requirements to lawmakers' statements of economic interest was removed from the lobbyist disclosure bill, Senate Bill 1639, by a late amendment Thursday.
Rep. Greg Harris, D-Chicago, who carried the bill in the House, said economic interest disclosures would be discussed by the commission created in House Joint Resolution 93.
"Do we really need a commission to be able to come up with a solution that is, I would say, practical but also the right thing to do?" Durkin asked. "… I've seen commissions come and go over the years. Many of us look at those commissions with jaundiced eyes because generally they don't produce the positive results that we think are important."
The commission's role would be to study ethics reforms and report their recommendations on specific pieces of legislation to lawmakers, who would have the ultimate authority to enact the measures.
MARIJUANA LEGALIZATION: A cleanup bill written to ensure a smooth rollout of the legalization of adult-use marijuana in January passed both chambers of the Illinois General Assembly on Thursday, Nov. 14.
Sen. Heather Steans, a Chicago Democrat who sponsored both the original legalization bill and the follow-up Senate Bill 1557 in the Senate, made clear that public consumption of cannabis will be allowed only at locations that have no food and drink.
"No restaurants, no bars, it can only be in a dispensary or retail tobacco store," she said.
Those facilities will have to seek waivers from the Smoke Free Illinois Act from their local governments.
SPRINGFIELD — Legislation reinstating and retroactively applying tax break for aircraft parts cleared the Senate on Thursday overwhelmingly an…
The bill also clarifies a "revolving door" provision of the law by prohibiting future members of the General Assembly and their families from having a direct financial ownership interest in a cannabis business until two years after that lawmaker leaves public office.
"This amendment adds ethics language to conform with a two-year revolving door prohibition on members and family having ownership interest that currently exist under gaming law," said Rep. Celina Villanueva, a Chicago Democrat who carried Senate Bill 1557 in the House.
Villanueva said lawmakers who were in the chamber during the passage of the original cannabis bill and their spouses "currently have a lifetime ban on being able to have a stakeholder ownership" in the cannabis industry. The new language change applies the two-year ban to future lawmakers and their immediate family members.
The bill passed the House 90-20 and the Senate 41-6.
INSULIN PRICE CAP: A cap on prescription insulin costs for some health insurance plans is headed to Gov. J.B. Pritzker, who said Thursday, Nov. 14, he looks forward to signing the measure.
Supporters of the bill gathered at the Illinois State Capitol on Thursday to celebrate the passage of Senate Bill 667 and make clear the legislation was only part of a larger effort to hold prescription drug manufacturers and insurance companies accountable.
"It's time to fix this broken system. It's time to stop the tweaks. It's time to stop the half measures. It's time to stop passing the buck. That will not lower drug prices," said William McNary, co-director of Citizen Action Illinois. "We need policies that will hold drug companies accountable and make medicines affordable and to take away the corporation's power to put profits over people's health."
McNary said drug companies have artificially run up the price of insulin.
The bill will not affect the price drug manufacturers set for insulin, however. Rather, it caps, at $100, the out-of-pocket price insurers can charge for the drug for those who have insurance regulated by the state. This includes those purchasing their insurance on the marketplace, and state employee insurance plans, among others. The bill takes effect in January 2021.
The bill's House sponsor, Rep. Will Guzzardi, D-Chicago, said it would not apply to plans offered by large employers governed by the federal Employee Retirement Income Security Act because the state cannot preempt federal law.
It is estimated to affect approximately 20 percent, or 260,000, of the state's 1.3 million insulin users.
While McNary called the Illinois bill a "significant step," he said federal action is still needed to address rising prescription drug prices across the board, and Guzzardi agreed.
His bill passed with significant bipartisan majorities in each chamber, as representatives of the prescription drug and insurance industries listed themselves as "neutral" on the measure.
TAX BREAKS: Legislation reinstating and retroactively applying tax break for aircraft parts cleared the Senate on Thursday, Nov. 14, overwhelmingly and without controversy despite the governor's promise to veto the measure.
Supporters from both parties said the bill would protect Illinois' competitiveness and maintain jobs. But Democratic Gov. J.B. Pritzker, in public comments Monday, promised a veto if it reached his desk because it "would forgive $50 million of taxes that are owed by people who are in this private jet industry."
During Senate debate Thursday, Rachelle Crowe, a Democrat from Glen Carbon, said the sales tax exemption was on the books for years before expiring and lapsed without any regulatory or official bodies noticing. Repair companies, therefore, neglected to collect the tax from jet owners who had work done on their aircrafts during that period.
The bill is retroactive because it would be "absurd," Crowe said, to think companies would go back to their customers to collect that sales tax years later.
You have free articles remaining.
Several senators, including Cahokia Democrat Christopher Belt, spoke of the "devastating" effects of not reinstating the tax break, including loss of jobs.
Republican Sen. Chapin Rose, from Mahomet, said it is "ludicrous" for Pritzker to consider vetoing a piece of legislation that, for his district, is about "jobs and the future economic vitality of the region."
House Bill 3902 was approved by the Senate on a 48-1 vote, with the only no vote coming from newly appointed Sen. Patrick Joyce, D-Essex. Two members voted present. The House passed the measure Oct. 30.
COAL ASH REMOVAL: Though the Senate on Thursday, Nov. 14, approved additional reform measures to a coal ash removal law signed by Gov. J.B. Pritzker earlier this year, the House did not take any action on the legislation before adjourning until next year.
Coal ash is the byproduct created when coal is burned to generate power, and it contains heavy metals, such as mercury and arsenic, that are toxic and can seep into groundwater. The legislation mandates that those who build, change or close such a pit first participate in two training programs — one for hazardous waste workers, the other for operating heavy equipment.
It also creates an option for the owners of pits — often unlined — to purchase insurance. According to the bill, the policy premiums must be paid at least two years in advance.
Democratic Sen. Scott Bennett, from Champaign, said that provision is a product of negotiations and ensures a company does not purchase an insurance policy as a means of "financial assurance" only to cancel it.
Sen. Paul Schimpf, a Republican from Waterloo, said that is an issue he would rather see addressed through regulatory means, such as permitting and administrative sanctions, instead of legislation.
"I think it's more punitive than solving the problem," he said.
Senate Bill 671 passed by a vote of 39-12, with one senator voting present. It can be reconsidered when the General Assembly reconvenes Jan. 28, 2020, for it next regular session.
TOBACCO BILLS: Bills aimed at curbing where Illinoisans can use electronic smoking devices and with what flavorings appear halted until the spring session of the General Assembly.
One bill would loop electronic cigarettes into the Smoke Free Illinois Act. The other would ban flavored cartridges and pods used in such devices.
Thursday, Nov. 14, is the last scheduled day of the fall veto session, which lawmakers are using this year to clean up new laws and pass new bills before they return to Springfield in January.
Indian Creek Democratic Sen. Terry Link is the sponsor of Senate Bill 1864, which would include vapes, e-cigars, e-hookahs and other such devices in the existing prohibition on smoking in public places, areas of employment, and within 15 feet of the entrance to a public building. There is an exception for tobacco stores and vape shops.
The Illinois Sheriff's Association opposes the measure if jails are included in the ban. Executive Director Jim Kaitschuk said although not every county jail official allows vapes, "many do."
He said jails allow vaping because many people who are jailed have substance abuse issues, or smoke cigarettes. Vaping is allowed to prevent forcing inmates to quit "cold-turkey."
Link said in a committee hearing Tuesday, Nov. 12, any exceptions should be a "stand-alone bill if they want to do it."
His measure cleared the Senate Oct. 29 and needs approval from a House committee before it can be considered by the full chamber.
Senate President John Cullerton, a Chicago Democrat, is sponsoring one of six flavor bans aimed at vape products. His has the highest-profile backing and was considered by a panel of lawmakers Wednesday, Nov. 13.
The Senate Executive Committee approved Cullerton's measure by a vote of 13-4. But it would have to be approved by both the full Senate and House on Thursday to be moved to the desk of Gov. J.B. Pritzker.
While the attempt to ban flavored electronic smoking products in Illinois is being done legislatively, other states — including Michigan, New York, Massachusetts and Rhode Island — have enacted bans of some form through executive order.
ELECTIONS BOARD REFORM: Republican lawmakers added to their pile of recently-filed ethics legislation Wednesday, Nov. 13, promoting two bills aimed at limiting conflicts of interest on the Illinois State Board of Elections.
Sen. Dan McConchie, a Hawthorn Woods Republican, unveiled Senate Bill 2300 during a Statehouse news conference. The measure would prohibit a member of the State Board of Elections from contributing to or being an officer of a state or federal political committee.
Per the bill, a member of the Board of Elections who serves as an officer of a political committee must resign from that committee within 30 days of their appointment confirmation in the Senate. It gives the same timeline to any current Board of Elections member who serves on such a committee.
"Under current state law, a person can serve as a member of the Illinois State Board of Elections while at the same time run a political action committee that benefits candidates. Not only is this allowed, it's currently happening," McConchie said. "Common sense would dictate that no member of the State Board of Elections should be allowed to fund a campaign while simultaneously presiding over and judging legal matters regarding that campaign."
Rep. Tim Butler, who introduced a similar bill, House Bill 3963, said despite the situation's legality, it's a clear conflict of interest. His bill includes members and spouses and directs the member to dissolve any political committees before they are seated to the board.
"Closing this loophole and preventing other potential conflicts that could place a board member in an ethically questionable situation is common sense, good government, and we hope our colleagues on the other side of the aisle will help us advance this legislation," Butler, R-Springfield, said.
Neither McConchie's nor Butler's bills made it out of committee before the veto session ended Thursday, Nov. 14.
ETHYLENE OXIDE: A bill that would phase out the use of ethylene oxide except in sparsely populated areas of the state is headed back to the negotiating table after failing in a Senate committee Wednesday, Nov. 13.
Ethylene oxide is a gas used in manufacturing and sterilization processes. It is designated by the U.S. Environmental Protection Agency as carcinogenic. A late amendment to the bill changed the length of the phase-out period and excluded several geographic areas among other changes.
The bill's Senate sponsor, Sen. Joh Curran, R-Downers Grove, said the amendment fulfilled promises made by House sponsor, Rep. Rita Mayfield, D-Waukegan, but he had not taken part in those negotiations. He said he will try to start again on a new proposal when the General Assembly returns for its regular legislative session in January.
Many on the committee indicated they fell victim to information overload, or what committee Chairman Don Harmon, D-Oak Park, referred to as, "suffering from dueling scientists."
"I don't know if any of us feels expert enough to evaluate them critically in the time pressure here," Harmon said of the scientific studies from each side that presented starkly different realities.
Harmon said the legislation has an effective date that is six months down the line and it wouldn't begin to remove any ethylene oxide emissions from the air "for another two-and-a-half years," so the General Assembly would have time to study the matter further. Still, he warned the decision did not constitute a "win" for opponents.
Sen. Linda Holmes, an Aurora Democrat, also urged further attention to the matter.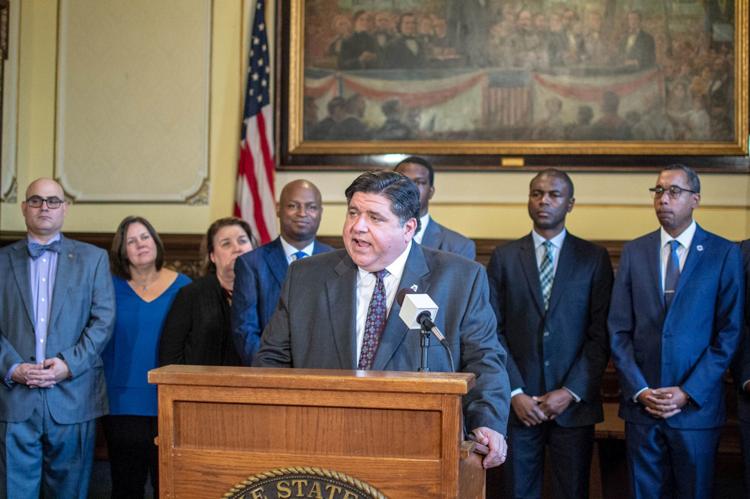 "Let's not let the media dictate here what we're passing in this chamber," she said, noting contradicting testimonies on potential job losses, medical supply shortages and even the potential of the gas to cause cancer.
Sen. Mattie Hunter, D-Chicago, suggested that confusion was the goal of some who testified.
"Everyone has a different story, and that is to confuse us," she said before voting to advance the measure out of committee.
Proponents testified of increased cancer risk in areas surrounding ethylene oxide emitters, while industry-paid scientists said the only indicator of risk was a new, "theoretical" interpretation of existing data by the USEPA.
The sides also differed on whether there would be medical supply shortages caused by a ban on the chemical and whether existing testing data is sufficient to accurately predict testing rates.
HONORING WWII VETS: Illinois lawmakers are joining a call to urge the federal government to ensure that the last surviving Medal of Honor recipient from World War II be offered a state funeral.
Sen. Andy Manar, a Bunker Hill Democrat, advanced Senate Joint Resolution 50 out of the Senate State Government Committee on Wednesday, Nov. 13, with unanimous support. It was approved by the full Senate on Thursday, Nov. 14, but did not get called on the House floor before the veto session ended.
Per the resolution, Charles H. Coolidge of Tennessee and Hershel Woodrow Williams of West Virginia are the only two living Medal of Honor recipients who served in World War II.
The Medal of Honor is the most prestigious personal military decoration recognizing acts of valor by U.S. military service members. Per the resolution, it was awarded to 353 Americans during World War II.
"Designating a state funeral when the last surviving World War II Medal of Honor recipient dies would be a wonderful way for the American people to unite and honor all 16 million soldiers, sailors, and airmen who served in our Armed Forces from 1941 to 1945," according to the resolution.
Manar said it's also important to bridge generational gaps.
"An understanding of the Greatest Generation's immeasurable sacrifice is something that all Americans share, and it's something that has the power to unify Americans in a way that transcends our current divisions," Manar said in a news release. "It would block out the political noise of the day and bring us together in reverence of the intrepid Americans who fought and died to ensure that the United States remains a beacon of hope and a blueprint for democracy across the globe."
VETERAN VOLUNTEERISM: A group of lawmakers joined representatives of the Illinois Court Appointed Special Advocates, or CASA, at a Statehouse news conference Wednesday, Nov. 13, to encourage veterans to volunteer for the program.
CASA belongs to a network of 951 community-based programs that "recruit, train and support citizen-volunteers to advocate for the best interests of abused and neglected children in courtrooms and communities," per the group's website. It has 47 programs across Illinois.
The lawmakers called on Illinois veterans to volunteer 10 hours per week to the program.
Rep. Stephanie Kifowit, an Oswego Democrat and Marine veteran, chairs the House Veterans Affairs Committee. She said she is a part of a number of veterans groups that are excited to volunteer.
"I think the reason why veterans are uniquely skilled to answer the call to help these children is because veterans are mission-driven. You give them the mission, and they will strive to succeed," she said. "And in this case we need to succeed in helping these children that have suffered abuse and neglect that are in the system, and we need to make sure that they are well taken care of."
She said the call for veterans is statewide.
Volunteers must be 21 years of age and be able to pass a background check. They must also complete a 40-hour training course which is paid for by the organization.
Information on how to volunteer can be obtained at www.illinoiscasa.org. Prospective volunteers can contact the organization via the contact link at the bottom of the page.
DAYLIGHT SAVING TIME: A bill that would put Illinois permanently in Central Daylight Time passed the Senate with broad support Tuesday, Nov. 12, but its sponsor said the bill couldn't take effect without further action from the federal government.
The bill failed to get out of House committee, however, before the veto session ended Thursday, Nov. 14. The bill may be reconsidered when the General Assembly reconvenes Jan. 28, 2020, for its next regular session.
Sen. Andy Manar, a Bunker Hill Democrat and sponsor of Senate Bill 533, said the bill "would require, of course, a change in federal law, or an exemption from Congress, neither of which exists today."
The bill, which passed with 44 votes in favor, two against and two voting present, calls for setting clocks ahead one hour to daylight saving time on Sunday, March 8, 2020, then leaving the state on Central Daylight Time permanently.
Manar said the bill "is not being proposed so that we would be an island among ourselves in terms of how time is recognized."
"But the only way it would change for Illinois by itself is what Arizona has done, and Congress has given them an exemption from federal law. This doesn't seek that. This just says one of two things should happen: There should be a national change or, if Congress were to begin to give states exemptions, that obviously would be a different conversation here on this floor," he said. "This doesn't say that we should ignore federal law."