SPRINGFIELD – Rep. Emanuel "Chris" Welch made history Wednesday, Jan. 13, by becoming the first Black person elected speaker of the Illinois House, succeeding Rep. Michael Madigan, who leaves the job after serving for 36 of the past 38 years.
The House came into session Wednesday afternoon to begin the 102nd General Assembly just moments after it adjourned a rare lame duck session that ended the 101st biennial session.
Speaking on the floor of the Bank of Springfield Center – where the House has been meeting to allow for social distancing due to the COVID-19 pandemic – the Hillside Democrat issued a call for unity, vowing that he would no longer refer to other House members as "Democrats" or "Republicans."
"Today will be the last time I talk about us as Democrats or Republicans because I want to talk about us being united," Welch said in his inaugural speech. "We're going to work together to move this state forward."
Welch was elected speaker by a vote of 70-44 over House Minority Leader Jim Durkin, R-Western Springs. And while Durkin opened his remarks by saying he was "extending an olive branch of cooperation, starting today," he then launched a verbal polemic against Madigan, who is leaving the speaker's office amid a cloud of corruption allegations.
"While his reign as speaker is all but over, his decades in power will never be erased," Durkin said. "What we have here through this unique and rare opportunity is the ability to break from the past, to break that business model, because they are as apparent as the masks on our face."
Last summer, Durkin initiated the petition that forced the House to form a special investigating committee to probe Madigan's role in a bribery scheme involving utility giant Commonwealth Edison and determine whether disciplinary actions should commence.
But it was Welch who chaired that committee and made sure it did not recommend disciplinary action.
Madigan, who on Monday announced he was suspending his bid to remain speaker, issued a statement Wednesday congratulating Welch as "speaker-elect" minutes before lawmakers were set to make the vote official. 
"As I prepare to pass the speaker's gavel to a new generation of Democratic leadership, I want to thank the people of my district and the members of the House Democratic Caucus for the faith and trust they have placed in me over the years," Madigan said in the statement. "I want to thank my staff for their hard work on behalf of every member of this caucus. It has been the honor of a lifetime to help bring people of different experiences and backgrounds together to serve our state.
"It is time for new leadership in the House. I wish all the best for Speaker-elect Welch as he begins a historic speakership. It is my sincere hope today that the caucus I leave to him and to all who will serve alongside him is stronger than when I began. And as I look at the large and diverse Democratic majority we have built — full of young leaders ready to continue moving our state forward, strong women and people of color, and members representing all parts of our state — I am confident Illinois remains in good hands."
CRIMINAL JUSTICE REFORM: The Illinois Senate passed a criminal justice omnibus bill early Wednesday morning, Jan. 13, after a grueling 20 hours of politicking during Tuesday's lame duck session. The House followed suit Wednesday morning, clearing the way for the bill to head to the governor.
The legislation is made up of several provisions that touch all facets of the criminal justice system. The Pretrial Fairness Act, a longtime passion project to end cash bail in Illinois by Sen. Robert Peters, D-Chicago, and a complete overhaul of police certification crafted by Illinois Attorney General Kwame Raoul were both absorbed into the omnibus package.
The Senate met to debate the bill shortly after 4 a.m. Wednesday before the measure passed 32-to-23 just before 5 in the morning, moving to the House floor. The House passed the measure before noon Wednesday with the minimum 60 votes needed for approval.
"Abraham Lincoln once said 'Plant your feet in the right place and stand firm.' We are standing firm," Sen. Elgie Sims, a Chicago Democrat who sponsored the bill, said in his closing speech before voting began. "We are fundamentally changing the way we do criminal justice in this state."
Many of the most debated aspects, such as ending qualified immunity for law enforcement, were reduced or removed from the bill following heavy opposition from law enforcement, labor unions, prosecutors and municipal representatives.
Effective Jan. 1, 2023, all bail bonds and conditions of bail will be replaced by a system of pretrial release to be developed by the Illinois courts based on a detainee's alleged crime, their risk of not appearing for their court date, and the threat or danger they may pose to the community if released.
According to the bill, the General Assembly intends to establish statewide use-of-force standards by 2022 while making changes to what are acceptable and unacceptable uses of force in Illinois statute.
The bill provides that use of force is permissible only when an officer has determined it is necessary to defend either themselves or others from bodily harm when making an arrest. When a suspect is attempting to escape, officers would not be permitted to use deadly force to stop them, unless that person cannot be apprehended at a later date and is likely to harm others.
One of the largest changes to the bill was the gutting of a provision that would have ended qualified immunity for officers, eliminating their protection from liability in civil suits if they violated rights guaranteed in the Illinois Constitution.
Instead, the legislation creates a yearlong Task Force on Constitutional Rights and Remedies, an 18-member body that will investigate and develop procedures to protect constitutional rights and remedies should those rights be violated. The task force will specifically look at qualified immunity as enjoyed by law enforcement.
A police certification provision backed by the attorney general's office was also added to the bill. It gives the state more power over who can be a member of law enforcement and makes it easier to decertify and terminate the employment of problematic officers.
Under this new legislation, the Law Enforcement Officer-Worn Body Camera Act is amended so that all law enforcement agencies must eventually use body cameras.
The largest agencies must have body cameras in place by 2022, while all agencies, no matter how small, must have body cameras implemented by 2025.
The bill expands rights of people who are taken into custody by police. The state's 1963 Code of Criminal Procedure is amended and modernized regarding phone calls.
CHAPA LaVIA RESIGNS: Illinois Department of Veterans' Affairs Director Linda Chapa LaVia resigned Monday,  Jan. 11, more than two months after an outbreak was first reported at the LaSalle Veterans' Home that has killed more than a quarter of the facility's residents.
Chapa LaVia is the second high-profile departure related to the outbreak at the LaSalle home in the aftermath of the deadly outbreak. LaSalle Veterans' Home Administrator Angela Melbrech was fired on Dec. 7.
Chapa LaVia's resignation came after a House Civil Judiciary committee hearing on Monday morning during which members questioned her handling of the outbreak at the LaSalle home, where 36 residents have died of COVID-19 since Nov. 1.
"It's been an honor and a privilege to serve our veterans," LaVia said in a news release announcing her resignation effective immediately. "I'm proud of our accomplishments and I look forward to assisting the interim director in any way possible as the department continues its work to serve our heroes."  
Gov. JB Pritzker, who appointed Chapa LaVia as IDVA director in February 2019, said during his Monday COVID-19 news conference it was a "mutual decision" for her to resign.
"What we want to do is restore confidence. We want to do our best to take care of our veterans," Pritzker said. "As you know, Linda Chapa LaVia had served for a number of years in the Legislature. She's somebody who cares deeply about veterans. Her appointment, as all the appointments of my Cabinet, come up in about a week for reappointment or not. And it was a mutual decision that she would step down."
Maj. Gen. Peter Nezamis has been named the department's interim director. He currently serves as the assistant adjutant general - air, at the Illinois Air National Guard. 
Three members of the House Civil Judiciary committee — Reps. Deanne Mazzochi, R-Elmhurst, David Welter, R-Morris, and Daniel Didech, D-Buffalo Grove — issued statements immediately following the committee hearing.
The lawmakers said Chapa LaVia's performance during the hearing reflected poor leadership which caused them to lose confidence in her ability to lead the agency.
ELECTION BILL: The House Executive Committee advanced, but the full House failed to approve before the lame duck session ended, an election bill that would have made permanent some of the expansions to mail-in voting that were passed for the 2020 general election.
The bill would have required election authorities to accept mail-in ballots that were submitted without sufficient postage and allowed election authorities to set up collection sites or drop-boxes that accept ballots without postage.
Lawmakers approved those measures last spring for the 2020 election in order to accommodate concerns about voting in-person during the COVID-19 pandemic. But those earlier expansions of mail-in voting expired on Jan. 1.
The bill's sponsor, Rep. Katie Stuart, D-Edwardsville, said those vote-by-mail provisions were successful in the 2020 general election and should continue in the upcoming consolidated elections. The consolidated primary election is scheduled for Feb. 23.
"This will be permanent because our election authorities who chose to use it found it was successful," Stuart said.
The bill would also have allowed local election authorities to continue the use of curbside voting during early voting or on Election Day.
It would not have required local election offices to mail or email vote-by-mail ballot applications to voters who cast a ballot in previous elections. This measure was included in the previous vote-by-mail law for the 2020 general election but will not be extended.
In order for a ballot returned to a drop-box to be counted in an election, it must be returned before voting closes on Election Day.
EDUCATION REFORM: A bill aimed at improving racial equity throughout the state's K-12 and higher education system passed both houses of the General Assembly on Monday, Jan. 11.
House Bill 2170, drew sharp debate in both chambers. That bill creates a number of new mandates for K-12 education, including changes to the state's social studies requirements, a requirement for districts to provide computer literacy programs and for the State Board of Education to develop new computer science curriculum standards.
But the one that drew the sharpest disagreement concerned changes to the AIM HIGH grant program in higher education, which is currently funded equally between the state and state universities.
Under the bill, universities where 49 percent or more of the students qualify for federal Pell grants would only have to fund 20 percent of a student's AIM HIGH award while universities where fewer than 49 percent of students receive Pell grants would have to fund 60 percent of the award.
The intent of that provision was to lower the cost to schools with smaller endowment funds such as Chicago State University, which last year returned $800,000 of the $1 million in state funds it was allotted, saying it could not afford to pay for its share of the match.
MANAGED CARE: A House committee on Monday, Jan. 11, advanced a bill that would have ended the system of hiring private insurance companies to manage the state's Medicaid program at the end of their current contracts and replaced it with a standard fee-for-service payment system.
The bill also called for a three-year moratorium on any hospital closures or downsizing. Further amendments were later added to the bill, which passed the House on Wednesday, Jan. 13, but failed to gain Senate passage before the lame duck session ended hours later.
That proposal was part of a health care reform package being pushed by the Illinois Legislative Black Caucus, an agenda aimed at addressing racial and ethnic disparities in the state's health care system.
Medicaid covers more than 3 million people in Illinois, according to the latest tally by the Department of Healthcare and Family Services, and the majority of them are enrolled in a managed care program. Nearly half of those enrollees, more than 1.4 million, are children in low-income families. Another 1.1 million are working-age adults, including more than 640,000 who became eligible with the federal expansion of Medicaid under the Affordable Care Act.
The idea behind managed care was to reduce costs and improve health outcomes by coordinating each person's health care – making sure they get regular checkups and follow-up visits and coordinating services between primary care providers and specialists.
But critics of the program have long argued that the insurance companies, known as managed care organizations, or MCOs, don't really save money by reducing costs but, rather, by denying claims.
PRITZKER'S TAX PRIORITIES: Gov. JB Pritzker on Friday, Jan. 8, announced his top priority for the lame duck session, a series of tax changes that he says would save the state about $520 million for this fiscal year.
The bulk of that, roughly $500 million, would come from decoupling a portion the state's tax code from the federal tax code so that business tax cuts approved by Congress as part of the Coronavirus Aid, Relief and Economic Stimulus, or CARES Act, last year would not automatically reduce Illinois state revenue.
Without decoupling, the governor's office said, those changes at the federal level would automatically reduce the amount of business income that is taxable by the state of Illinois.
But upon a first attempt, the legislative measure backed by Pritzker to decouple the state and federal tax codes to prevent businesses from taking advantage of tax benefits outlined in the federal CARES Act failed to gain the 60 votes for passage. There were several "present" votes and lawmakers not voting, however, and the sponsor, Rep. Mike Zalewski invoked a parliamentary procedure that could allow it to come up for vote once again.
The floor debate grew heated at times, with Republicans calling it a middle-of-the-night tax increase but Zalewski, D-Riverside, said the bill was not a tax increase, but rather it keeps state revenues level, or "held harmless of the actions of Congress."
Without the fix, it could cost somewhere between $500 million to $1 billion for a state budget already out of whack by $4 billion. The matter was not revisited again before the lame duck session ended.
Pritzker also announced that he is unilaterally delaying the effective date of certain business tax credits that the Illinois General Assembly passed in 2019, and which were scheduled to take effect Jan. 1, as part of a package known as the Blue Collar Jobs Act. Those involved expansions of certain tax credits that businesses could take for relocating to Illinois or expanding existing facilities in the state.
"Right now, we cannot afford to expand tax breaks to businesses that already receive tax breaks," Pritzker said in a news release. "As we recover from the pandemic, we must focus on job creation and balancing our state budget."
But House Republicans, especially those who helped negotiate the Blue Collar Jobs Act, said Pritzker's actions would hurt small businesses that have been severely affected by the recession brought on by the COVID-19 pandemic and would ultimately make Illinois less economically competitive.
"That's precisely the kind of tool that we'll need as we emerge from the pandemic and the entire world starts to rebuild the economies that have been so profoundly impacted by these closures," Rep. Tom Demmer, R-Dixon, said during a news conference.
ECONOMIC EQUITY: A bill addressing economic inequities passed both the House and Senate during the lame duck legislative session.
Senate Bill 1608 creates a number of new commissions and, among other provisions, includes additional racial diversity requirements in state purchasing policies.
Republicans had tried to delay passage of the bill by requesting several "notes" to determine its fiscal impact to the state and how many new mandates it would create. But Democrats voted to declare those notes "inapplicable" and moved forward anyway.
"Our Black people are looking for solutions," Rep. Thaddeus Jones, D-Calumet City, said in response. "They can't get unemployment. They can't get (Paycheck Protection Program loans). They can't get the funds that many of your friends are getting on the other side, and all we're asking is for you to help us."
During House debate on the bill, Rep. Deanne Mazzochi, R-Elmhurst, engaged in a lengthy exchange with the bill's sponsor, Rep. Sonya Harper, D-Chicago, over details of the bill, pointing out that it requires purchasing officers to consider racial diversity even in the purchase of real estate and vehicles, where the state has little control over the race of the seller or the manufacturer.
After about 45 minutes of debate, Jones made a parliamentary motion to cut off discussion and proceed immediately to a vote. The bill eventually passed, 70-39, sending it to the Senate, which also gave its approval
SMALL BUSINESS GRANTS: The grant program for small businesses owners in Illinois who suffered losses during the pandemic has run out of money.
Illinois' Business Interruption Grant program was the largest state program of its kind, but only about 20 percent, or 8,974 applicants, received a grant.
The Illinois General Assembly created the program using federal Coronavirus Aid, Relief and Economic Security Act, or CARES Act, money. The Illinois Department of Commerce and Economic Opportunity helped administer the program, and awarded more than $275 million since the first round of grants were issued in August.
DCEO Director Erin Guthrie said this particular set of federal dollars has been exhausted, but the department continues to look for ways to help businesses statewide.
"We know that businesses are hurting and we wish that Congress would provide more relief," Guthrie said in an interview Friday. "This virus has shut down so much of our economy, and that is a struggle for every person and business across our state. The other thing I would say is, we're constantly working with our federal counterparts, with other sources in ways that we can creatively provide relief to those businesses."
LIQUOR DELIVERIES: Both the House and Senate approved during the lame duck session  a bill that allows for the home delivery of liquor throughout the state.
The bill allows retailers to use third-party groups via phone applications or internet service while removing liability for retailers if those services violate age verification laws.
In what came as a surprise to some members, a House committee on Friday, Jan. 8, the first day of the session, allowed testimony through videoconference – a first for the Illinois House. No one aside from lawmakers or staff is otherwise allowed on the BOS Center's floor to testify.
The Illinois Craft Brewers Guild testified to ask for an amendment to allow for small brewers and distillers to deliver their own products, which the bill does not allow for, despite wineries having those abilities.
VACCINE UPDATE: On Tuesday, Jan. 12, the Illinois Department of Public Health began reporting data regarding the delivery and administration of vaccines on its website.
As of Wednesday night, Jan. 13, approximately 972,750 doses of the Pfizer-BioNTech and Moderna vaccines have been reported delivered to the state. Of the total delivery, 704, 225 doses were delivered to private and public health providers across the state's 102 counties.
The remaining 268, 525 doses were allocated for the federally mandated Pharmacy Partnership program for long-term care facilities.
While some communities have been able to transition into the next phase of vaccine distribution, Gov. JB Pritzker has not yet determined when the next phase will be statewide.
Pritzker is expected to make a formal announcement yet this week as to when the entire state can begin vaccinating in Phase 1B.
Phase 1A, which includes health care workers and long-term care facility residents, is still continuing. But some counties have started vaccinating in Phase 1B, which includes non-health care essential workers and residents over the age of 65.
Approximately 414, 296 vaccines had been administered, including 51,891 vaccines administered for long-term care facilities, as of Wednesday night. Health care providers have up to 72 hours after administering a vaccination to report the data according to federal guidelines, so the number of vaccines reported administered lags behind the number of vaccines reported distributed.
The seven-day rolling average of vaccines administered daily is 26,703 doses.
IDPH Director Dr. Ngozi Ezike on Tuesday received her first dose of the Pfizer vaccine at the Cook County Health's North Riverside Health Center in Riverside.
TIER 3 UPDATE: On Wednesday, Jan. 6, Gov. JB Pritzker announced the possibility of Tier 3 mitigations being lifted by Jan. 15 in regions that meet certain metrics. That represents a 14-day incubation period following New Year's Day.
In order to transition from Tier 3 to Tier 2, a region must experience a positivity rate below 12 percent for three consecutive days. It must also have greater than 20 percent available intensive care unit and hospital bed availability and declining COVID hospitalizations for 7 of the 10 days. 
Regions began hitting Tier 2 restrictions in November, with statewide Tier 3 mitigations announced on Nov. 20. No region has been able to move back to Tier 1 restrictions after reaching Tier 2.
According to an IDPH document detailing Tier 2 restrictions, "IDPH will continue to track the positivity rate in regions requiring additional mitigations over a 14-day monitoring period to determine if mitigations can be relaxed, if additional mitigations are required, or if current mitigation should remain in place. If the positivity rate averages less than or equal to 6.5 percent over a 3-day period, the region will return to Phase 4 mitigations under the Restore Illinois Plan."
Phase 4 mitigations are less strict than any of the tiers of the resurgence plan.
As of Wednesday, Jan. 13, the regions that are not meeting the metrics are Region 4, which includes the Metro East region in southwestern Illinois; Region 6 in east central Illinois; as well as Regions 9, 10 and 11 which include Boone and Lake counties, suburban Cook County, and the city of Chicago.
Under Tier 2 and 3, indoor dining is suspended. A region would have to move to Tier 1 in order to open indoor dining with limited capacity. Tier 1 restrictions also include suspension of indoor bar service.
COVID-19 UPDATE: The statewide seven-day rolling COVID-19 case positivity rate decreased slightly on Thursday, Jan. 14, to 6.8 percent, remaining below 8 percent for a sixth consecutive day.
The rate dropped from 7.3 percent the day prior. The Illinois Department of Public Health on Thursday reported 6,652 new confirmed and probable cases of COVID-19 in the state, with an additional 88 deaths. The state has reported 1,052,682 cases of COVID-19 since the pandemic began, and 17,928 deaths across the state's 102 counties.
The state reported 118,036 test results over the previous 24 hours, more than 40,000 more than  in Wednesday's report and the most since Friday, Jan. 8.
The state has now reported 14.4 million test results since the pandemic began.
As of Wednesday night, there were 3,511 patients in the hospital with COVID-19 and 742 patients in intensive care unit beds, a decrease of seven from the day prior. That left 23.2 percent of ICU beds available in the state.
There were 382 COVID-19 patients on ventilators, a decrease of four from the day prior.
 Photos: Illinois National Guardsmen deploy to Washington, D.C., for inauguration
Photos: Illinois National Guardsmen deploy to Washington, D.C., for inauguration
011521-blm-loc-2guard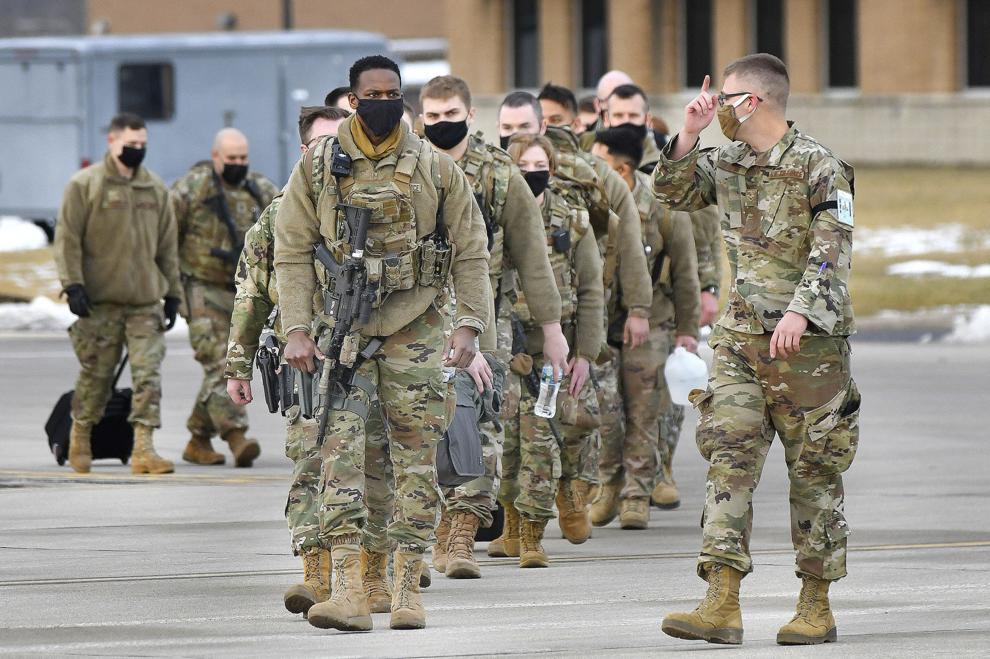 011521-blm-loc-1guard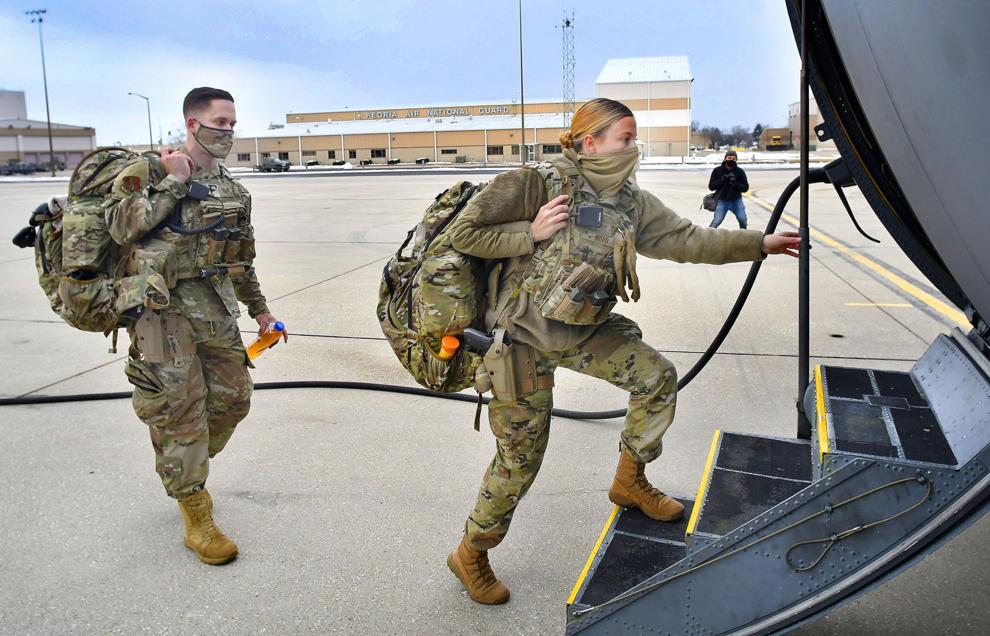 011521-blm-loc-3guard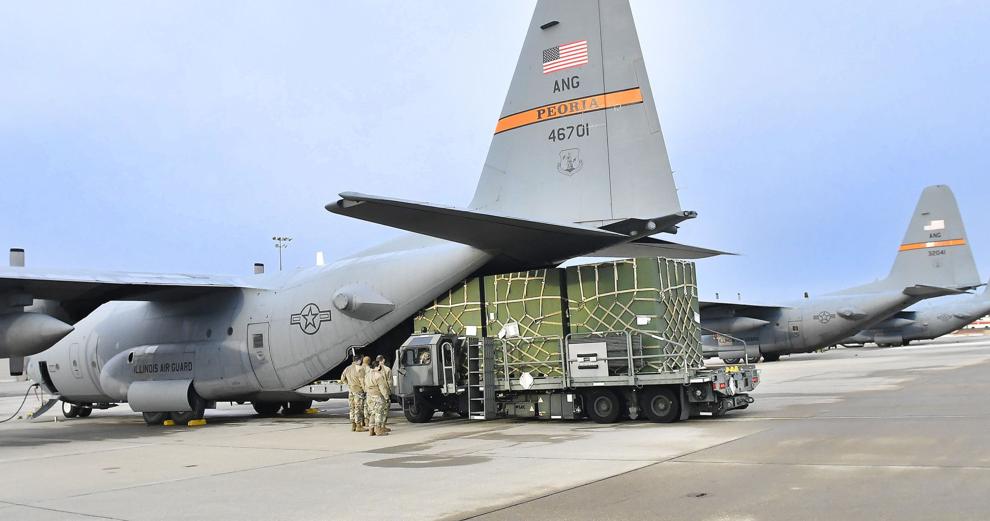 011521-blm-loc-4guard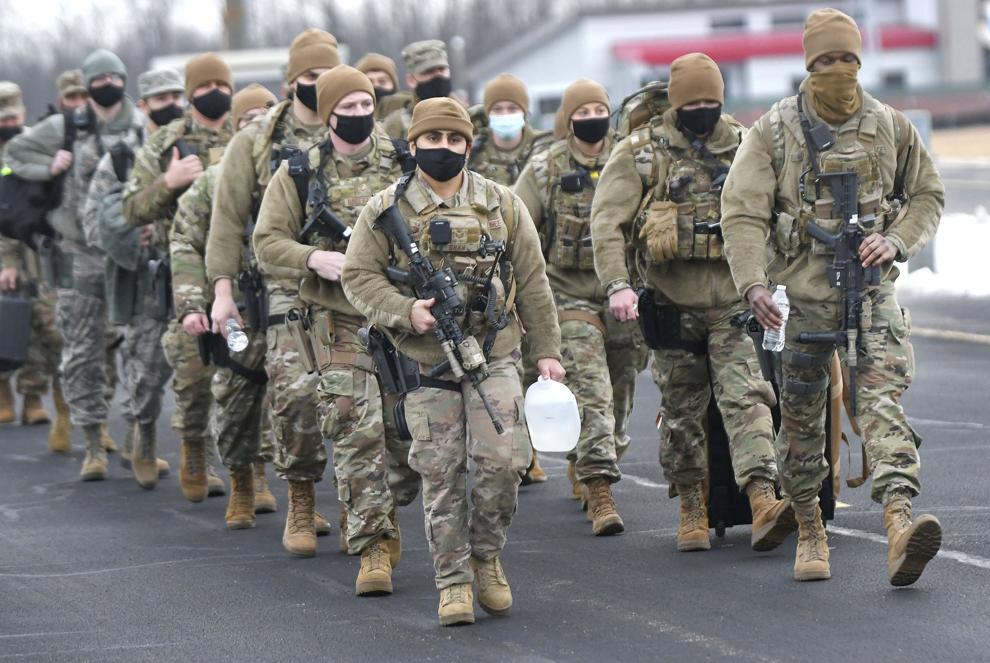 011521-blm-loc-5guard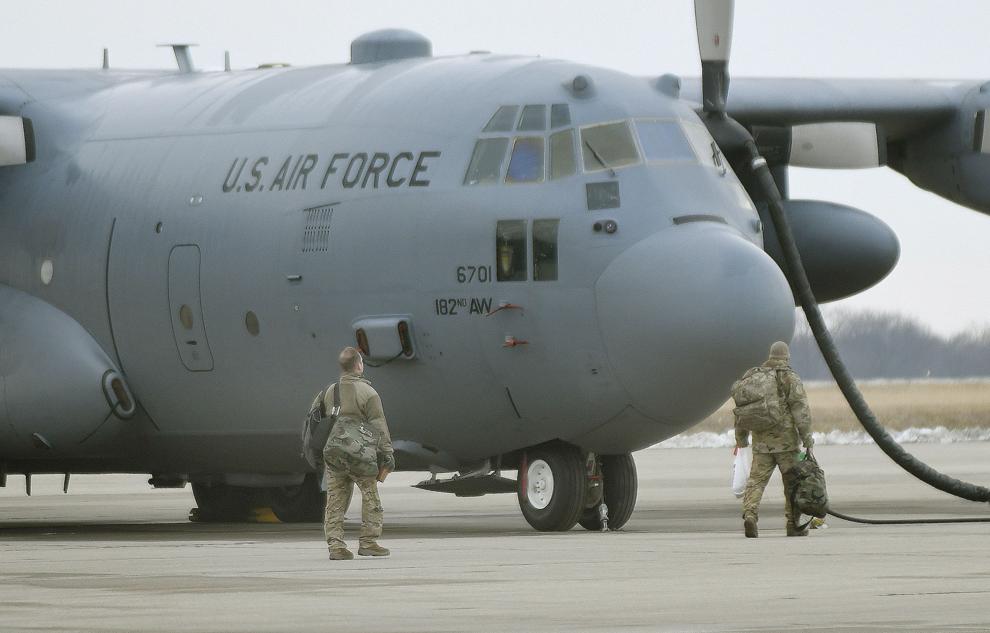 011521-blm-loc-6guard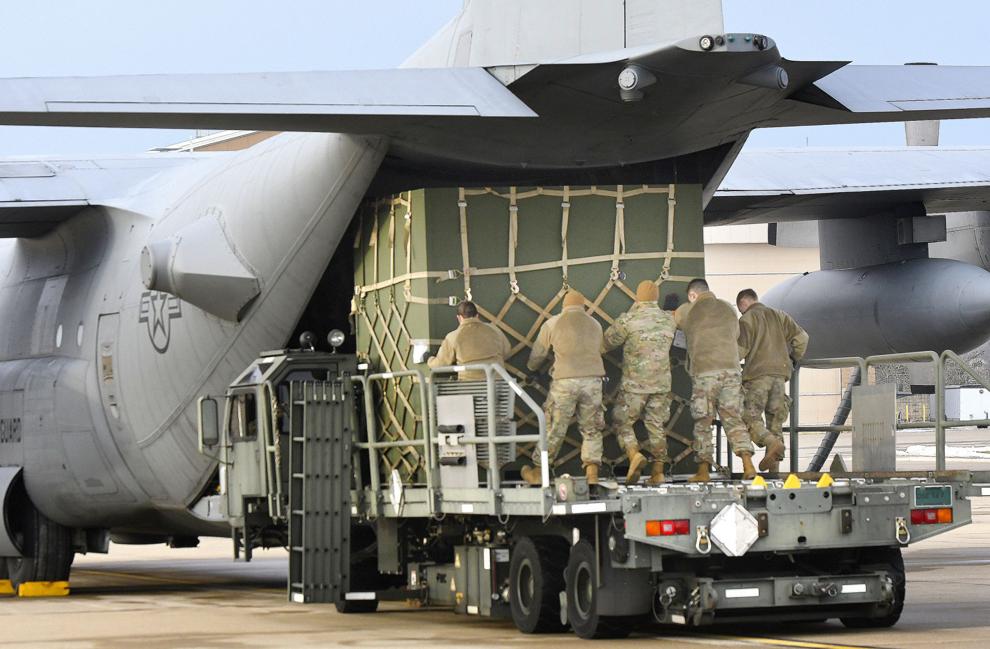 011521-blm-loc-7guard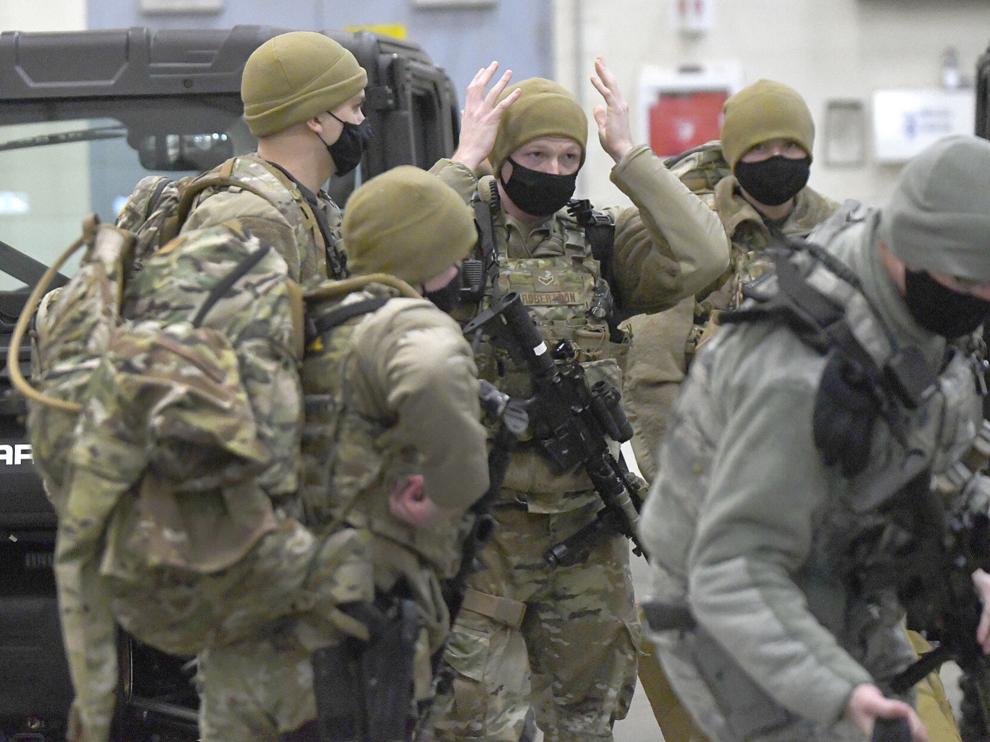 011521-blm-loc-8guard
011521-blm-loc-9guard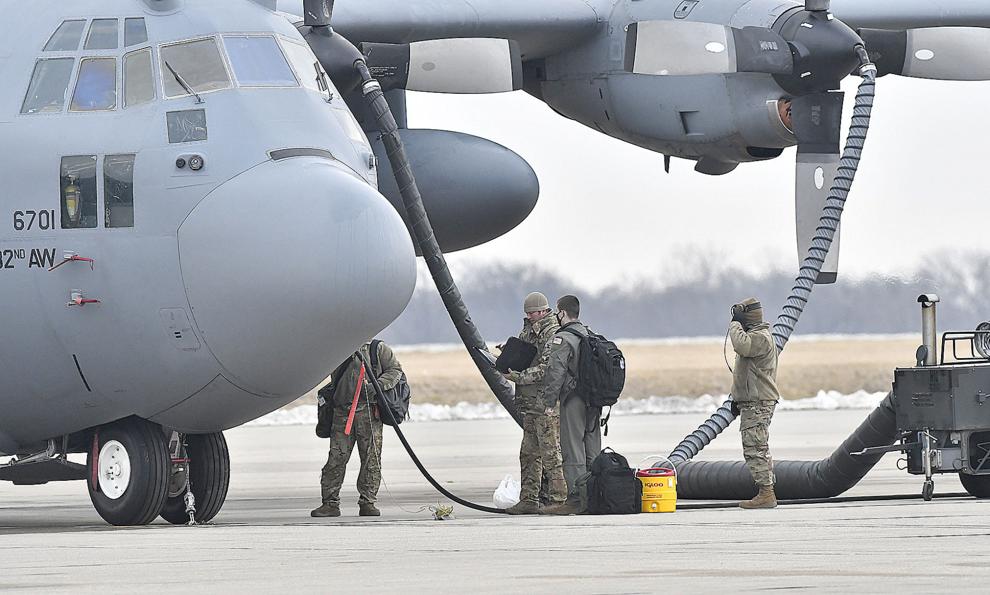 011521-blm-loc-10guard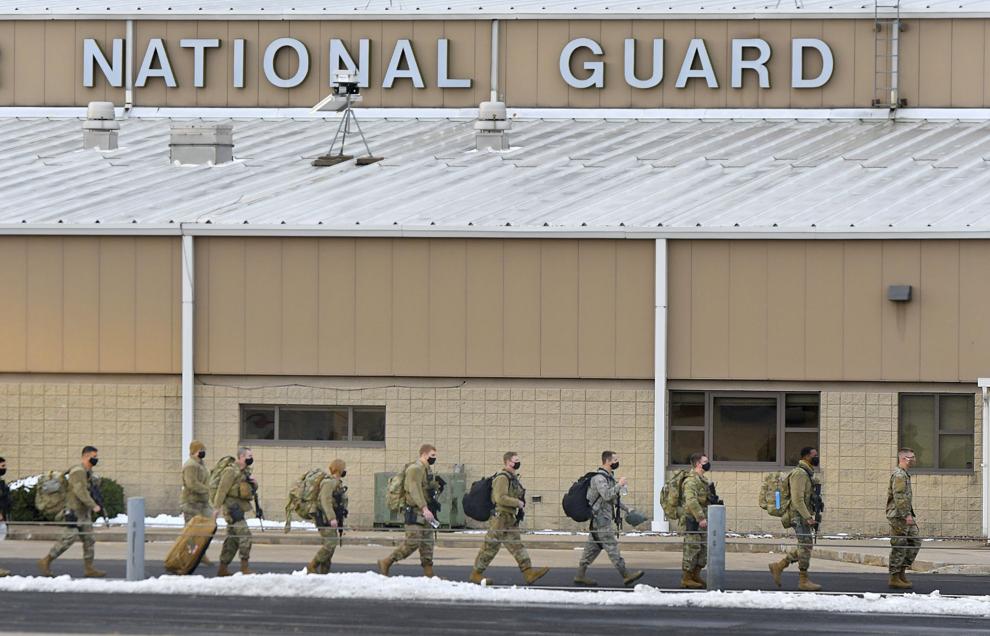 011521-blm-loc-11guard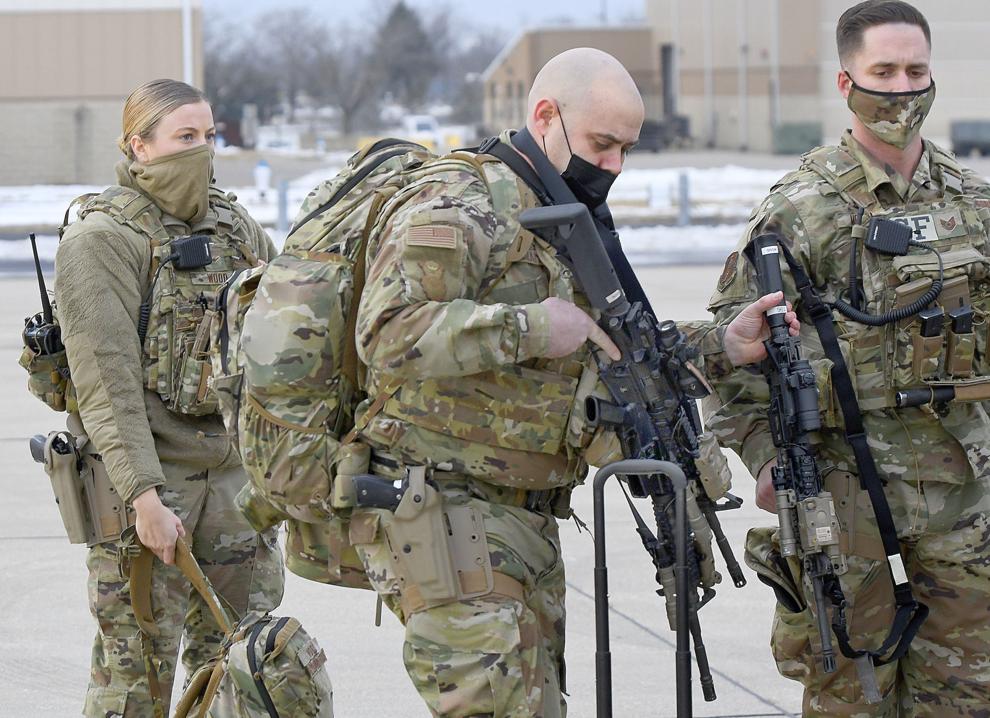 011521-blm-loc-12guard