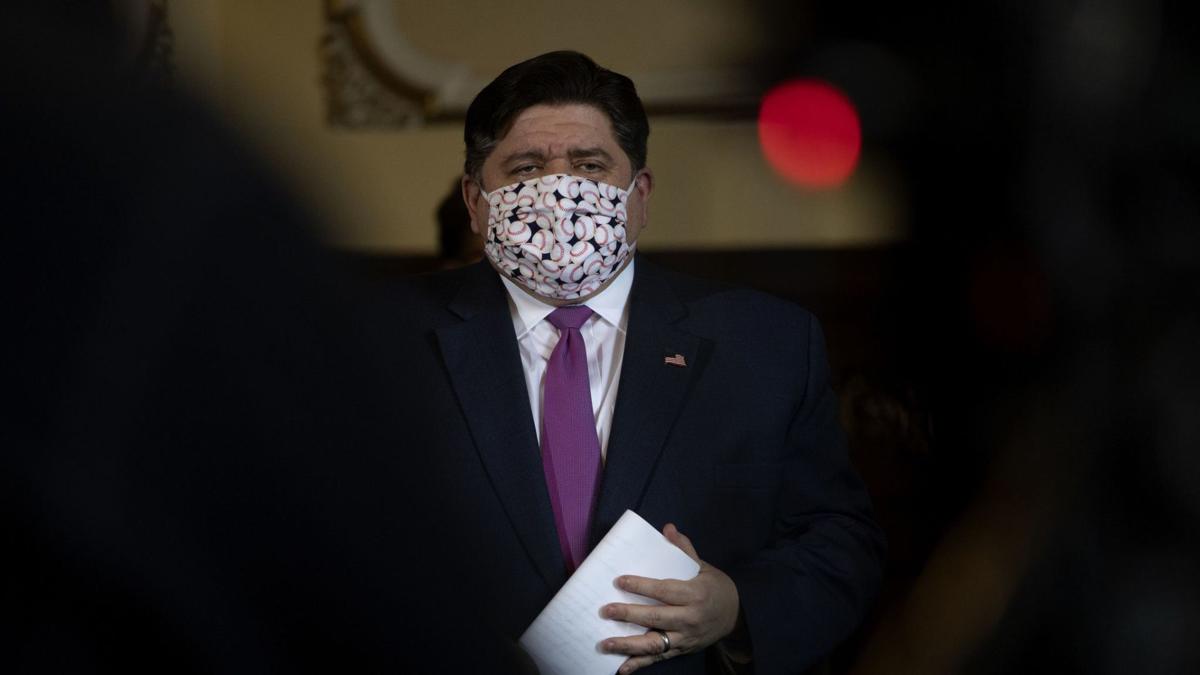 As Gov. J.B. Pritzker continues to pressure officials in places seeing outbreaks, those leaders will have to make some decisions.
Republican officials and downstate residents have called for local control in their response to the pandemic since the Democratic governor began issuing his first executive orders regarding COVID-19 in March.
Pritzker rejected the local approach for months and only revealed a regional plan to control the virus in mid-July, splitting the state into 11 areas. He took another step away from his original concept in the past few weeks when he put the onus on municipal and county leaders within the regions to stem the spread of COVID-19.
"All of this gets to the very difficult situation that governors are in right now," says Wendy Parmet, a professor at Northeastern University School of Law in Boston who specializes in public health law.
They're desperate to prevent a reemergence of the virus and they're operating in a toxic messaging environment where every decision could cost them politically, Parmet said. On top of it all, they face a barrage of lawsuits.
It's no wonder governors might try to "devolve some of the political onus" onto local leaders, she added. In Illinois, it's what they have asked for, and the governor has obliged.
Now it's up to local governments to decide how to go about wielding their newfound power.
Legality of local COVID-19 rules
But how much power do cities and counties have to implement their own rules?
It all depends. The only constant is that state law preempts county rules, just like federal law preempts state law, Parmet said.
St. Clair County Emergency Management Agency director Herb Simmons expressed doubt this week about how to legally implement restrictions on businesses and activities that put the public more at risk of catching coronavirus.
"Everybody is looking at St. Clair County saying, 'You've got to do this, you have to shut this down, you have to do that,'" Simmons said Wednesday during a news briefing. "We're waiting for the guidance from the powers that be in the state -- IDPH ... They can tell me all day long what we need to do, but how can we do it legally?"
As the region's population center, the St. Clair County has driven up the percentage of tests coming back positive, the metric state officials use to determine when they'll step in to impose restrictions. On Friday afternoon, the metro-east region had an overall 7.7% positivity rate, the highest in the state, and St. Clair County reported an 8.8% daily positivity rate.
Leaders in other counties already have put new measures in place that apply to all residents. In Perry County, hospitals and nursing homes temporarily suspended visitors, according to the Illinois Department of Public Health. In Jackson County, the state's attorney allowed local food ordinances to enforce COVID-19 guidance at restaurants and bars.
Randolph County has also taken steps. The county contributes heavily to the region's positivity rate due in part to an outbreak at a mental health center in Chester, the county seat. As of Thursday, the county daily positivity rate was 7.6%, according to the Randolph County Health Department.
Randolph health officials have the ability to close or quarantine a specific place, such as the Chester Mental Health Center, said Angela Oathout, the county's public health administrator. They can also void liquor and business licenses.
But when it comes to ordering establishments like bars and restaurants to alter how they do business, they leave it up to municipalities.
For instance, if the city of Chester wanted to develop an ordinance mandating indefinitely that all bars and restaurants must close by 10 p.m., they could, Oathout said. East St. Louis officials implemented a curfew to do just that.
Randolph County officials favor working with establishments rather than closing them altogether, she added, because bars aren't the only reason COVID-19 is spreading.
Backyard get-togethers and big parties on private property, primarily with people younger than 40, have caused an uptick in new cases.
"We as a local health department have said, you know, it's not fair for the small business owners to be constantly taking the hit. Is there something else we can do?" Oathout said.
Alternative measures might include removing stools from the bar, limiting capacity, shortening hours, requiring masks and enforcing social distancing. The health department also provides personal protective equipment to any business that needs it.
But the county is also playing hardball. Health department staff call and send certified letters to violating establishments, providing guidelines and a reminder of their authority.
"We're basically making it very clear the next step after his letter is I will be in touch with the state's attorney," Oathout said. "We're going to make those offenders accountable."
Politics of local control
Counties are allowed to make their own rules for a reason, says Randolph County Board of Commissioners Chairman Dave Holder. It prevents the state or federal government from intruding on people's lives unnecessarily, said Holder, a Republican who works as an accountant in addition to serving as chairman.
The pandemic changed his opinion a little, Holder said.
"Generally speaking, I always believe that local control is the better approach in as many situations as possible," Holder said. "This is not a normal situation. This is something we have never dealt with before."
Given the lack of preparation, Randolph officials were glad they could look to experts at the state level for guidance, Holder said. The governor consults with doctors and epidemiologists at Illinois' top universities to inform his office's decisions.
"Perhaps the state has done too much with their control, but it's hard to criticize them because not having any precedent to work with, it's hard to know what they should have done," Holder said.
Governors struggled to find the balance between ruling with a heavy hand and allowing local control during the early months of the pandemic. While few lawsuits have succeeded nationwide, some have pushed governors to soften their approach or hurry reopening. In Illinois, dozens of lawsuits have called Pritzker's executive orders into question.
"Every one of them is a scratch on the fender of the governor's car," Parmet said. "(Litigation) is a way of packaging the objections to the governor's orders in constitutional language, which in the U.S. is the language of law, but it's also the language of politics and organizing."
In one lawsuit, state Rep. Darren Bailey, R-Xenia, won a ruling from a Clay County judge who said the governor's orders are void.
Giving up executive control to localities is a smart tool governors can use to defend themselves.
The approach represents both a political and a legal strategy called "the least restrictive alternative," Parmet said. In the context of Illinois and the virus, it means trying the less restrictive solution of local control before re-imposing statewide orders that apply to everyone.
"Facing as much litigation as the governors are facing, it's helpful for them as a litigation matter and as a constitutional matter to say that they only came in when it was the least restrictive alternative," Parmet said.
The downside of local control is that it can lead to inconsistency in messaging. If one Republican county chairman suggests masks aren't needed, and a neighboring Democratic chairman says the opposite, which one are people who live just a few miles from each other supposed to believe?
"The problem of course is that in this messaging environment, in this political partisan toxic messaging environment, persuasion only goes so far," Parmet said. "And the virus doesn't know county boundaries."
---
Pritzker signs orders allowing prison transfers, extending disaster proclamation
Get Government & Politics updates in your inbox!
Stay up-to-date on the latest in local and national government and political topics with our newsletter.