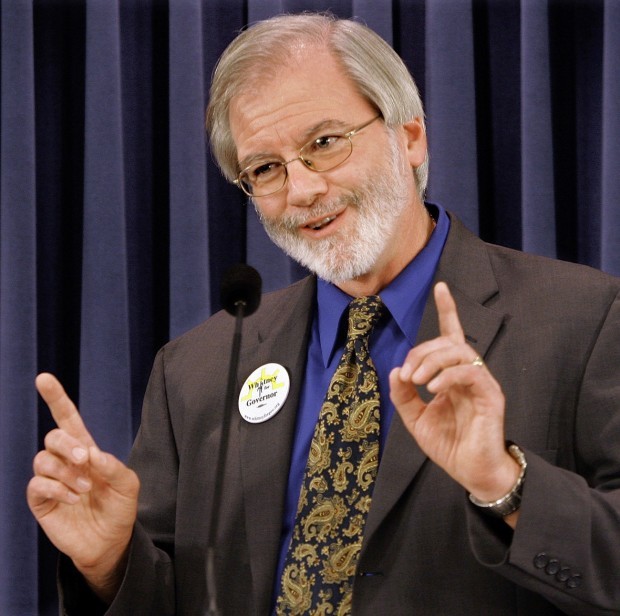 SPRINGFIELD -- Rich Whitney, Green Party candidate for governor, on Thursday laid out his state budget plans, which included raising income taxes, taxing financial transactions in Chicago, and legalizing and taxing marijuana.
In Whitney's second bid for governor, the Carbondale lawyer criticized Republican Bill Brady and Democrat Pat Quinn as "corporate-sponsored candidates."
And he criticized lawmakers' efforts in past years to find more money for the state by building new casinos or raising taxes on cigarettes and alcohol.
"We cannot smoke and drink and gamble our way to fiscal health," Whitney said during a news conference at the Capitol.
In the meantime, Whitney's plans include legalizing marijuana and taxing its sale.
But the bigger moneymakers include a long-debated plan to increase the income tax rate and lower property taxes.
Quinn also has proposed raising income taxes to help deal with the state's big budget deficit, a plan that was criticized by some lawmakers this week. Whitney, though, thinks voters want to see one instead of deep cuts in state government.
"I think most people in Illinois are actually in favor of an income tax increase," said Whitney, who received 10 percent of the vote in the 2006 election.
Brady's campaign didn't return a request for comment, but Brady has railed against tax increases. Quinn's campaign didn't return requests for comment. Quinn is pushing a 33 percent income tax hike.
Whitney also wants to put a tax on some of the trades at the Chicago Mercantile Exchange and Chicago Board Options Exchange. He said even a tiny tax on the billions of dollars traded could amount to big money for the state.