PONTIAC — Sharon Zapp was in high school when Wright's Furniture burned in 1976 and she was getting ready Saturday to assemble a bed she'd bought from the store when she stepped out of her house.
"I said, 'Oh, my God,'" Zapp said, shocked by the fire and smoke from a fast-moving and stubborn blaze at the furniture store's warehouse and nearby Duffy EMS building. The fire burned into the early evening as crowds gathered in the streets to watch, including several children who covered their faces and squinted into the thick smoke.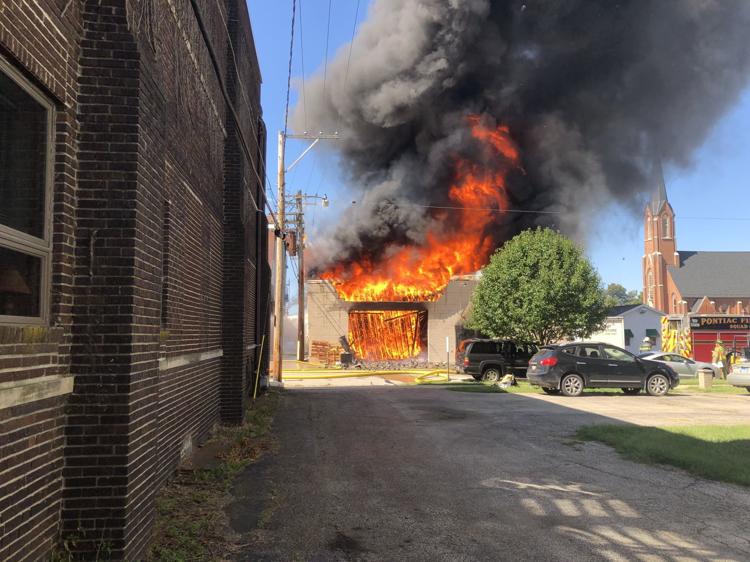 "Probably lost everything — the buildings and everything that's in it: appliances and mattresses and hard-surface floor coverings, dining room furniture," said store owner Gary Wright. "There's a lot of stuff in there."
Pontiac firefighters were called to the main store, 115 E. Madison St., just before 11:30 a.m. and located the fire at the warehouse across the alley from the store and at Duffy EMS, 122 E. Howard St.
Businesses along the Madison Street block, along with the nearby city library, a school and church, were evacuated.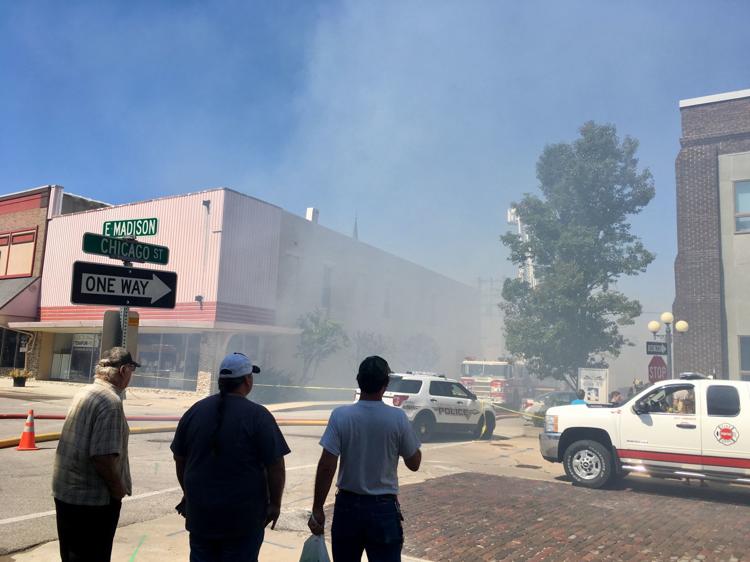 "I feel very sad," said Wright, the second-generation owner of the store, which has been open for 66 years. "We had a fire in the store 43 years ago; really didn't want to have another one."
Firefighters from multiple departments fought the blaze from the ground and from ladder trucks. No injuries were reported. Emergency medical technicians provided water — much of which was donated by community members — to firefighters and checked vitals as firefighters rotated in and out of the fire scene.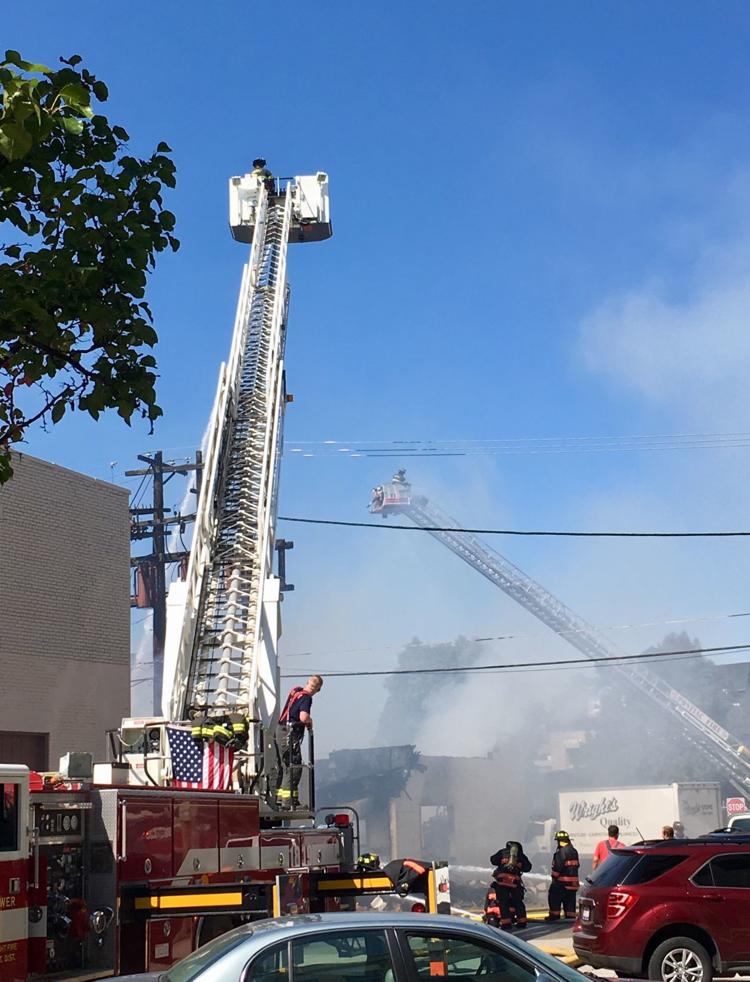 Smoke near a circuit breaker in the warehouse was the first sign of trouble, Wright said. "One of my sons was in the warehouse and he noticed the smoke. He ran to get the fire extinguisher and (by the time he got back), it was just too big."
According to its website, the store was founded by Lloyd Wright on April 1, 1953. The original 4,000-square-foot store was the former Wood's Furniture. The business moved four years later to the former Montgomery Wards site.
You have free articles remaining.
The current showrooms and warehouses total about 60,000 square feet of floor space. Wright's is operated by Lloyd's son, Gary, and Gary's sons, Shawn and Eric.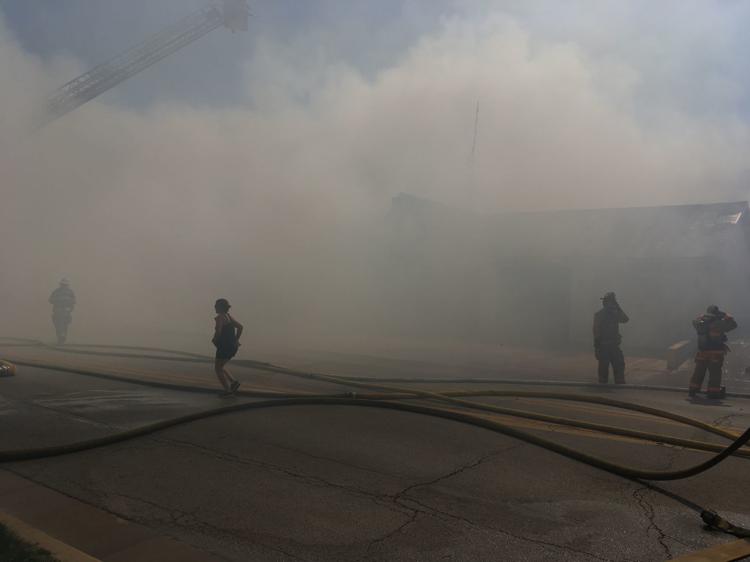 Wright's has seen its fair share of hardships. The 1976 fire caused hundreds of thousands of dollars in damage; it took nine months before the store reopened. In a 2009 Pantagraph story, Wright said it was the only time in the store's history that workers were laid off. A warehouse also flooded in January 2008; 27 inches of water caused tens of thousands of dollars in damage.
"The city has always been really good about taking care of their own and they'll rally behind the store and keep us at a good level place," said Mayor Bill Alvey, who is also a salesman and marketing manager at Wright's.
"This is going to affect the community quite a bit and the 30-something people that work here, but we'll be able to function once we get power restored and that," he added.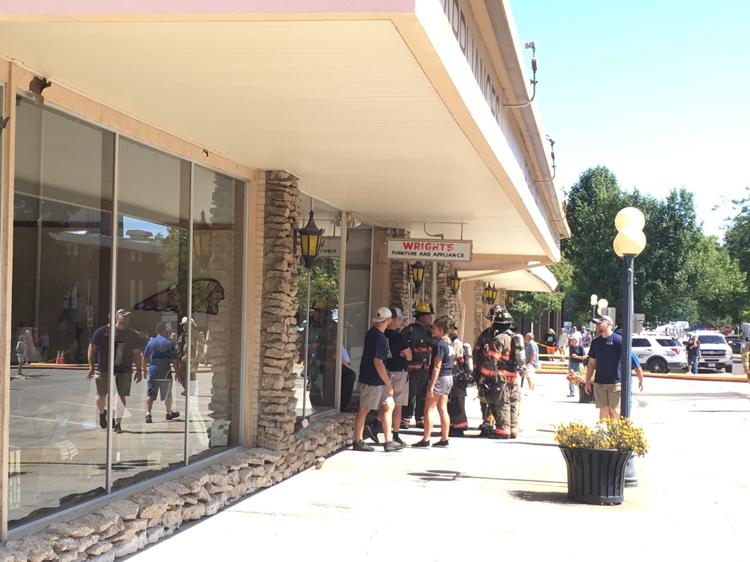 In an email to The Pantagraph, Mindy Flick recalled that the store gave every high school graduate a cedar jewelry box.
"A few years ago, my elderly parents had just downsized and needed furniture. My dad called Wright's on the phone and asked for three recliners and a couch through his specifications. Wright's delivered within the week with my parents pleasantly pleased," she wrote. "My parents were long-time shoppers with Wright's Furniture and always had superior service."
"May this local store rebuild and help local residents for generations to come," Flick wrote.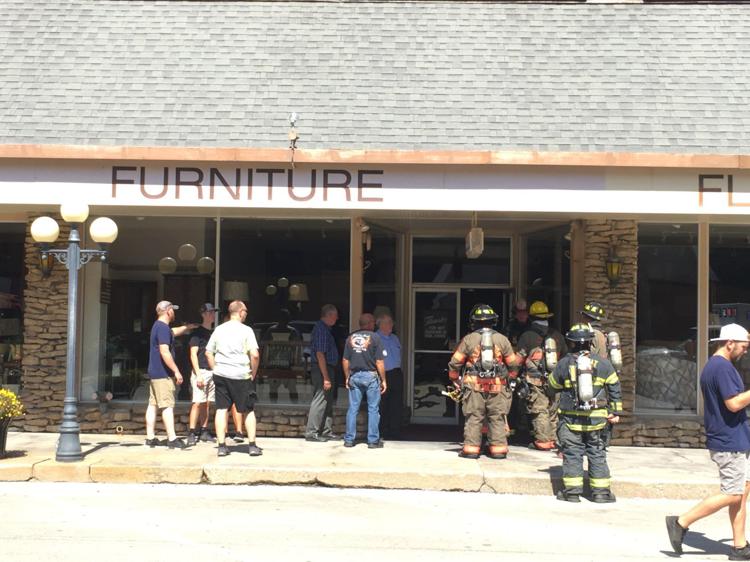 Alvey complimented Fire Chief Jacob Campbell for the department's work.
"This was the fire chief's first big fire since he got made chief and he did a great job," he said. "He must have had at least 10 other fire departments here."
Firefighters from Pontiac, Dwight, Cornell, Streator, Lexington, Fairbury, Minonk and Forrest worked the blaze, with assistance from Pontiac police, Livingston County deputies and Southeast Livingston County Ambulance Service.
Julie Gerke contributed information for this story.