SHELBYVILLE — The Shelby County Board voted Wednesday morning to reaffirm a 15-year-old resolution in support of the Second Amendment, rather than adopting a measure to become a "sanctuary county" for gun owners.
Board member Robert Amling made the motion to return to the earlier resolution, rather than passing a new measure. He said the county could find itself "writing a resolution all the time" if it did so every time state or federal lawmakers pushed a proposal that county leaders felt violated the Second Amendment.
After a short discussion, the board voted 16-2 to reaffirm its support for the 2003 measure.
The board had been considering a measure to symbolically declare itself a "gun sanctuary," signaling opposition to firearm restrictions at the state level. 
More than a dozen others in Illinois have already passed such resolutions, which indicate they might not enforce gun control measures passed by state lawmakers that the county deems as interference with the Second Amendment. 
Shelby County resident John Warren in April asked Shelby County Board members to consider the move because gun rights are important to a large part of the county, he previously said. 
"Our general assemblies are wanting to regulate, regulate, regulate," said Warren, a member of the Kaskaskia River Valley Friends of National Rifle Association, which raises money for shooting sports.
The focus comes amid a national debate related to large-scale shootings across the country, ranging from the death of 59 on the Las Vegas strip in October to a series of school violence incidents. A Feb. 14 shooting at a high school in Parkland, Florida, killed 17 people, galvanizing the national debate over gun control.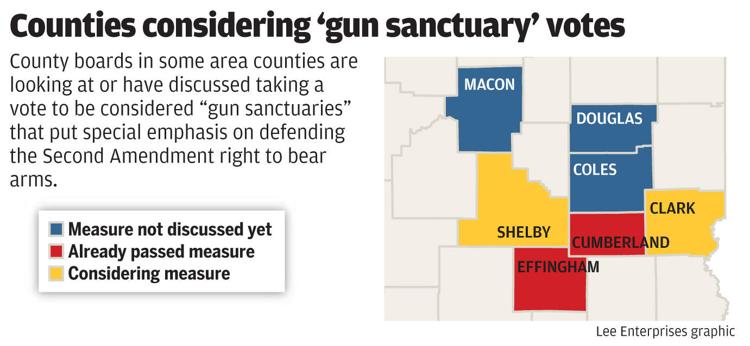 A sharp increase in violence in Chicago also has driven discussions about additional measures. Illinois gun rules also came under scrutiny by lawmakers following the shooting of four people in a Nashville Waffle House. The accused gunman is from the Peoria area, and his father had previously taken his son's firearms away from him after trouble with police, only to return the weapons, law enforcement has said.
Effingham County was the first in Illinois to pursue such a measure, attracting national attention in April when it directed employees to stop enforcing state laws that "unconstitutionally restrict the Second Amendment." Officials have said they chose the wording in the resolution intentionally. The word "sanctuary" is often associated with a policy used to protect immigrants from deportation in certain cities, like Chicago.
This story will be updated.