BLOOMINGTON — When it gets this frigid, construction worker Eric Smith changes boots after lunch and doubles up on gloves. Still, there's only so much that can be done.  
"It's freezing. My beard freezes up in a matter of seconds," Smith said. "It's so cold I thought my coffee was gonna freeze this morning."
A mix of snow and sleet triggered warnings from the Pacific Northwest through the Mid-Atlantic and the severe cold snap sent temperatures dropping to single digits as far south San Antonio. In Minnesota, the Hibbing/Chisholm weather station registered minus 38 degrees Fahrenheit, while Sioux Falls, South Dakota, dropped to minus 26 Fahrenheit, both records.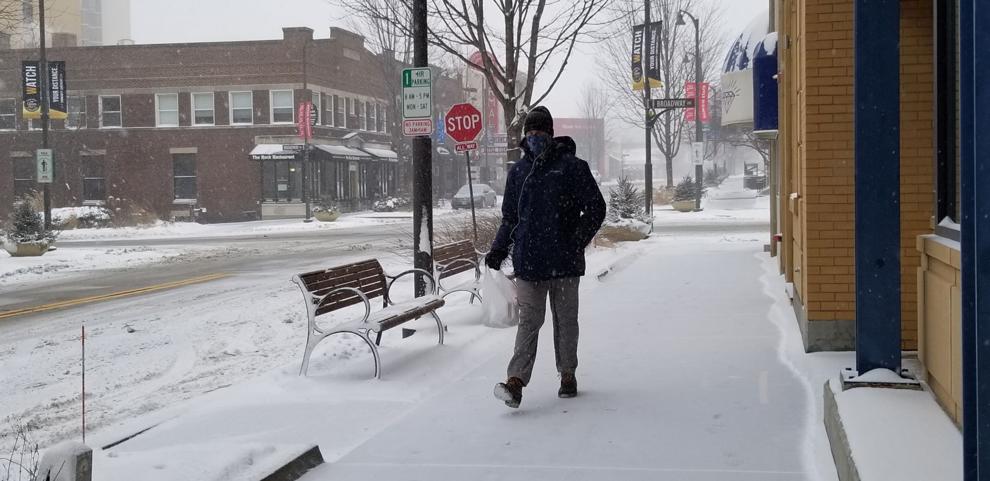 Warming centers opened in Chicago, where up to 12 inches of snow was expected Tuesday. That followed brutal cold on Sunday, when O'Hare International Airport registered a high of just 4 degrees, a new record for the lowest high temp for a Feb. 14. The previous one was in 1943, said Jake Petr, a meteorologist with the National Weather Service.
On Monday, more than 220 flights to O'Hare and Chicago Midway International Airport had been canceled. Flights to and from Dallas-Fort Worth out of Central Illinois Regional Airport in Bloomington, as well as ones to the Detroit airport, also were delayed.  
Heartland Community College and Illinois Wesleyan University also canceled classes. Illinois State University also closed the campus on Monday and Tuesday.
Across the region, snow removal crews spent all day Monday plowing the streets. 
"We'll work throughout the night keeping those open, which with the snowfall that's predicted, we'll just be running those to keep them passable and open," said Kevin Kothe, public works director for Bloomington. "We'll finish those up before we start into the residential neighborhoods."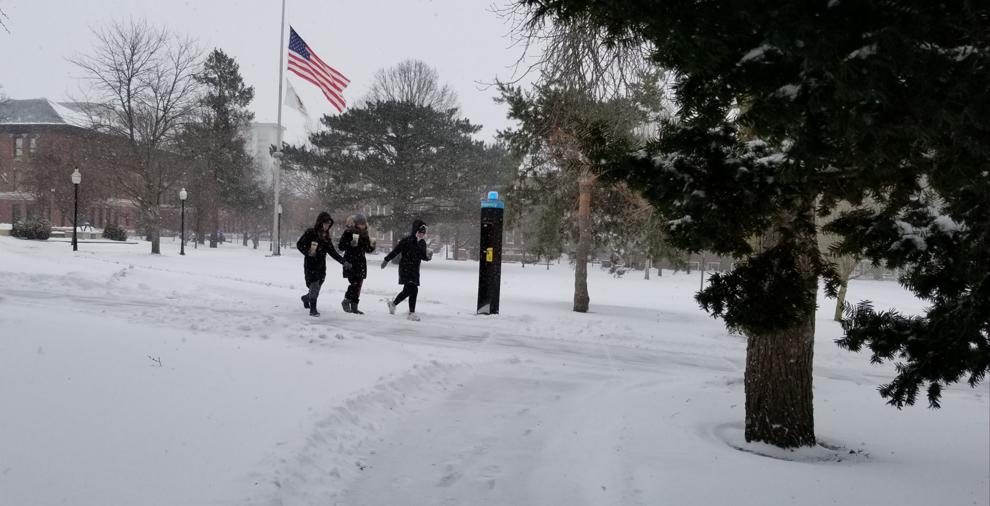 Kothe said that with miles of residential streets in the city, it takes several hours to open every thoroughfare.
"The mains and secondaries should be in pretty good shape, but some of the residential streets might not be fully opened back up by the time people need to head out in the morning," he said.
'Long, tedious job' 
The high winds will make snow removal more challenging for snow removal crews. Koethe said: "I give credit to our guys that drive the plows and equipment because it's a long, tedious job when you have the bigger storms like this." 
The blowing snow is expected to cause drifts, especially on east-west roads on the edges of Bloomington. Kothe advised drivers to avoid going through drifts when possible because "you just don't know how deep that snow is." 
Residents should "only travel if they absolutely have to. And if they do travel, be prepared, have a shovel with you and dress appropriately in layers and boots and hats and gloves and all that because it's still very cold temperatures and the wind makes the windchill very dangerous." 
Koethe said after the storm clears, snow crews likely will put salt down in the city's intersections, as well.
The Illinois Department of Transportation dispatched more than 1,800 trucks and pieces of equipment to treat roadways. The agency in a statement urged people to stay indoors if possible. 
---
---
Elsewhere, Monday's winter weather event forced others to adapt to blistering cold and whipping winds.
Cory Nelson, who tattoos at Exquisite Piercing and Tattoo in Bloomington, said if it wasn't for an afternoon appointment he wouldn't have manned the shop under the conditions.  
"When it's this bad I don't usually open," Nelson said as he was removing snow from the sidewalk. "But I've got one session, it's her 18th birthday and it's her first tattoo."
Nelson said he was hoping his only client for the day would arrive safely, adding that he empathized with anyone trying to staying warm.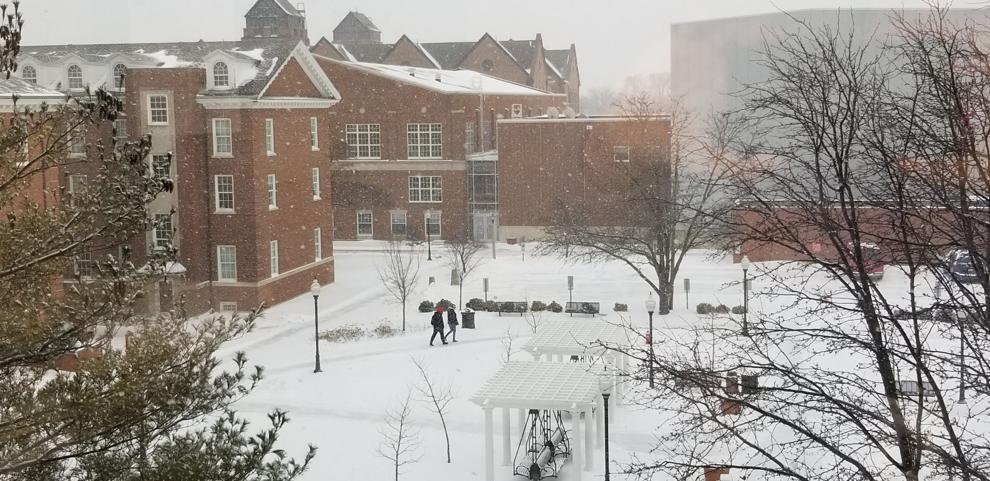 "I can get used to this, but you know, for other people it's not that easy," Nelson said.
For George Zakalin, the drop in temperature Monday was tolerable, but the reduction of visibility was not ideal. Zakalin, who suffers from a loss of vision in both his eyes, walks to work at Heritage Plaza, 115 W. Jefferson St., every morning with help from his guide dog, Zoey.
The snow "sometimes affects my vision, sometimes makes it harder to see," Zakalin said as he and Zoey stood on the snow-drifted lawn of the McLean County Museum of History.
"But it's more of an issue for (Zoey.) She gets a little turned around so I get a little turned around," Zakalin said. "The snow – it definitely doesn't help either of us."
When will it end?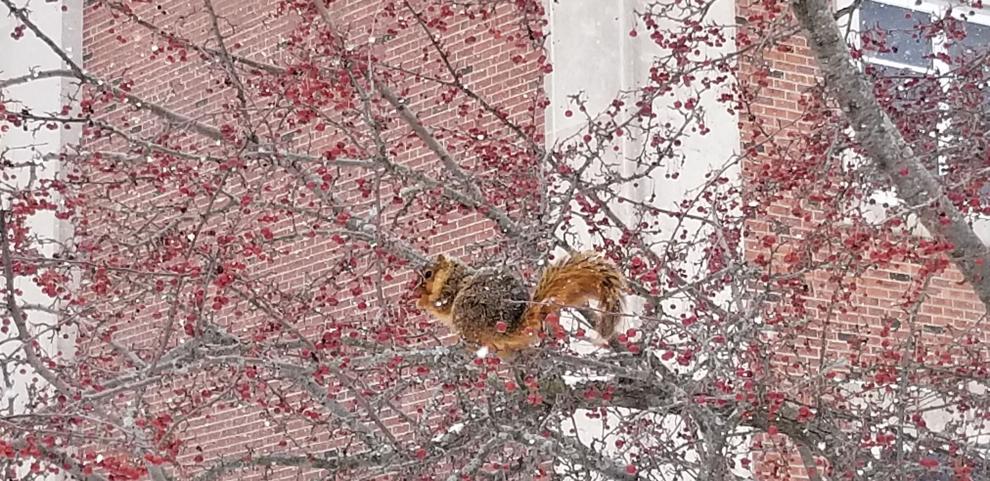 Despite frigid temperatures, demand for fried chicken was high at Bloomington's Pop Up Chicken Shop Monday.
Around 1:30, Chris Bradley told The Pantagraph that all staff would be "walking out the door in 30 minutes," as he and co-owner Aaron Francis decided to close early due to weather. Normally open until 4 p.m., the restaurant closed at 2 p.m. so employees could get home before more inclement weather set in.
The staffers "love it — it's greatly appreciated," Bradley said. "There's definitely a positive response."
A veteran food service worker throughout the area, Bradley said the employee-first philosophy is deliberate.
"I have worked for other employers that really were concerned more about the dollar than the employee," he said. "I don't want to be like that."
A Winter Storm Warning remains in effect until 6 a.m. Tuesday, when a low of 2 below zero is forecast overnight. Conditions are expected to improve later in the week, with a high of 21 degrees forecast. Total snowfall is expected to total about 8 inches in Bloomington-Normal, said Alex Erwin, of the weather service. 
Kirk Huettl, a meteorologist at the National Weather Service's Lincoln office, said the good news is that the bitter cold will not be around much longer. Highs next week are expected to reach the low- to mid-40s. 
"Much of next week looks like we're going to be near or trending above normal temperatures and breaking out of this Arctic air mass," Huettl said. "And transition time is during this weekend."
Lyndsay Jones, Kade Heather and Brenden Moore of The Pantagraph contributed to this story. 
---
 Brrr! All-time snowfall records