BLOOMINGTON — Bloomington squared its shoulders and looked forward Thursday, hoping to find "some opportunity for the future" after State Farm demolishes its former corporate headquarters in the heart of downtown.
"Despite the best efforts of all parties, the purchase and sale agreement, which was announced in March, did not materialize," the Bloomington-based insurer said in a statement. "We gave much thought and consideration to next steps. With a sale not materializing, the continued costs of maintaining a building of that size and the impacts on downtown with it remaining vacant without interest, we are moving forward with plans to demolish the building."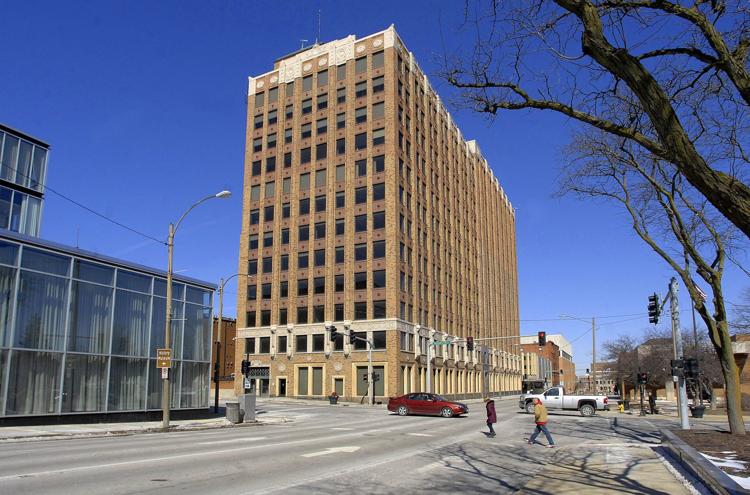 Mayor Tari Renner tried to stay positive. "Out of something that's sad, we can and we will turn that into some opportunity for the future," he said.
Adam Lovell, executive director of the nearby McLean County Museum of History, said, "This is all a shock to a lot of us. We're kind of stunned. A lot of us feel like it's a nightmare we hope we wake up from."
Local historian Greg Koos said he has reached out to community leaders "to get together and do some brainstorming about what can be done to save the building."
"It's a Bloomington landmark, sure," said William Furry, executive director of the Illinois State Historical Society of the building built in 1929. "It was the cornerstone for their whole corporation … and a cornerstone of the downtown. It's a shame that they're even considering demolition if it still has viability and good bones."
"We had some traction going, but unfortunately, with a building of that size, you really have to have a large percentage of the building leased in order to make it work," Guth said.
Renner said "the city was prepared to help any way we could with incentives to a possible developer or in any way, shape or form we could.
"It's unfortunate that did not work," he said. "It's very sad. It's a great old historic building. ... To the extent we have a skyline, it's always been the skyline in our city."
You have free articles remaining.
Renner added the city may look to buy the land to better control its development, but the city does not plan to pay for the demolition.
A formal discussion with the City Council may not happen until September.
Normal Mayor Chris Koos agreed that controlling land can be critical for downtown development. Normal bought property throughout its former downtown to grease the skids for the uptown revitalization project.
"It's an important property. I see it as a setback the building would come down, but in five to seven years, who knows?" Koos said. "It might have been the right choice, it might have been the wrong choice for city of Bloomington."
Zach Dietmeier, vice president of the Bloomington-Normal Economic Development Council, said the demolition is likely to be expensive, which may help in negotiations about the building's future.
"From a business standpoint for them, I totally see where they're coming from, but I would also think it would be at or close to equal for them to work with the city to some sort of arrangement for the property," Dietmeier said.
"That is premier real estate with unlimited possibility," he said. "There's opportunity in either situation."
The 200,000-square-foot building has been a downtown fixture for 90 years, serving as corporate headquarters until 1972. As many as 900 employees worked there at the building's peak.
Its closure was part of a massive restructuring which company officials said was designed to better serve its customers.
Lovell, from the history museum, said it is difficult to fully measure the impact without knowing what will take the building's place. "Will it be a grand structure that redefines downtown ... or will it be a park, a parking lot or some mundane building?"
"It seems like it's been a long time since there was a decent amount of people over there working. So I think we're pretty much used to nothing being there," said Butch Thompson, who helps manage Elroy's, Reality Bites and Reality on Monroe, owned by his son, James "Derek" Samples. "It is a sad deal.
"That is just a really, really big building and I don't know how someone could do the amount of work needed to open that building up. Unfortunately, it takes somebody like State Farm, and there's not a lot of State Farms around."