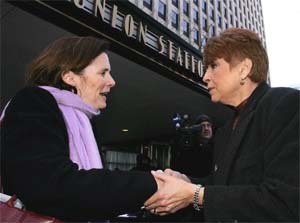 CHICAGO - Chicagoan Sheila Donovan says she is "essentially a Democrat." But that doesn't guarantee she'll vote to re-elect Gov. Rod Blagojevich in November.
Donovan, a saleswoman who describes herself as liberal and proudly notes she has only missed one election in her 60 years, says she likes GOP challenger Judy Baar Topinka "a lot" and is bothered by reports that some of Blagojevich's friends and political cronies have grown rich on state contracts.
Ultimately, Donovan says, she'll probably vote for Blagojevich unless something really bad about him comes out during the campaign. "I don't want to give the Republicans any more power than they have," she said.
"But I really wouldn't be too disappointed if she beat him," she added.
Many female Democrats like Donovan are drawn to Topinka, in part because she's a woman but mostly because she's a moderate. That crossover appeal gives the state treasurer the opportunity to pick off voters from a key Blagojevich constituency, one he has carefully courted over the past four years.
"The fact that she's a moderate makes it possible for them to slide over," said University of Illinois at Springfield political studies professor Chris Mooney.
And that's vital, former two-term GOP Gov. Jim Edgar notes, because Democrats outnumber Republicans in Illinois.
"There's not enough Republicans in this state to get you elected to anything," Edgar said. "The key is going to be, you got to also get a good number of independents and what I call thoughtful Democrats."
But Blagojevich has built a record of advancing women's issues that could help keep women in his camp. The first-term Democrat is trying to capitalize on that record with campaign ads on TV featuring women talking about his accomplishments in health care and education, areas typically important to female voters.
Bonnie Grabenhofer, president of the Illinois chapter of the National Organization for Women, said Blagojevich has a long list of accomplishments when it comes to women's issues.
For example, he supports abortion rights, while Topinka favors restrictions on it that are "troublesome to us," Grabenhofer said.
Blagojevich also has said he would make sure women's reproductive rights and freedoms are protected in Illinois even if Roe v. Wade - the landmark 1973 Supreme Court ruling that legalized abortion - is overturned.
Topinka, who describes herself as "pro-choice with sensible restrictions," opposes late-term and certain other abortions and favors parental involvement for underage girls who want the procedure.
During his first term, Blagojevich also issued an executive order requiring pharmacies to fill prescriptions for emergency birth control; succeeded in raising the minimum wage and wants to do it again, a move Topinka opposes; and passed a law requiring women be given equal pay for equal work.
"They're not as similar as how they may appear," said MeLissa Obermiller, president of the southern Illinois chapter of NOW.
New poll numbers show Topinka and Blagojevich running about even in the race overall and in their support among female voters.
Edgar, Topinka's honorary campaign chairman, said her gender could help her with suburban women the GOP has struggled to bring over to its side.
"If she was a very conservative Republican I don't think her gender would help, if she was a Democrat I don't think it would help that much, but being a moderate Republican running against a Democrat whose numbers have come down among women voters in the last year, I think on the whole it will be very positive," Edgar said.
Topinka has built a campaign message around convincing voters that the state has to tighten its belt after overspendng by the Blagojevich administration.
That message resonates with JoAnn Marciszewski, 45, of Berwyn, who grew up in the same area west of Chicago that Topinka did.
"You don't spend money unless you have it," said Marciszewski, who leans Democratic but plans to support Topinka.
Leslie Reliford, a 22-year-old graduate student at the University of Illinois in Springfield, said she also doesn't like how Blagojevich has handled the state's finances and isn't sure how he's going to pay for all the programs he has proposed. An independent, she's leaning toward voting for Topinka.