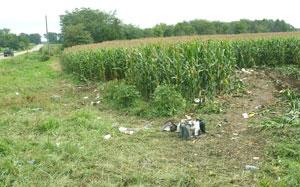 DOWNS - Two people have died and a third was in critical condition Thursday afternoon following a two-vehicle accident Wednesday night near Downs.
David R. Park, 53, of Towanda, was pronounced dead at the scene of the accident, which occurred just before 10 p.m. near the intersection of Towanda Barnes and McLean County 700 North roads, according to a press release from Coroner Beth Kimmerling.
Stefanie R. Thomas, 22, of LeRoy, was pronounced dead about 3:20 a.m. Thursday at OSF St. Joseph Medical Center, the release said.
Scott Kline, 37, of LeRoy, was in critical condition at OSF St. Francis Medical Center in Peoria, a hospital official said.
Park was the driver of a Chevrolet 2500 pickup truck heading north of Towanda Barnes Road when it collided with an Oldsmobile Cutlass heading east on 700 North Road, said Sheriff Dave Owens.
A statement from the coroner's office says Thomas is presumed to be the passenger in a car involved in the accident, but Owens said investigators are still determining who was driving the car.
Park was ejected from his truck in the accident, Owens said. Thomas was trapped in the car and Kline was out of the car when deputies arrived, he said.
Owens said alcohol was involved in the accident and not on the part of the pickup driver.