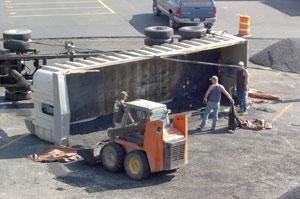 BLOOMINGTON - A trailer truck carrying a load of asphalt overturned Saturday afternoon in the Pantagraph's north lot at the corner of Madison and Monroe streets. The driver of the truck and another worker were transported to the hospital with injuries.
Workers were laying asphalt on the lot when the truck overturned just after 3:30 p.m. Witnesses say the accident happened when the dump trailer's tailgate failed to open.
Mike Coley, a foreman with Marshall Asphalts, said the truck's hydraulic system continued to lift the trailer after the tailgate failed, putting too much weight on the back of the dump and causing it to overturn on the driver's side.
Coley and another worker kicked out the windshield on the truck's cab and pulled its driver to safety. The driver, whose name was not available Saturday, was taken to BroMenn Regional Medical Center with an injured shoulder.
Another worker was taken to the hospital with a cut hand after helping get the driver out of the cab.