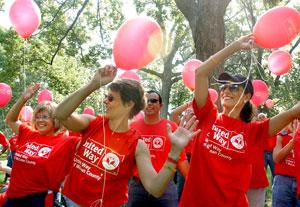 BLOOMINGTON — United Way of McLean County announced its 2006 campaign goal of $4.4 million - a 4 percent increase over the record-high $4,221,136 raised last fall. United Way kicked off its annual fundraising campaign with a rally in the rain Wednesday morning outside the YWCA of McLean County, 1201 N. Hershey Road.
About 200 people attended the event, including employees of the campaign pacesetter, Electrolux Home Care Products North America; heads of non-profit agencies whose programs are funded by United Way; county business and labor leaders and other United Way volunteers; and members of the University High School marching band, who performed before the rally.
Campaign Chairman Patrick Dienslake of National City bank and United Way President Greg Cott called giving to United Way an investment, not a donation.
"When you make an investment, you expect a return," Dienslake said. "That's what United Way promises you."
United Way supports 47 programs run by 29 local social service agencies, including programs that help homeless people, people with disabilities, children and families in crises, and older adults. United Way is moving to the Community Impact model, which means funding programs that improve lives by trying to solve root causes of problems.
Dienslake and Cott said the campaign is off to a good start because of Electrolux and its 180 employees, whose pacesetter campaign ran from July 28 to Aug. 18.
"The pacesetter campaign is supposed to set the pace and that is exactly what they've done," Cott said.
Electrolux and its employees pledged $84,240, a 44 percent increase over the company's 2005 total, reported Electrolux President John Case. About 92 percent of employees are United Way donors; 53 are leadership givers who are donating $500 or more, a 26 percent increase over last year; and the company donated 50 cents for every employee dollar.
"I'm just very, very proud of all our employees," Case said after the rally. "They got behind the campaign and had fun with it."
The United Way campaign runs until Dec. 31.