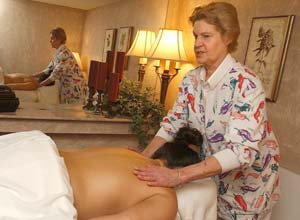 BLOOMINGTON - Penny Hall's sensitive fingers are her eyes. She uses those fingers to good advantage in her work, as she's believed to be the only blind massage therapist in Bloomington-Normal.
"I thoroughly enjoy my work," Hall said. As she spoke, gentle new age music drifted through the Robert John Hair Studio and Day Spa in Bloomington, where she's worked for the past two years. On the massage table was 22-year-old Lisa Rucker of Normal, who was getting her first massage. Hall, 63, who has worked in the massage therapy field since 1998, began by gently massaging Rucker's back, gradually applying more pressure.
"My thumbs are like steel traps," said Hall, adding that a golden rule of massage is "do no harm."
Not only is being blind not a handicap in her work, but some of her clients are thankful she's blind because they're self-conscious about their bodies, she said. But regardless of the shape of the person on the massage table, Hall's first concern is comfort.
"Are you warm enough?" Hall asked Rucker.
Not only was Rucker warm, but she was surprised by how thorough the massage was. Hall massaged Rucker's back, legs, hands and feet, explaining that most people enjoy a foot massage.
Massage increases limberness, helps reduce pain and increases circulation, Hall said.
Robert John's owner, Robert J. Leffler, describes Hall as courageous.
"She gets busier all the time, as people are amazed by how good she is," Leffler said.
A native of Bloomington, Hall began losing her sight when she was 13.
"It was a virus caused by pigeon droppings," she said. "We lived in a three-story house, and we'd play in the attic where there were pigeons."
She still remembers the day she took sick. "I woke up May 13, 1956, and I felt like I was being stabbed in my left eye," she said.
A succession of trips to specialists followed.
However, even as she was going blind, the former Penny Houser led an active life.
Life at Bloomington High School was fairly normal, despite mistakenly venturing into the boys bathroom once. She was a high school cheerleader and homecoming queen.
There was the time she was asked by a substitute teacher to read aloud in class. She explained she was blind, but the sub didn't believe her and sent her to the office.
Her school lessons were done with the help of a student reader from Illinois State University.
She was legally blind in both eyes by 16, but anger over her condition didn't hit until her late 20s. When it did, counseling helped.
"I was asking, why me? What have I done?"
By age 30, she couldn't see a thing. But she tries not to let her blindness restrict her.
She maintains her sense of humor, insisting "if you don't have a sense of humor you are flat out of luck."
She uses a collapsible cane and once used a leader dog. The dog died, however, and Hall decided not to replace her because it was "too much like losing a child."
She raised two children and said being a mother "takes an infinite amount of patience," whether sighted or blind.
Nowadays, with no children underfoot, she concentrates on gourmet cooking and listening to cassette tapes.
"I can be reading while I'm ironing or cooking," she said. And cooking is simple if you "have a place for everything," she explained. She is able to iron by feeling the fabric.
If all that weren't enough, Hall also plays golf.
"Tiger Woods I'm not, but I have girlfriends that I play with who align me," she said. A friend helps her putt by standing near the pin and talking. She said her putting game is good.
Husband Prescott "Pete" Lustig, 84, who has his own claim to fame as the author of a blog about senior life, said Hall does just about everything but drive an auto.