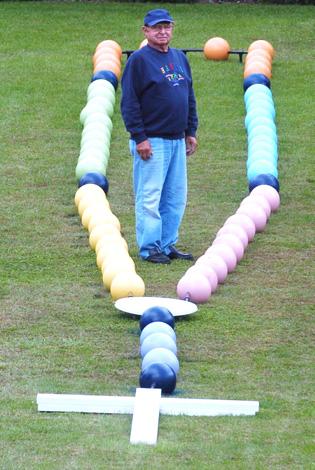 NAPOLEON TOWNSHIP, Mich. - Ralph Kluk has made a rosary fit for the Jolly Green Giant. The 76-year-old has displayed a 70-foot, 700-pound rosary made out of bowling balls in his front yard.
"It's a sign of his devotion. And it's a good idea," said Kluk's priest, the Rev. Darius Wyszynski. "What else do you do with an old bowling ball?"
It took a little ingenuity, and a few dozen phone calls to bowling alleys and their patrons, for Kluk to scrounge up the requisite number of rosary balls.
He combined 59 balls, 20 cans of pastel spray paint, 40 feet of black piping and a wooden cross.
"I do crazy things," he said. "But they're not really crazy."
Anchoring the balls in the ground with 9-inch metal stakes was key, he said. They almost rolled off his 30 acres and onto the street.
"The hardest part," Kluk adds, "will be cutting my grass around it."
Be the first to know
Get local news delivered to your inbox!