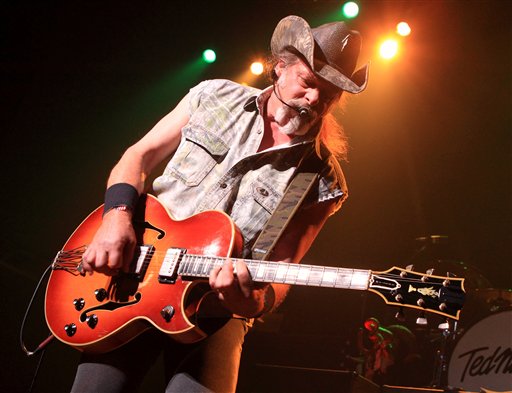 BLOOMINGTON — Since the original Nov. 18 concert announcement, the bill has continued to grow for Wednesday's Rock to the Rescue fundraising event at the U.S. Cellular Coliseum.
Veteran Detroit rocker Ted Nugent, aka the Motor City Madman, is the latest addition, joining the list led by REO Speedwagon and Styx.
The news of Nugent's participation came fast on the heels of five more additions revealed on Monday — comedian Larry the Cable Guy, who'll serve as emcee; singer Richard Marx; and a trio of bands, Survivor, Illinois-born Head East and B-N's own Brushville.
Nugent, of course, is no stranger to either the Coliseum or the REO/Styx camp.
The famously outspoken rocker headlined a Coliseum show in 2007 then returned to the area two years ago for a date at Pontiac's short-lived Crystal Palace.
Nugent has been allied with REO and Styx the past two summers as part of the Midwest Rock 'n Roll Express Tour.
He also performed with the band as part of the Rock to the Rescue concert held in the aftermath of the Boston Marathon bombings earlier this year.
It may not be over yet: a spokesman for Chicago's Jam Productions said there remains a possibility that additional acts could be added to the roster before Wednesday.