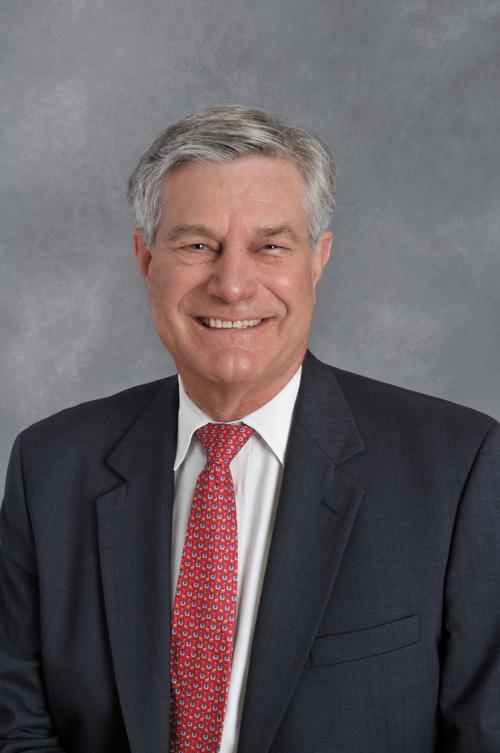 NORMAL — Ralph Turner, 72, of Normal, a devoted father, grandfather, attorney, volunteer and civic leader, died Tuesday morning (May 7, 2019) peacefully at home, surrounded by family.
Visitation and funeral arrangements will be set at a later date in June. Burial will be at Mount Hope Cemetery, McLean. In lieu of flowers, memorials may be made in honor of Ralph to Second Presbyterian Church or to the Advocate BroMenn Foundation.
Ralph Tracy Turner, the youngest child of James B. and Katherine Eleanor (Witham) Turner, was born May 27, 1946, in Lincoln.
He is survived by three daughters, Christine (Eduardo Moreno), San Mateo, Calif.; Ashley, Los Angeles, Calif.; and Andrea (Steven Moffitt), New York, N.Y.; two grandchildren, Hayden and Grayson Moffitt, with a third due in late May, and two stepgrandchildren, Eddie and Josue Moreno, Annapolis, Md. Others surviving are four sisters: Susan (Kenneth) Walden, McLean; Nancy (Roger, deceased) Miller, Polo; Ann Turner, Pekin; and Alice (Richard) Girdler, Shelby Township, Mich.; close friend, Martha Mitchell; his former wife, Karyn Pitts Turner; and many nieces and nephews and their children, all of whom he was immensely proud. He appreciated the great love of his family.
He was preceded in death by his parents.
Ralph graduated from McLean High School in 1964. He graduated from Tulane University in 1968. At Tulane, he played collegiate baseball for two years (Roll Wave!) and enjoyed his junior year in Bristol, England, which led to a lifelong passion for travel. He received his master's in political science from Illinois State University in 1970, and a juris doctor of law from the University of Illinois College of Law in 1973.
Ralph returned to Bloomington in 1973 to practice law. In 1977, he founded Luedtke, Hartweg and Turner law firm, eventually Hartweg, Turner, Wood & DeVary. He was the managing partner of his firm for 31 years. He was respected and admired for his skill as a lawyer, his service as a citizen, and dedication to his profession.
He highly valued relationships with other lawyers and his clients and always worked to advance his profession. He was a Life Fellow of the American Bar Foundation and the Illinois Bar Foundation, and a past member of the Board of Governors of the McLean County Bar Association. He was a long-serving member of the Board of Directors and past chairman (1994-95) of the Illinois Institute of Continuing Legal Education. Ralph enjoyed serving on many section committees of the American Bar Association, the Illinois State Bar Association and the Board of Directors of the McLean County Bar Association. He served as chair of the ABA's Young Lawyers Committee (1981-82), chair of the ABA's Decedents Estates Administration Committee (1987-1993), and chair of the Agriculture Committee of the ABA's Section of Taxation (1988-89). In 1994, he was elected as a Fellow to the American College of Trust and Estate Counsel, a testament to his expertise in probate, trust administration and estate planning. In 2009, the McLean County Bar Association awarded him the Lincoln Award of Excellence in recognition of dedicated service for the public good and the highest standards of legal professionalism. For over 25 years, he taught probate law to paralegal and pre-law students at Illinois State University.
Ralph was a man of faith and lived his life with the goals of nurturing his family and helping others. He was an active member of the Bloomington Kiwanis Club (president, 1990-91) and particularly enjoyed supporting Camp Limberlost. He was a member of Second Presbyterian Church for more than 45 years, serving as an elder and chair of the Board of Trustees.
He greatly valued the opportunity, for more than 20 years, to serve in a variety of roles with BroMenn Healthcare to help chart a course to advance and improve healthcare in Central Illinois for future generations. He served on the boards of the BroMenn Foundation and the BroMenn Physicians Medical Corp. He was chair of the BroMenn Healthcare Systems Board of Directors (2009-2010) where he helped guide BroMenn from a standalone healthcare system through its merger with Advocate Health Systems, later serving as chairman of the Advocate BroMenn Governing Council (2010).
Ralph enjoyed his Sunday golf games with friends. He looked forward to meeting every week with his men's small group and his Saturday breakfast group. If you knew Ralph, you knew that his greatest joy was spending time with his children and grandchildren at the family farm in McLean, in New Orleans, on Longboat Key, or visiting them in New York and California. He relished his many travels in the U.S. and abroad, exploring the world. We will miss his leadership, guidance, his great hugs, huge grin, unfailing optimism and constant love and encouragement. His was a life very well lived!