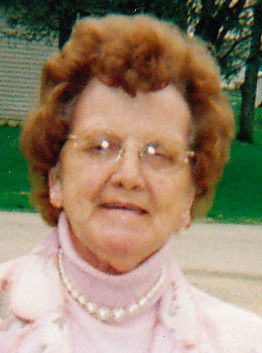 BLOOMINGTON — Wanda Louise Cochran, 84, of Bloomington, passed away at 3:52 p.m. Sunday (Sept. 8, 2019) at Aperion Care, Bloomington.
Her funeral will be at 2 p.m. Friday at Calvert & Metzler Memorial Home, Bloomington. Major Dan Leisher will officiate. Visitation will be from noon to 2 p.m. Friday at the memorial home. Interment will be in Park Lawn Cemetery, Danvers.
Wanda was born in Hartford, Ky., to Lloyd and Gladys Mae Bartlett Austin. She married Russell Hoeft on July 23, 1955, in Bloomington. He preceded her in death. She later married Millard Austin "Bud" Cochran. He preceded her in death in 1989.
You have free articles remaining.
Wanda is survived by one daughter, Linda (Rex) Nafziger, Bloomington, and two sons, Frederick (Sue) Hoeft, Normal and Tony C. Hoeft, Bloomington. Also surviving are six grandchildren, Celeste (Danny) Skirvin, Tyler Nafziger, Michael (Amanda) Hoeft, Brian Hoeft, Cindy (James) Atmore and Erica Hoeft, and eight great-grandchildren. Four sisters are surviving, Agnes Solomon, Brighton, Mo.; Margaret Rock, Hartford, Ky.; Barbara (Larry) Keifer, Gridley; and Anna Lehr, El Paso.
She was preceded in death by her parents; five brothers, Dewey, Frank, Paul, Roger and Ronald; and one grandchild, Robert Russell Ward.
Wanda was a very active member of the Salvation Army in Bloomington for many years. She worked as a certified nursing assistant in nursing homes in the Bloomington area for 53 years. She was a beloved mother and grandmother.
In lieu of flowers, memorial contributions may be made to the Salvation Army. The family asks to refrain from sending flowers, but if you do, please send roses or carnations only due to a severe allergy in the family.