Like a park with a trail barely over a half mile long that includes benches and boardwalks that are Eagle Scout projects and signs with information about the area's history.
Or a place with a large pond for fishing, shaded picnic tables, shelters for larger gatherings and trails that lead to a cemetery with grave markers from the 1800s.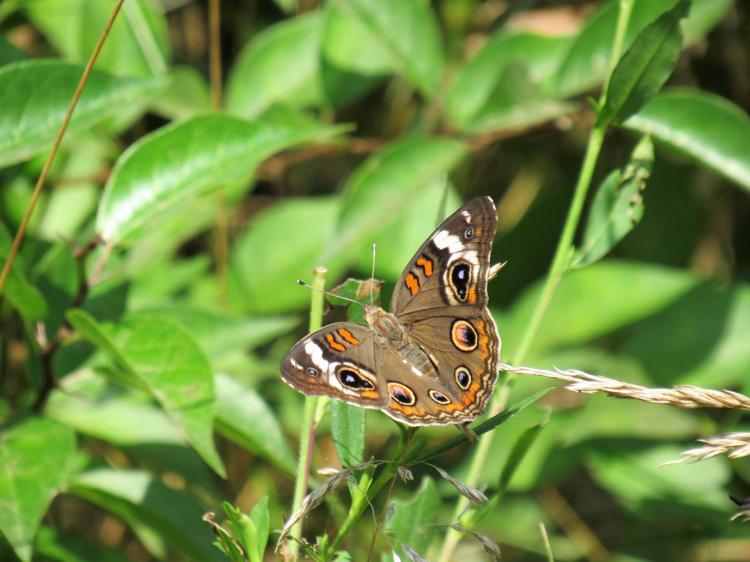 These are places to savor in small sips instead of big gulps. Test your powers of observation — both eyes and ears. You might spot a luna moth hidden under a large leaf next to a trail near LeRoy or a meadow vole scurrying through the grass in Downs. You might hear a pair of barred owls calling to each other or a house wren scolding you for your presence.
You might even be treated to the laughter and shouts of "omigosh" from barefoot children fishing off a bridge near their home amid prairie wildflowers at The Grove at Kickapoo Creek.
Tucked near the northern entrance to Downs is Kickapoo Park. You might have seen a small parking area, suitable for only two or three vehicles, right after turning south off U.S. 150 on Seminary Street. A larger parking area is available at its other entrance, south of U.S. 150 on 2000 East Road, immediately south of a bridge over Kickapoo Creek.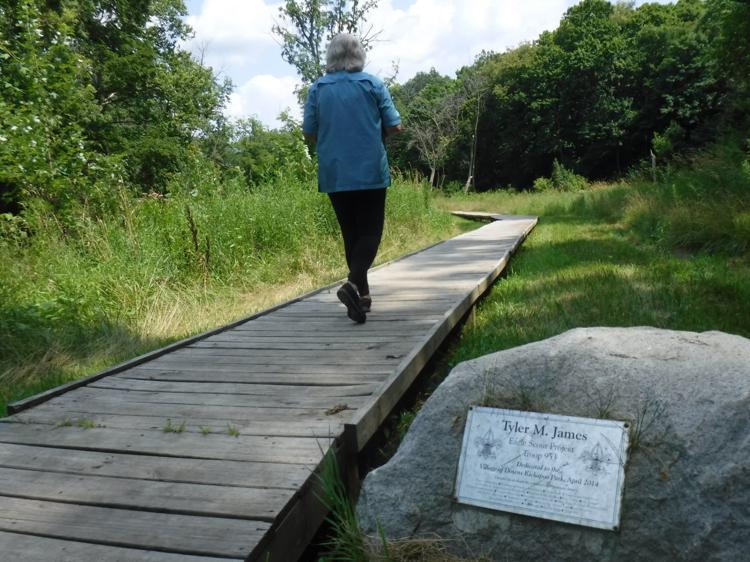 "It's definitely a nice place to come and relax and listen," said Deanna Frautschi, a member of the Greenways Advisory Committee.
The mowed path, bordered by wildflowers, is relatively wide and flat, making it easier to manage for those with mobility issues or small children. One section offers a boardwalk and there is a deck with seats along the sides and a ramp.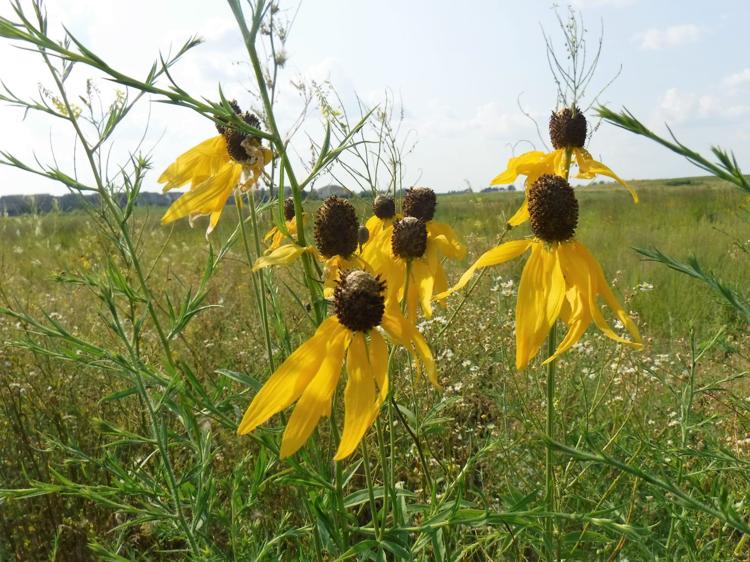 Informal dirt paths lead to the creek. Numerous dragonflies, damselflies and butterflies flit over the creek and along the path. Signs provide information about the history of Downs, the Kickapoo tribe and animals in the park.
Jenni Shelton of Downs walked with her son after checking out a way for him to ride his bicycle there from home. "It's very beautiful," she said of the park.
You have free articles remaining.
Frautschi said, "The lady and her son are a good example of what we like to see — people getting outside to enjoy these natural areas."
That's why the Greenways website lists 22 places people can enjoy nature.
Another is Howard Virgin Timber/James A. Bane Park, located off U.S. 150 near the intersection with East 350 North Road, southeast of central LeRoy.
Nestled along the North Fork of Salt Creek, the site includes paths through virgin timber and along the creek, a fishing pond stocked by the city of LeRoy and shaded picnic tables along with pavilions that can be reserved by calling 309-962-3031.
Walking along the wooded paths, we appreciated the shady coolness on a mid-summer day but also imagined what it might be like when spring wildflowers are in bloom or fall colors are at their peak.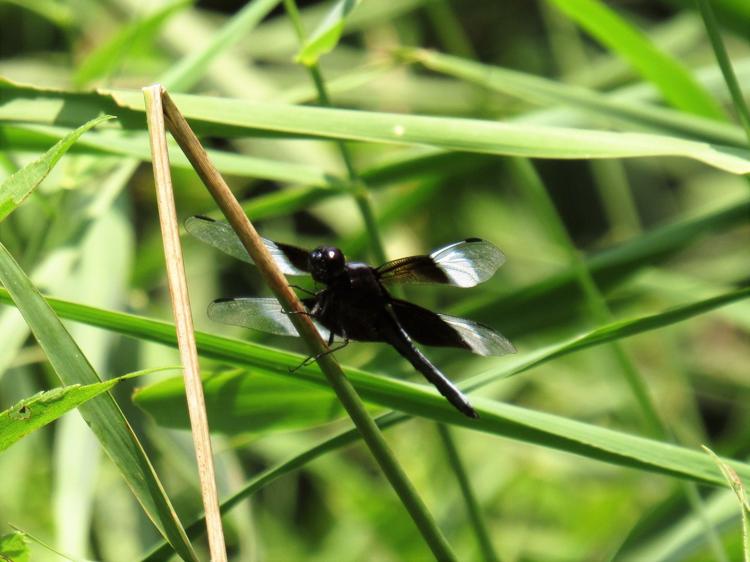 While many of the spots listed on the Greenways website are natural areas that have been preserved, The Grove at Kickapoo Creek is an example of successful restoration work.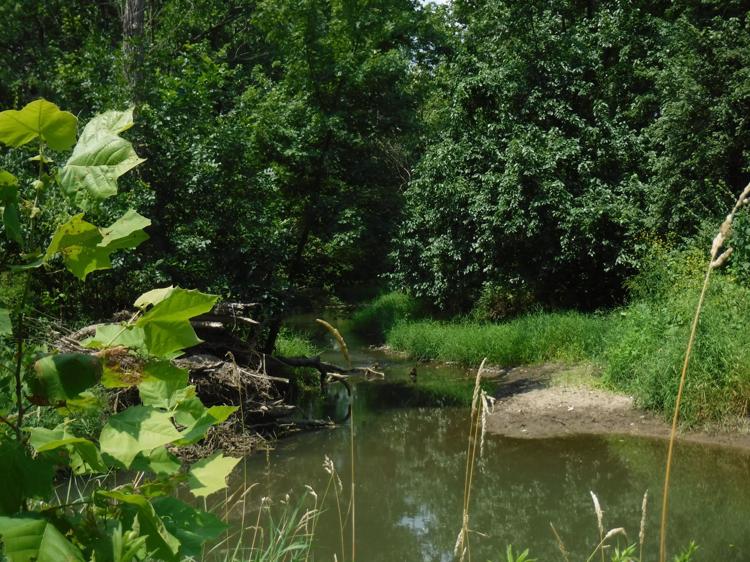 A nearly mile-long stretch of the creek in the 450-acre subdivision east of Towanda-Barnes Road was restored to a more natural flow pattern, with loops that help slow runoff. The curves, along with about 85 acres of restored prairie and wetlands, improve water quality.
Several fish species and mussels live in the creek. Grassland and wetlands birds populate the prairie. Wildflowers provide a splash of color.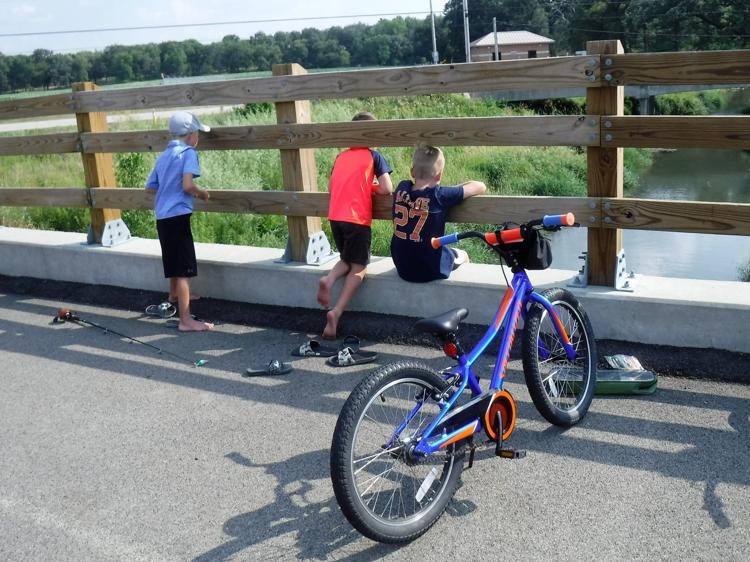 The park is off Ireland Grove Road (also listed as East 1200 North Road), east of Towanda-Barnes Road. There's a small place to park where the creek crosses Ireland Grove Road, or use the Benjamin Elementary School lot when classes aren't in session.