1513 N Main St
Bloomington
,
IL
61701
Last Updated: October 10, 2018
| | |
| --- | --- |
| Sunday | |
| Monday | |
| Tuesday | |
| Wednesday | |
| Thursday | |
| Friday | |
| Saturday | |
Check out our menu!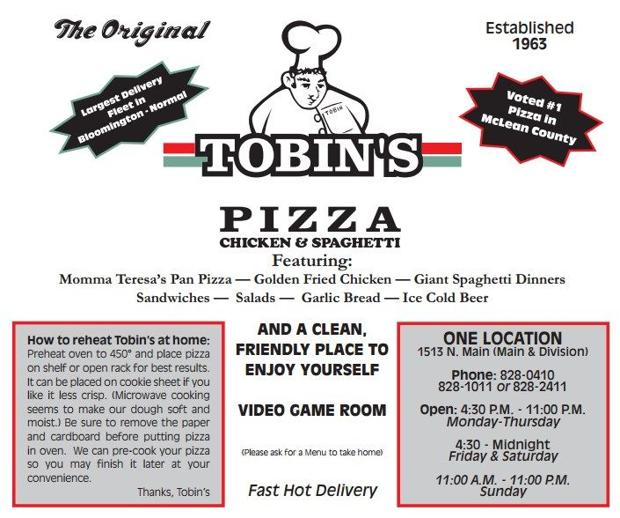 Tobin's Pizza Story
Our pizza begins with a not real thick yet not paper thin, golden crust, never soggy and never messy on the bottom or sides (like our competitors). Of course we make this crust and roll it ourselves to get it this way. Next we top this golden crust with our mildly seasoned, red ripe tomato sauce. Next and almost last is the cheese, rich and buttery always cooked till it is golden (never stringy or burned). Now it is your turn, choose any of the toppings available and you are on your way to a perfect pizza.
Micheleo's Pizza Story
The story starts on February 1, 1981 when Micheleo's Pizza opened its doors at 4 pm that Sundayevening. Two hours before the opening the sauce recipes for both the thin and pan pizzas were developed (seriously). There were only a handful of employees at the start and the first night's sales were only a few hundred dollars. The first ISU Spring Break in March that year was tough with the students gone. One of those nights we sold a .45 soda after being open for five hours with one employee on the payroll!!!
Micheleo's has always served thin crust and Chicago style deep dish pan for which they are famous for and has always been known for generous amounts of toppings and cheese.

Micheleo's first location was in Normal at 106 North Street. The store moved to 116 116 North Street in February 1984. A second location was opened in Bloomington at 1012 South Main Street in 1990. The second location was moved back to Normal in 2003.
Micheleo's was sold by its original owners, Mike and Geri in 2003 and remained at the North Street location until the summer of 2010 when unfortunately it closed for a short time due to complications. It was reacquired by the original owners and sold to Tobin's Pizza in the fall of 2010. Micheleo's is now being served at Tobin's Pizza located at 1513 North Main Street in Bloomington.
Accepts:

American Express

Cash

Discover

MasterCard

Visa