206 S. Linden St.
Normal
,
IL
61761
Last Updated: November 26, 2018
| | |
| --- | --- |
| Sunday | |
| Monday | |
| Tuesday | |
| Wednesday | |
| Thursday | |
| Friday | |
| Saturday | |
About Vitesse/Often Running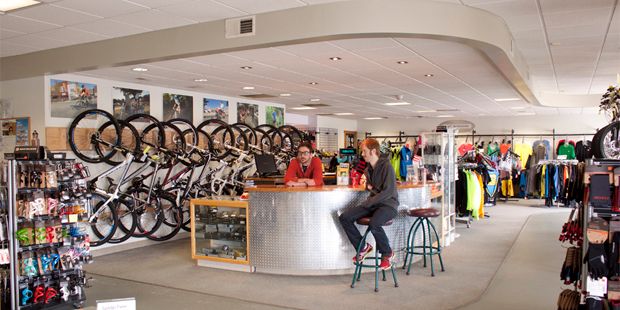 Thinking about purchasing a new bicycle? One of your first choices, and not really an easy one, will be where to start shopping. While many specialty stores and giant department stores have bicycles in stock and ready to ride, very few shops will take the time to make sure and help you pick out a bicycle that you will be happy with for as long as you have it. Since bicycles are shipped in boxes, they must be assembled and tuned. We hire competent and knowledgeable salespeople and expert mechanics who'll ensure that you get the right bike, a safe bike, and a quality product. No matter what kind of bicycle peaks your interest, we will show you your options and take the time to make sure that the bike fits you perfectly, through measurements and adjustments to ensure the frame is the right size and the seat and handlebars are positioned properly, so that it is still comfortable for years to come! From children's bicycles, professional grade racing bicycles, any and all accessories you may want or need, and of course tune-ups and repairs, you can rely on Vitesse Cycle as your local bicycle experts.

If running is more your speed, we offer a myriad of comfortable, ergonomically friendly, and aesthetically-appealing athletic shoes under the same roof. If possible, please bring your old shoes with you when shopping for a new pair so that our knowledgeable staff can best determine your correct shoe/foot type. You can rely on us for all of your running or walking accessories and equipment.
Accepts:

American Express

Cash

Check

Discover

MasterCard

Visa
Please visit our website by following the links below to view our products and services.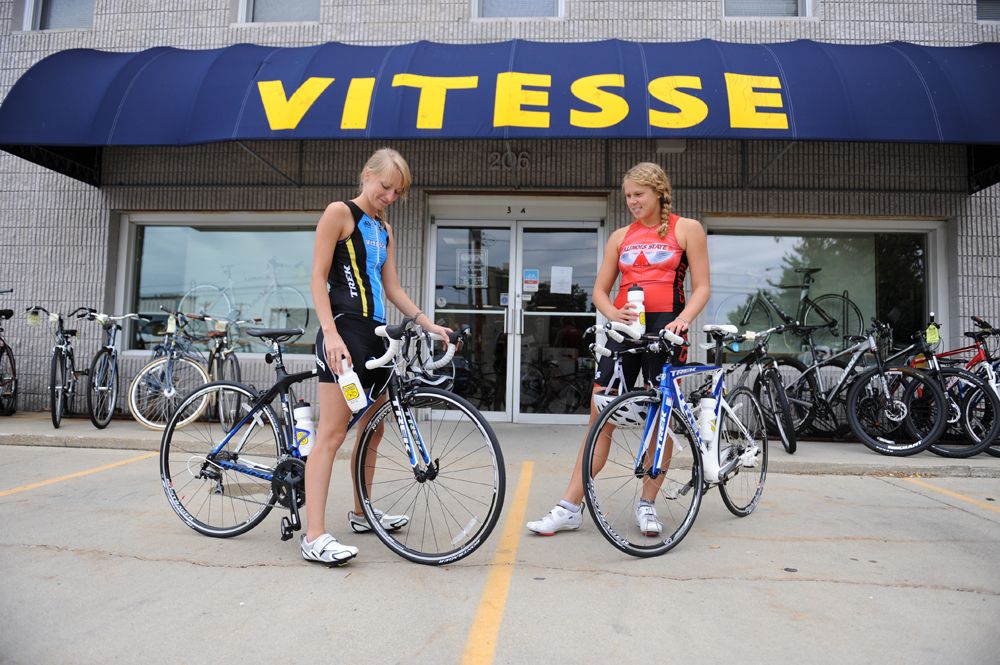 • Bikes
• Bicycle Fitting Services
• Bicycle Maintenance Tips
• Tips for Newbies
• Bicycle Buying Tips
• Cycling Tips and Articles
• Parts
• Wheels
• Tires/Tubes
• Accessories
• Clothing
• Helmets
• Cycling Shoes
• Running Shoes
• Car Racks
• Bells & Noise Makers
OFTEN RUNNING: WALK SMART – RUN HARD
What to Expect
You should replace your running shoes when the heels start to look worn, usually after about 300-500 miles of running.

When possible, please bring your old shoes when shopping for new ones.

Please let us know your injury history and share your experiences with us so we can recommend the most beneficial and comfortable shoes that will fit YOUR feet and exercise style.
Running Tips
Flex Time Flexibility decreases with age. If you are under 40, you should hold a stretch for 30 seconds; If you are over 40, hold for 60 seconds.

When to Stretch Researcher have found that it is actually more beneficial to stretch AFTER your run too, not only before. Athletes who stretched only before their run were found to have more muscle injured than those who did not.

Tight Calves? Try sleeping on your stomach with your feet hanging off the bed. Gravity will lightly stretch your calf muscles while you are asleep.

OUR COMMUNITY
Vitesse Cycle/Often Running remains heavily involved in local communities, in charities, and in schools. For the past eight years we have sponsored the McLean County Wheeler's Spring Metric and for five years we have participated in their Bike Give-Away. Most philanthropic relationships vary from year to year, but a few remain annually, including: the Lake Run Club, Tri Sharks, the McLean County Wheeler's, "Ag in the Classroom" with the Farm Bureau, The Illinois Heart and Lung Association, and the International House at ISU. Many of our customers also organize or participate in philanthropic events throughout the year. We're proud of our community and are excited for future opportunities to give back and promote healthy lifestyles as we continue to improve our product offerings, customer service, and grow our customer base.
Is this your business?
Promote your business through our innovative Marketplace system! It's free to sign up!
Learn more at http://www.trekbikes.com/madone A new era of race performance