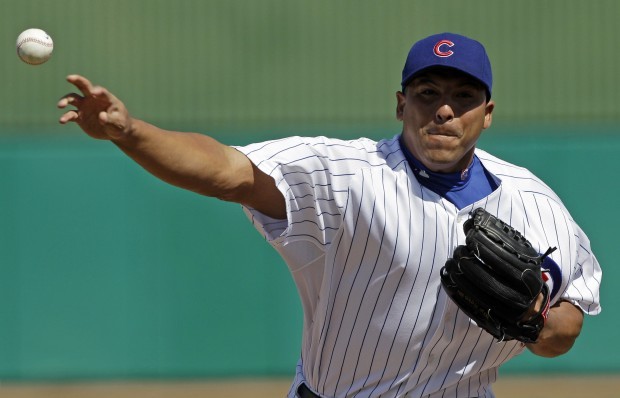 MESA, Ariz. -- Pablo Sandoval now has bragging rights over Carlos Zambrano, the pitcher he grew up idolizing back home in Puerto Cabello, Venezuela. Still, the Giants third baseman isn't ready to boast just yet.
"I'm not going to tell him anything," Sandoval said Wednesday after his grand slam off Zambrano led San Francisco to a 5-1 victory over the Chicago Cubs. "I don't want to remember that. That's spring training."
Sandoval said if he homers off Zambrano during the season, "I'm going to call him and say, 'I got you!"'
He said Zambrano was talking trash when the two recently had dinner together, but there wasn't much Sandoval could say back. In their only matchup last season, Sandoval went hitless in four at-bats.
"It's different in the season," Sandoval said. "He's one of the best pitchers in the National League."
With three All-Star Game appearances, Zambrano used to be just that, but he won only nine games last season. So he worked out hard over the winter and arrived to camp in top shape.
He said he wasn't the least bit discouraged after giving up five third-inning runs on three soft singles, a hit batter and Sandoval's homer.
"They got lucky with bloopers, and their big man ... obviously, he's a good hitter. I have to give him credit," Zambrano said. "This is spring training. Just get my work in and build my arm. My fastball is running good and all my pitches are good."
While Zambrano struggled in 2009, the 23-year-old Sandoval was a revelation in his first full big-league season, batting .330 with 25 homers and 90 RBIs. He already has driven in eight runs this spring.
"I've been watching him since he was 7, 8 years old; I knew that guy had something special," said Zambrano, who is five years older than Sandoval. "He's going to be one of the best hitters in the National League, and he proved it last year."
Jonathan Sanchez allowed three singles, walked none and struck out five in three shutout innings for the Giants, who are 7-1.
"My fastball was jumping out of my hand, I had a good split and my curveball was working," said Sanchez, who pitched a no-hitter last July 10 and finished the season with 177 strikeouts in 163 1-3 innings. "I'm not ready, but I'm close."
NOTES: Xavier Nady made his Cubs debut, going 1 for 2 as the DH, but manager Lou Piniella said he won't be recovered enough from Tommy John surgery to play outfield regularly at least until June. Until then, Piniella said, Nady will be used as a pinch-hitter and occasional outfield fill-in. When Nady does play left or right, the infielders will have to range well into the outfield to take his throws. "Nady can hit," Piniella said. "We've got to get him out on the field and get his at-bats. We don't care about throwing."