The options are clear for couples with a baby on the way. The practical, plan-ahead types seek to learn the gender of the impending arrival as soon as possible, allowing for nurseries to be painted the appropriate color, gender-specific outfits to be purchased, etc.
The rest of us embrace the element of surprise, go "old school" in regard to this new chapter. That is, we wait nine months for the results, an Iowa caucus sort of thing.
In June 1989, having one daughter already, we were blessed with another in the delivery room. Later that day, a relative said to my wife, "I think Randy's pleased anyway," as if a second daughter was some sort of consolation prize.
Pleased anyway? Try ecstatic, exhilarated, grateful, even a bit relieved.
One daughter had taken the heart into her small hands and warmed it like never before. Now, three years later, there was another?
Pleased anyway? Try the luckiest man on the planet.
That's how lucky Kobe Bryant felt, not because he was a basketball savant with five NBA championship rings and millions in the bank, but because he had four daughters.
He had three in 2018 when, during a chance meeting with ESPN anchor Elle Duncan, who was eight months pregnant, he told her: "Girls are the best. I'd have five more girls if I could. I'm a girl dad."
Following the tragic deaths of Bryant, his daughter, Gianna, and seven others in a Jan. 26 helicopter crash, Duncan shared that story in a moving tribute. The video is everywhere and if you haven't seen it, find it. You'll cry your eyes out.
Bryant wasn't the first "girl dad." He just put a name on it, creating a fraternity for dads with daughters. It has led to #GirlDad going viral on social media.
What's it like being a girl dad? 
For this one, it is a bond grounded in love but with no ceiling. It starts that day in the delivery room and grows like a wildflower, through seasons of the year and stages of their lives. You give all you can but always get more in return.
Being a girl dad means helping dress Barbies or sipping imaginary tea from a tiny plastic cup. It is learning on the fly to put preschool hair into a ponytail or pigtails. 
It is combing through a tangle and hearing "Ouch," then a moment later, no matter the finished product, getting a hug and a kiss on the cheek that says, "Thanks for trying, Dad."
Being a girl dad means reconciling the urge to protect with the reality they can and will find their way. It is holding their hand as they learn to walk and, in a blink, watching them stand their ground and run through roadblocks.
It is seeing them compete as fiercely as any guy, from diving for a loose ball to sliding into home plate to acing a school project and thinking, "How blessed am I?"
It is relishing the moments when in action and words they are so much like their mother it steals a breath. You see her in them and fall in love all over again.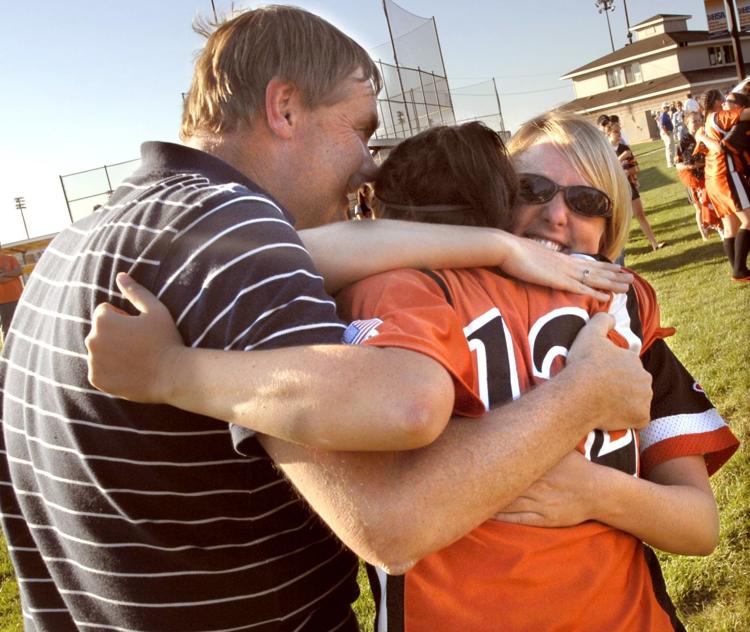 Best of all, being a girl dad doesn't end when the girls become women. They continue to lift you up with a smile or a hug — "Thanks for trying, Dad" — and move you to tears when they shed their own.
They ward off fashion faux pas with a shake of the head or gift-wrapped apparel for Christmas, birthday. They guide you in securing the right gifts for Mom, often taking the lead. 
They look out for you the way you sought to do for them. They just do it better.
We know all about this girl dad concept in the Pantagraph sports department. Among Jim Benson, Randy Sharer, Randy Reinhardt and yours truly, we have six daughters. When Mike Egenes was our sports editor, the count was 10.
We know what that relative in 1989 could not grasp, that being a girl dad is, like Kobe said, "the best."
Contact Randy Kindred at (309) 820-3402. Follow him on Twitter: @pg_kindred
Be the first to know
Get local news delivered to your inbox!