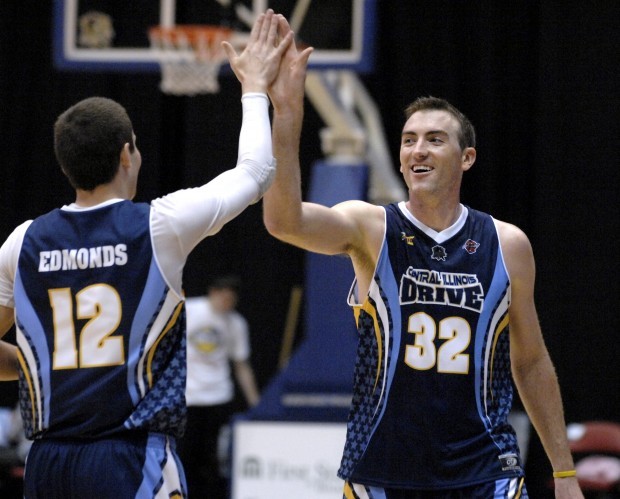 BLOOMINGTON — Central Illinois Drive coach A.J. Guyton knows perfection is not in the cards for his basketball team this season.
Central Illinois lost its first game of the year, 88-87, to Sauk Valley on March 10, but the Central Division-leading Drive have no plans to stop striving for perfection.
The Drive came close to a perfect game on Friday night, shooting 59.8 percent from the field on their way to a 123-94 win over the St. Louis Phoenix at U.S. Cellular Coliseum.
"You have to play to get the perfect game even though you know there's not going to be a perfect game," Guyton said after the Drive improved to 17-1. "That's how you have to play."
The Drive led 68-45 at halftime after they shot a scorching 69.8 percent from the field in the first half. Perry Petty was 9 for 9 from the field before halftime and headed to the locker room with 20 points.
Petty finished a perfect 10 for 10 with 22 points while clocking just 19 minutes of action.
"We've all gotten accustomed to playing with each other, so we pretty much know where everyone is going to be on the floor," Petty said. "We know who can do what, and we find the guys in the right spot where they're comfortable shooting. That's probably the most important thing for how well we shot."
Five players finished in double-digit scoring for the Drive, led by Petty and Rodney Edgerson with 22 points apiece. Nathan Fuqua and Todd Peterson each had 14 points, and former Illinois State forward Anthony Slack chipped in 16 points, seven rebounds and six blocks off the bench.
Slack and Edgerson were part of the Drive's bench that outscored St. Louis, 60-38.
"It's a luxury to have, and these guys have accepted those roles," Guyton said about his team's depth. "That's what I'm most proud of. Everybody is out here for the end result and that's to win."
The Drive used a 10-0 run to end the first half and an 18-2 run early in the third quarter to give themselves an 89-53 cushion over the Phoenix (3-12).
Edgerson hit back-to-back 3-pointers early in the fourth quarter to give the Drive their biggest lead at 113-72.
"We had a good rhythm and flow to our offense and guys were getting open shots," Guyton said. "We don't have a guy that's getting 25 shots on any given night. We have guys that get 12 shots, so you've got to make six or seven of them to get us what we need."
The Drive forced 24 St. Louis turnovers and outscored the Phoenix in the paint, 74-46. It was the fifth game this season the Drive eclipsed the 120-point mark.
"Minus the one blemish, I think we are playing our best basketball right now," Petty said. "I actually think the loss helped us in a way because now we know we can lose and we know we have to come out and play good basketball and play good defense or else any team can beat us."
The Drive close out their home regular season schedule today when the Indiana Diesels (4-12) come to U.S. Cellular Coliseum for a 1:05 p.m. matchup.
Be the first to know
Get local news delivered to your inbox!