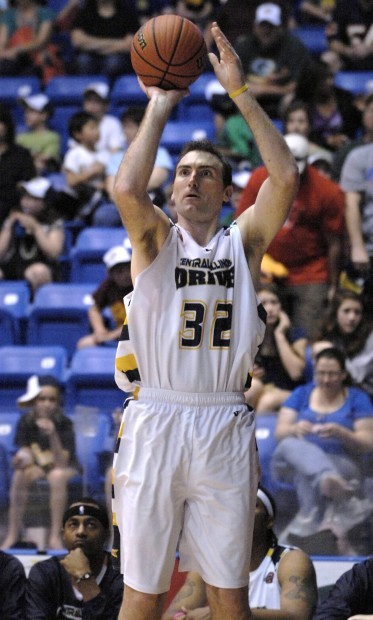 BLOOMINGTON — When told only two NBA teams shoot better from 3-point range than his Central Illinois Drive, a competitive gleam instantly flared in the eyes of forward Todd Peterson.
"Who are they?" asked Peterson, whose 16-1 team leads the Premier Basketball League's Central Division with a 3-point percentage of .387 heading into Friday's 7:05 p.m. game against St. Louis (3-11) at U.S. Cellular Coliseum.
The only NBA teams more accurate are San Antonio (.401) and Miami (.388).
"We'll work on it," quipped Peterson, whose squad has made 158 of 408 3-point attempts to account for 25 percent of its scoring.
Drive coach A.J. Guyton, a dynamic 3-point shooter during his playing career, knew long-range shooting would be an asset entering the season, but he didn't expect .387.
"I'm very surprised," he said. "I know these guys work on their shooting a lot. These guys are good shooters, but I think it comes down to guys taking open shots."
Being open is no accident.
"I think it's because we all play unselfish," said 6-foot-5 forward Rodney Edgerson, who leads the division at 48.1 percent from 3-point range.
The 6-8 Peterson, who shoots .396 from downtown, credits the guards' ability to penetrate.
"If you have guards who can constantly get to the basket, you are going to have open shots from the outside," he said. "The defense has to respect those drivers.
"Also, we've got big guys like Matt Salley and Anthony Slack who can score on the inside. If you have that inside presence, you are going to get open looks outside."
The Drive make a division-leading 9.29 3-pointers per game. The bomb squad includes Perry Petty (.393) and Josh Edmonds (.395).
Although they don't shoot as often as those mentioned, Jemal Farmer (.500), Ahmad Grant (.467) and Mike Malat (.385) also can burn foes from NBA 3-point range, which is 23 feet, 9 inches from the rim.
Guyton rates Edgerson's shot selection the team's best. Edgerson, who averages 16.3 points, takes his time, sets his feet and never forces a shot off the dribble. If he does dribble, he goes to the rim.
"His shot selection is amazing," said Guyton, who has seen Edmonds provide instant 3-point offense, sometimes after sitting out the first half. "He's becoming a specialist. He came out and saved the game for us against Sauk Valley (March 4)."
If the Drive settle for and miss a few outside shots in a row, Guyton asks for an attack on the basket.
"That's something he's been really good about throughout the year and I don't see that changing," Peterson said.
Jersey Backpack Night: The first 1,000 fans Friday night will receive a jersey backpack.
Regular season home finale Saturday: The regular-season home finale is at 1:05 p.m. Saturday against the Indiana Diesels (3-12). The first 1,500 fans get a trading card set.
Fans bringing a non-perishable food item for Clare House to the U.S. Cellular Coliseum Box Office can get a $12 reserve seat for only $8.
Be the first to know
Get local news delivered to your inbox!