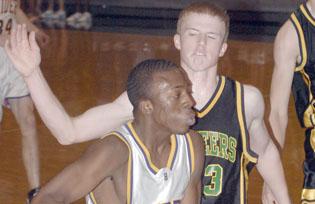 BLOOMINGTON - At 5-foot-10, Bloomington High School junior guard Kenny King was one of the shortest guys on the court Wednesday night.
There isn't anything small about King's game.
"Kenny King is a beast on the defensive end," BHS senior center Lonnie Lawrence said. "He's really going to help us this year."
The cat-quick King had six steals to spearhead a disruptive, pressure defense that carried BHS to a season-opening 66-47 win over University High in the Intercity Basketball Tournament at Shirk Center.
"Coach (Jamie Codron) has always had me on the ball since I came up to the varsity," said King, who also had 11 points and five assists. "I just have to play full-court, hard-nosed defense and play intense."
In the nightcap, Normal West broke open a tight game in the third quarter and rolled to an 80-56 victory over Central Catholic.
The tournament will resume Friday with BHS (1-0) facing West (1-1) at 6 p.m. and Normal Community (0-1) playing U High (1-1) at 7:30 p.m.
There were nine lead changes in the first 5½ minutes before BHS switched to a full-court man-to-man press and ended the quarter with an 11-0 burst to grab a 20-11 lead.
"We ran a little zone full court, and it wasn't working," Codron said. "They were dissecting it. So we went with our bread and butter and went full-court man to man and put a lot of pressure on them.
"Our pressure really got to them, and we got some easy buckets late in the first quarter, and it really helped us out."
U High managed to stay within striking distance in the second quarter and trailed 39-28. With King leading the way, BHS outscored the Pioneers 17-3 in the third period to open a commanding 56-31 advantage.
"There was a period in the second quarter where we lost all of our confidence," U High coach Cal Hubbard said. "We came down the floor and turned the ball over without getting a shot maybe three or four times.
"There was a five-minute stretch there where Aaron Schroeder never touched the ball. Your best player needs to touch the ball a little bit."
Justin Bocot paced BHS with 14 points, including a pair of thunderous dunks, before Codron emptied his bench late in the third quarter. Cory Hainlen added 11 points. The Raiders shot 50 percent (26 of 52) while forcing 20 turnovers.
"We've still got some things to work on offensively, but that's what those U High teams always do to you," Codron said. "Coach Hubbard is a great coach, and they took us out of some things early."
Schroeder, coming off a 29-point outburst in U High's 58-54 overtime win Monday over West, led U High with 14 points. The Pioneers were 0 for 4 from the field in the third quarter and 17 of 39 (44 percent) overall.
"I thought Bloomington did a really good job defensively and took us out of everything," Hubbard said. "We did not do a very good job of running our pressure releases. Our execution was really weak. We just played soft.
"Defensively I wasn't very happy there, either. I think a team makes the most strides after it loses that first game. Maybe we learned something about ourselves."
Both defenses struggled in the first half as the Wildcats led 22-21 after one quarter and 41-36 at the intermission. West opened the third quarter with a 10-4 run to go ahead 51-40, and the Wildcats built the advantage to 17 (65-49) by the end of the period.
"We had a great start to the third quarter," said West coach Brian Cupples. "The big thing was we came out in the second half and were able to establish our half-court defense. Then after that, we were still able to run.
"I thought early in the third quarter we did a good job of executing some screen and roll and getting some good buckets in the half-court offense. We also did a good job the second half of eliminating their penetration, which helped keep them off the glass."
Corey Aken poured in a game-high 19 points to lead five West players in double figures. The Wildcats also received 14 points from Warren Moore, 13 from Sean Seibring and 11 each from Javon Bell and Jordan Doddek.
"We're happy to get a win, but our kids know we have a long way to go yet," Cupples said.
Josh Brent paced Central Catholic with 15 points, and Brandon Dunson and Aaron Garriot added 12 and 10, respectively.
"West just steamrolled us tonight," said Central Catholic coach Jeff Wulbrun. "I've always said one of the positive things about the Intercity Tournament is your deficiencies are exposed to you very quickly, and they were tonight.
"We have a great deal of work to do with our full-court matchups and half-court defense and rotations. Another area that killed us was our shot selection. This is two games in a row where we've made very poor decisions with the basketball."
Be the first to know
Get local news delivered to your inbox!