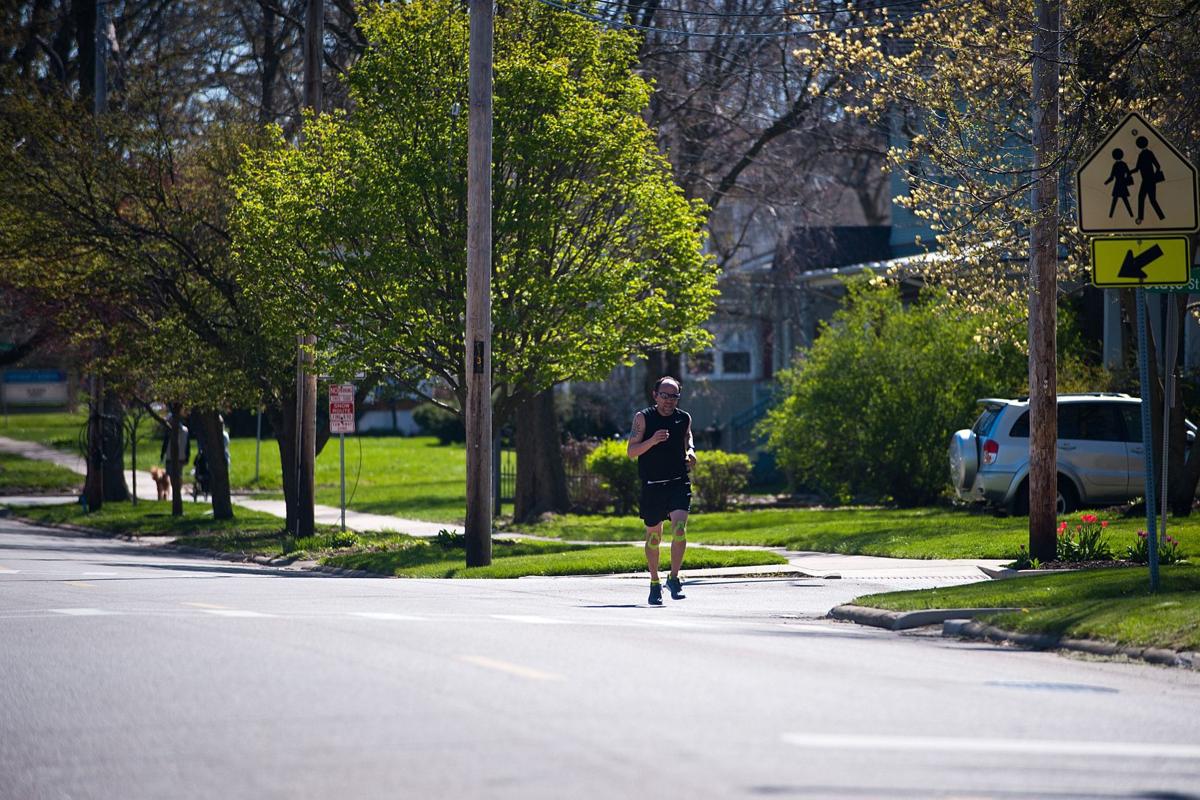 BLOOMINGTON — There was no Heartbreak Hill to grind through starting around the 20-mile mark. The cheers along the way didn't come from thousands, either, but instead from family members and a couple friends.
If Vicente Adame of Bloomington couldn't compete in his first Boston Marathon on Monday, what he called the "Blo-ston Marathon" came to him on the streets of Bloomington.
The 47-year-old Adame decided the day before he would run 26.2 miles on a loop down Grove and Washington streets starting at 8 a.m. Monday. Dressed in a black top and shorts on a perfect morning for running, Adame did the loop almost 11 times before finishing in 3 hours, 21 minutes, 43 seconds, well below his goal of 3:30:00.
"Obviously I was looking forward to doing Boston, but I'm glad I did it (in Bloomington)," he said. "I think I would have regretted if I hadn't done it. When you're fully trained for it you just want to complete it no matter what."
For only the second time in its 124-year history, the Boston Marathon wasn't held on Patriots Day (the third Monday in April). The COVID-19 global pandemic pushed the race back until September.
After receiving an email from the race committee about the postponement last month, Adame said he was "in complete shock and didn't believe it."
"I kind of knew it was going to happen with how things were going down, but once you realized it actually happened it really hurts," he said. 
Really cool story. Vicente Adame of Bloomington was supposed to run in his first Boston Marathon on Monday. The race was postponed until September, but Vicente ran the "Bl-oston Marathon" instead. Story will be posted later. pic.twitter.com/JdkzK6C7Wo

— Jim Benson (@Pg_Benson) April 20, 2020
Adame had a companion along the way for his virtual Boston Marathon on Monday. His son, Vincent, told Adame on Sunday he wanted to ride his bicycle beside his father and provide encouragement.
"I thought he's 11 and it's not going to last, but I didn't say anything. He did it the whole time," said Adame. "That was pretty impressive. He usually goes around the block and that's it."
Adame's wife, Jen, and three other children, along with his mother, set up a table with drinks in front of their house on 1111 E. Grove Street. Jen Adame also posted what her husband was doing on social media which attracted even more followers.
"That helped me," he said. "On mile 12 I felt tired and thought this is crazy and I'm going to quit, but I started to see people and said I can't quit now."
Adame, who works as a real estate agent for Coldwell Banker and with CCS Janitorial Services, has been running for eight years. He first beat the qualifying standard of 3:20:00 for his age group to qualify for Boston by two minutes at a 2018 marathon in Champaign, but his time didn't make the field.
Last November, Adame said he trained "really hard" for the Indianapolis Monumental Marathon. When he ran the race in 3:13:21, it was good enough to get him to Boston.
Adame was in race mode before the coronavirus began shutting everything down in mid-March.
"You work your tail off to get it done for so long and so many years and try so hard, then all of a sudden it stops," he said.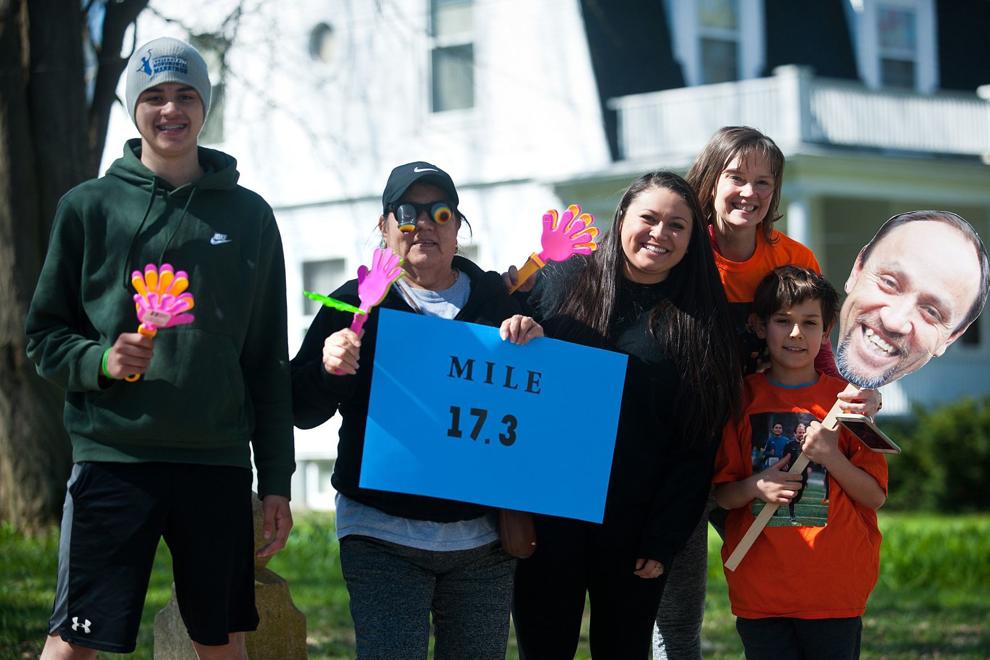 Even though he had put in the necessary training runs for a marathon, Adame knew there would be obstacles Monday. 
"You need the adrenaline and the people to make it. Running it by yourself is a total different ball game," he said. "You still want to do it, but there's no one to push you or help you."
Adame, who was born and raised in Mexico, played soccer growing up. Running wasn't part of his fabric. Adame said he was a smoker and drinker before changing his lifestyle. His first marathon came in Chicago in 2015.
"My wife ran a half-marathon way before I started running, and I used to get mad at her because I thought running was stupid," he said. "Now when I don't run for a couple days my wife tells me to go out for a run because I'm cranky."
Adame still plans to run in the 2020 Boston Marathon on Sept. 14 and is hopeful the race is held. He was able to get his airplane and hotel reservations changed without any penalties. 
While that will prove to be an unforgettable experience, so was his 10th marathon Monday.
---
Monday update: Coronavirus and Central Illinois