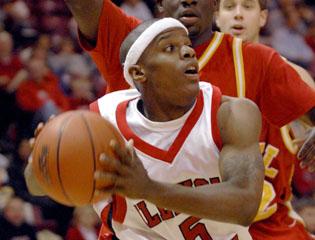 TALLAHASSEE, Fla. - Boo Richardson admits he's superstitious, so he ditched his headband for Tuesday's game against McNeese State. Richardson wasn't too happy with his performance in season-opening losses to Southern Methodist and Florida State the two previous nights here.
"I had to find something new and find my old ways of playing," said Illinois State's 5-foot-8 point guard.
ISU coach Porter Moser said he wanted to see the smile back on Richardson's face. All the Redbirds were grinning after Richardson and senior forward Greg Dilligard combined for 43 points as ISU earned its first victory with a 67-50 triumph over McNeese State in the final day of the Colonial Classic at the Donald L. Tucker Center.
"We came to the tournament to get wins. We couldn't leave here 0-3," said Dilligard, who contributed 20 points, five rebounds and three steals. "We came out tonight and it was our last chance, so we had to take care of business."
Richardson played an outstanding floor game. In addition to scoring a game-high 23 points, he also handed out seven assists with just two turnovers. Richardson had four assists and six turnovers in each of the first two games.
This was the player Moser expected to see after recruiting him out of Coffeyville (Kan.) Community College to be the Redbirds' leader.
"He's a personality kid. He has to get his personality into the game. Today he did," said Moser. "He was bouncing all over the place. He had that personality going and was not in a shell. Other guys feed off his personality. Tonight it was great to see him get that behind him, and we'll go from here."
ISU snapped an 18-game losing streak away from Redbird Arena. The Redbirds' last victory on the road came on Feb. 19, 2004 against Wisconsin-Green Bay in the ESPN Bracketbusters at Green Bay.
While Dom Johnson struggled with his shooting (1 of 11) after scoring 32 points the night before against Florida State, Richardson and Dilligard gave the Redbirds plenty of offense. They became the first pair of ISU players to score 20 or more points in the same game since Trey Guidry (27) and Lorenzo Gordon (23) did it against Tennessee-Martin almost two years ago.
In fact, ISU players already have as many 20-plus point games (three) as they did all last season when the offensive-challenged Redbirds struggled to a 9-19 record.
"That's exciting and Roberto (Fortes) hasn't done it," said Moser, as Fortes had two of those 20-plus efforts last season. "The two JC guards (Richardson and Johnson) have really come in and made an impact."
ISU faces Cal State-Northridge at 7:05 p.m. Monday in its home opener at Redbird Arena.
Even though only 35 or so fans gathered for the opening tip of ISU's game, the Redbirds-and especially Dilligard-were fired up and ready to roll.
ISU used a 14-3 run, culminated by a Dilligard layup, tip-in and 16-foot jumper, to take a 21-10 lead midway through the first half. Anthony Slack and Dilligard stayed out of foul trouble most of the first half, something they didn't do in the previous two games, and helped ISU grab 11 offensive rebounds en route to a 36-20 lead at the intermission.
"If you can get more second-chance points it helps out a lot," said Dilligard, who had 11 points in the first half. "We tried to crash the boards in the first half."
McNeese State (0-3), which suited up only eight players, trailed by 18 when Dilligard opened the second half with an 18-foot jumper. Slowly, the Cowboys chopped into the deficit. The Redbirds seemed to get tentative against a zone McNeese State threw at them. Jarvis Bradley's outside jumper brought the Cowboys within 58-48 with 3:13 left.
ISU immediately answered with another Dilligard mid-range jumper and Richardson's third 3-pointer of the game to put the game out of reach.
"We didn't play great with the lead. We were soft in some traps and we'll address that because Cal State-Northridge is going to trap us. We'll work on that all week," said Moser. "McNeese State, to their credit, kept playing and hung around. But I thought it was good when it got down to 10 we made two quick plays and got it up to 15."
ISU shot 43.3 percent from the field (18 of 48). Thanks to 18 offensive rebounds, the Redbirds outscored McNeese State 21-5 in second-chance points and gained a 40-27 advantage on the boards. Bradley scored 15 points to lead McNeese State, which shot 37.5 percent from the field (18 of 48).
The three games in three days were crash course in Division I basketball for junior college transfers Richardson, Johnson and Slack.
"I've got to adjust and let the game come to me instead of forcing it. In the Florida State game (a 73-59 loss) I think I forced it," said Richardson. "I wanted to get everyone involved today and taking over when I was forced to. As the season goes on game by game I'm going to get better, my teammates are going to get better and my coaching staff is going to get better."
---
Redbird bits
- Another ISU-McNeese State battle may be looming in the near future - on the football field in the Division I-AA playoffs. McNeese State is leading the Southland Conference, while the Redbirds could tie for the Gateway Conference title with a victory at Northern Iowa on Saturday.
- Five players from outside of Illinois have started ISU's first three games - Slack (Louisiana), Fortes (Indiana), Richardson (Kansas) and the Missouri duo of Johnson and Dilligard. The last time ISU started five players not from Illinois was in 1999 with Dan Muller (Indiana), Skipp Schaefbauer (Minnesota), Rob Gibbons (New Jersey), Steve Hansell (Great Britain) and Jamar Smiley (New York).
- ISU's game against Drake on Jan. 13 at Des Moines, Iowa, has been moved to 3:05 p.m.
---
ISU report card
FRONT COURT: A Greg Dilligard asserted himself early and kept it up the entire game to finish with 20 points and five rebounds. Anthony Slack grabbed eight rebounds and blocked four shots in only 23 minutes.
BACK COURT: B Boo Richardson perked up with 23 points, seven assists and only two turnovers. Dom Johnson struggled with his shot, but the Redbirds committed only 16 turnovers after 46 in the first two games.
BENCH: C Osiris Eldridge finally made his first collegiate basket and had five rebounds in first half. Mike Vandello didn't hurt the Redbirds when Dilligard and Slack went to the bench.
OVERALL: B Coming off a 9-19 season, the Redbirds badly needed a victory to squash any grumbling about another long season ahead. ISU could have went 2-1 on this trip, but the effort in all three games couldn't be faulted.