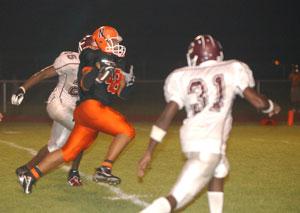 NORMAL - Champaign Central High School football coach Dave Jacobs offered this nugget for the rest of the Big 12 Conference Friday night: "I'm kind of glad we got them in Week 1 because Normal Community is going to do nothing but get better."
The Ironmen lived up to their No. 2 preseason state ranking in Class 6A by forcing four turnovers, blocking a punt and riding the arm and legs of senior quarterback Omar Clayton to an impressive 34-0 season-opening victory over the outgunned Maroons.
"I feel great about what the team did tonight," Clayton said. "We had mistakes, myself included, but as a team we did a great job."
Clayton, who transferred back to NCHS after playing in Texas the last two years, had an eye-opening debut. Clayton completed 14 of 20 passes for 204 yards and three touchdowns and ran for a game-high 46 yards and another score.
The 6-foot-1, 190-pound Clayton fired TD passes of 55 and eight yards to Marcus King and connected with Chuck Turner on a 14-yard score. He added a 1-yard TD run early in the fourth quarter to complete the scoring.
"We've got great weapons," Clayton said. "Our wide receivers did a great job of catching and blocking tonight, and so did my O line. I think we had a great night on defense. If the other team doesn't score, then we win the game."
The Ironmen had 333 yards of total offense while holding the Maroons to 146 yards. NCHS coach Hud Venerable liked what he saw from Clayton but wasn't pleased with a usually potent Ironmen running game that was held to 129 yards.
"Omar has big-play potential with his arm, with his head and with his feet," Venerable said. "We just have to get him settled down and we have to get some of our other kids settled down and playing within the framework of our offense. Tonight, we tried too hard to generate some things in the running game, and then you end up taking two steps backward.
"I thought for a first game Omar did a lot of good things, but we're not there right now with our running game. We have the potential to get there but we have a lot of things to clean up."
NCHS' defense cleaned house, limiting the Maroons to 37 yards on the ground while getting interceptions from Alex Buck, Jake Detmers, Matt Nickrent and Alex Martin. Jake Kretlow blocked a Champaign punt on the game's first possession, leading to a safety and a quick 2-0 Ironmen lead.
"Our coaches did a good job with preparing us for this game," NCHS senior linebacker Sam Smith said. "We knew their plays and we knew what to expect. They drilled us until it was just a habit to stop it."
Max Bakana booted a 34-yard field goal and was perfect on three extra-point attempts for NCHS, which rolled to a 20-0 halftime lead.
"I saw a lot of positives," Venerable said. "I thought our conditioning was good, and I thought our effort was good. We moved our feet well. They have two all-state players (running back Cory Leman and tight end Drew Sharick) along with some really quality linemen. I felt like this was a good test for us tonight."
Leman, the younger brother of University of Illinois linebacker J Leman, rushed for 14 yards on 15 carries. Sharick was one of the few bright spots for Champaign, catching four passes for 86 yards.